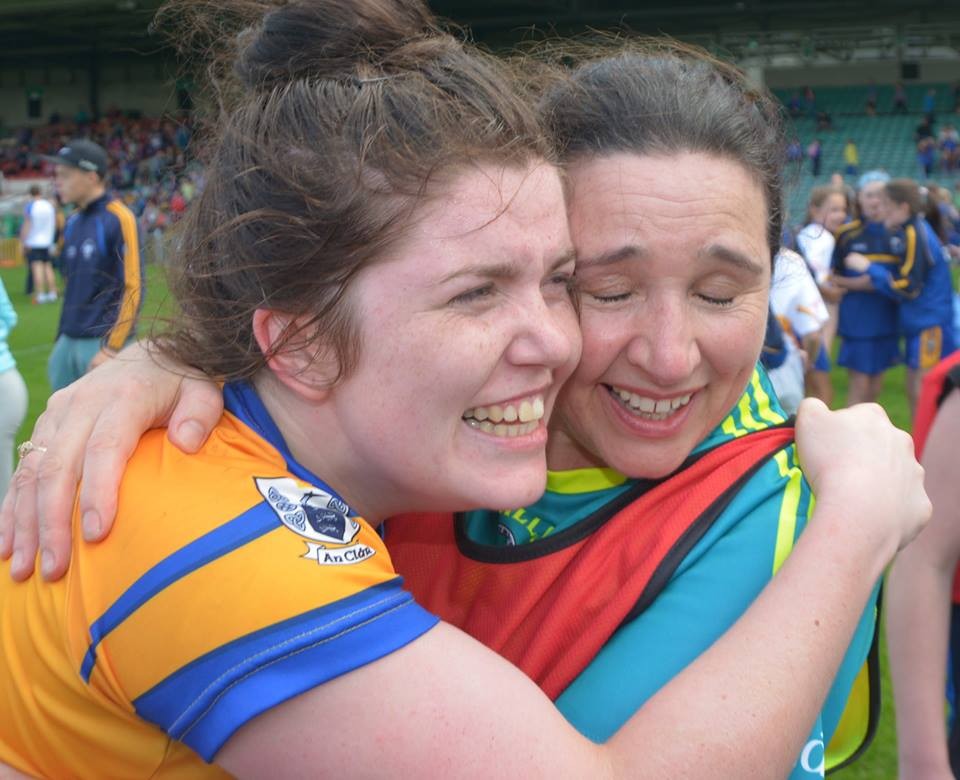 The countdown is on as Clare take on Kildare in the All-Ireland Intermediate Ladies Football final this Sunday. It tends to go under the radar but Bernie Regan herself is a dual-star.
As Chairperson of the Clare Ladies Gaelic Football Association, Bernie is the figure-head of the Board while she also doubles up as team medic for the County's Intermediate side. This Sunday she will be making the occasional dash on to the turf in Croke Park but it's not the first time she has done so.
She describes how she the extra position came about. "Dual-role sometimes like in Ladies Football you actually fall into these positions, you're going to the game anyway and I'd very seldom miss a Ladies Football game in Clare. I was there in 2009, Stephanie my own daughter was on the team that year and myself and Deirdre Murphy were there for three years with David O'Brien and we had a fantastic time that year so getting to Croke Park this will be my second year and we had success the last time and I'm very confident we will have success again".
A native of Crossmolina in Co Mayo, Bernie's part in the backroom team ensures it's a team of exiles in charge of the Banner County. Manager Neil Moynihan hails from Galway while goalkeeping coach is a Mayo man and Secretary Trudy Davenport comes from the hills of Donegal.
At the end of 2014, Bernie as Chairperson pushed for Clare to become an Intermediate team. It was an unpopular decision at the time and she herself was criticised for the call. It was a move done for the good of younger players coming through the ranks and Regan is adamant is has worked out for the common good of the sport in the County.
"I was the Chairperson that was there when we suggested that we take a step back and have a look at young players that really want to play but didn't want to go out and get the hammerings off the Corks and Kerrys in Munster, really it didn't do anything for football in Clare and it certainly didn't do anything for the girls that wanted to play so we made the decision, it wasn't an awful popular decision at the time but I wasn't looking at the next year or that I was looking down the road a couple of years that it would actually grow from there that you get back players and would encourage young players to come on board and that's what we did and today has proved that it was the right decision to make.
"I probably was the most unpopular person in the County at the time to do that but sometimes you have to make unpopular decisions that when you look forward maybe a few years down the road that somebody else isn't doing at the time and it has worked out and I'm delighted it has worked out" she told The Clare Herald.
Playing in the Intermediate grade has given younger players the opportunity to develop and build their confidence according to the Drumline resident. "Really it's a young person's game today and young players like that need balance in a team aswell, we have more seasoned players like Emma, Louise and Niamh Keane and they actually look up to them but they put pressure on them for places, they're young they're confident and they really want to play football and want to play at a level that they're able to play at which is Intermediate at the minute".
Regan paid tribute to the work done by previous manager John Burke and mentions how close he came to success with the group. She explains the process followed in appointing his successor, Neil Moynihan. "I would have known of Moynihans in Galway, I would have known of his father Con Moynihan, they're synonymous with success in Ladies Football in Galway. We put out the position that it was coming up and we had four applicants and we had an interview panel which I'm delighted we had now, Neil came out of it and as I say the rest is history".
Our conversation with Bernie takes place in the Clarecastle GAA Clubhouse, a club that deserves huge credit in her view for always making their facilities available to Clare Ladies Football.
Some of Clare's Ladies Footballers will be able to breathe a sigh of relief as Bernie's beloved Mayo will have to wait until their outing in the All-Ireland before their replay takes place. There was a worry if Mayo were to end the drought that the Crossmolina woman would go missing for a few days in the lead-up to the decider with Kildare.
"I can absolutely guarantee you I will be missing for two or three days because after sixty five years I think the whole of the County will be missing" she said when asked what she would do if Mayo were to claim the Sam Maguire.
If Clare are to do the business, County Secretary Trudy Davenport better not have any plans according to Bernie who believes a few days celebrations would be necessary. "There'll be at least more than a few days, at least more than a few days and the Donegal woman will be coming with me".