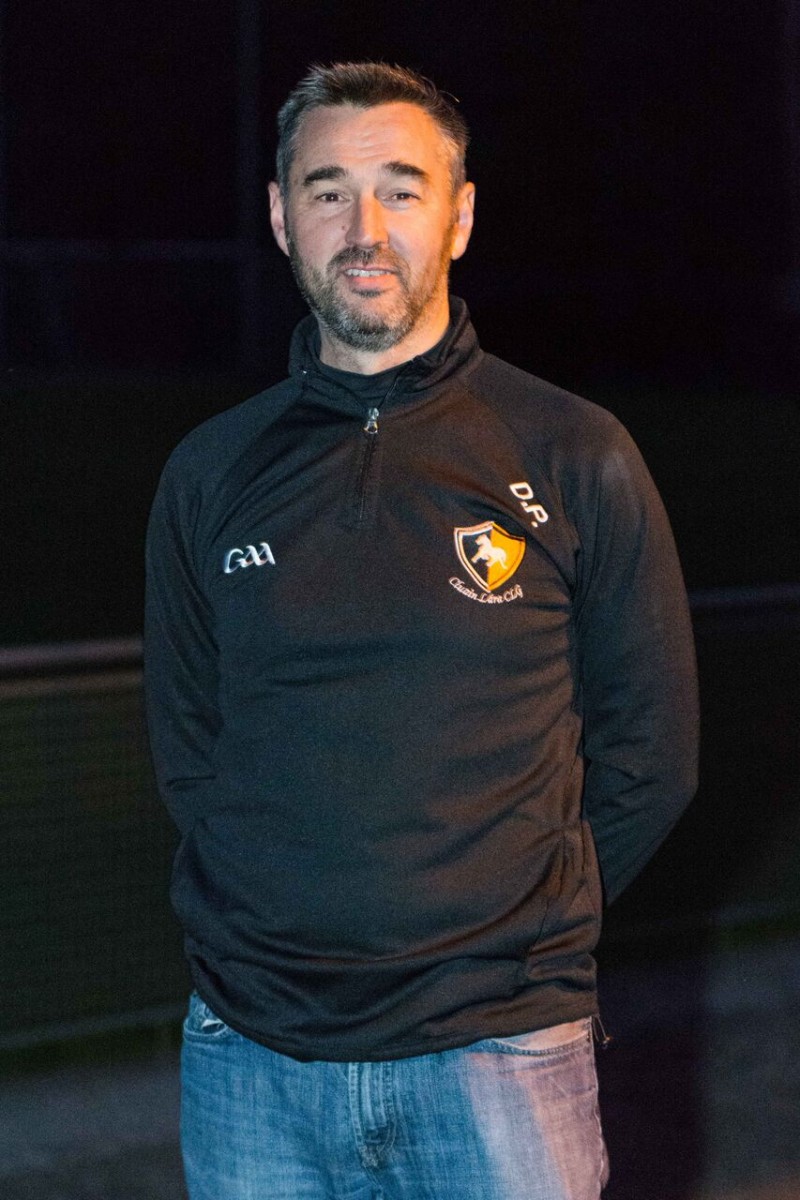 He's in his first year in charge of the Clonlara Senior Hurlers and Damien Power finds himself sixty minutes away from guiding the club to their third ever senior championship title.
Damien has gone from managing the club's U14 team who competed in the Féile twelve months ago to taking charge of the senior side aiming to win their first title in eight years. Not until he surrounded himself with the right management did Damien decide he would be the man to succeed Sean Stack.
"I'd be a Clonlara man through and through and the opportunity came up, Sean wasn't going for it again and I had a few chats with Colm Honan the chairman and he asked me was I interested and I wasn't until I got the team around me so I got some good lads there, Donal, Paul, Jimmy, Barry so once I got the team together I was a bit more comfortable and then I said we'd give it a go and we got the gig".
With former Clare U21 selector Jimmy Browne, 2008 County medallist Paul Nihil, Donal Madden and Barry O'Connell both of whom had been involved with Parteen along with John McGuinness a selector to Stack last year, Power has assembled an impressive management.
"Everyone of them brings something, it's very difficult now that any one man can do this job anymore and you really do need to delegate and get the guys to do their job and let them know what they're doing, that's what we've done this year and it's worked well, we are where we are now because of it I hope".
A winner of two intermediate championships as a player, Damien said the team of his era "never really had the quality to stay senior". It's why with the likes of Conlon, O'Connell, Galvin, Honan, O'Brien, O'Donovan et al they must grab success whilst they have the chance and more importantly the quality. "It's all about winning when you can because it doesn't last that long, golden generation yes without a doubt everyone of them are very talented gifted lads, won in 2008, I don't look back from there I'm always looking forward and I'm only looking forward to Sunday whatever happened before that I don't really care it's nothing I can do about that it's only Sunday I can do something about so we'll worry about that".
With a total of five panellists on the Clare senior hurling squad, there are pros and cons to having a large contingent on the County panel. "There's positives and negatives to everything, the positive being that we could blood some more fellas give them a chance to play in the Clare Cup and even when we played Kilmaley in the first round of the championship we were missing a few of the Clare lads and fellas stepped up and played and we'd a big win there, if Kilmaley had beaten us that day we could have had a different season, those young lads came in and did what they had to do and also to be fair when they're out there they don't care if you're a Clareman or not they'll give you their whole heart".
Power has been building a panel this year with the aim to be able to cope when injuries arise. As part of this, several younger players such as the Moriarty brothers, Fionnan O'Brien and Paul McNamara have been added to the squad, winning on Sunday in the view of the manager would show them how much work needs to be put in to be successful.
"A huge thing that younger lads need to know that it doesn't come easy, you look at the John Conlons, the Nickys or the Donovans and the workrate those guys put in and the dedication and discipline that they have, that's what you have to do to be successful and they've seen that this year, you either stick with it or fall away and they've stuck with it".
Twenty seven years ago Damien departed South East Clare for London. Not long after he met John Conlon's uncle in the English capital before joining the Desmonds club where he won a senior championship. On top of that he won an All-Ireland B Championship lining out with London. "Hurling is nearly a passport to get around the place now and it was great times". To this day he is good friends with men he hurled with across the pond and it shows the strength of the game. "That's what sport is something to talk about when you can't play".
Several youngsters have gathered at senior training in the lead-up to Sunday's County Final, it's testament to the underage structure in the eyes of the 2015 Féile manager. "Clonlara is a great club, very good underage structure some great people involved and that's what it's all about, it's about the club having all those small kids there looking at their heroes and hoping to be their heroes running around the field after them. That's part of the community and the club together".
With regards to the game itself, Power says "I'm expecting a good game I hope, they have some marquee players, Deasy, Brennan, Kelly is going as good as he been for a while averaging ten points a game, their defence they have six guys who play very well as a unit they're very compact and strong, it'll be a tight enough game and it'll be a physical game, a dry day and a good game I hope".
Commitment at club level is becoming more intense each year but it's not just players making a sacrifice as Damien himself is giving everything he has to cause while also trying to entertain a young family. Reaching the final makes it all worthwhile "It justifies it in one sense, sport is cruel and there's nothing worse than a losing dressing room as a manager or a player, it would be super to be in the winning dressing room on Sunday".
Beaten finalists in 2015 Clonlara know what the losing feeling on County Final day, the people in charge of their dressing room has changed since then, now for them it is about changing the result.