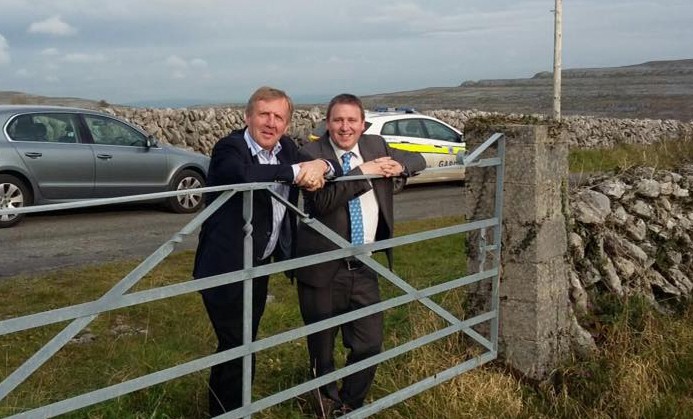 A County Clare farming programme is setting the template for the entire country to follow.
Clare Fine Gael TD Joe Carey believes the Burren conservation programme on farming in North Clare is providing an example for locally led rural development programmes all over the country. He accompanied Agriculture Minister Michael Creed on his first constituency visit to the County last Friday.
Carey said that the experience gained over twenty years in the Burren would substantially inform Minister Creed's approach to other community based rural development projects. "Having seen the impact for himself, Minister Creed is determined to ensure that the lessons learned in North Clare are applied to other farming communities all over Ireland".
Minister Creed undertook a wide range of consultations during his constituency visit which included the official opening of the Liffey Mills farm supply depot in Ennis, a farm visit in Whitegate where he participated in a discussion group led by agricultural consultant Denis Tuohy and an open meeting with the Clare IFA branch in Ennis.
Deputy Carey used his time with Creed to address some issues affecting farmers in the County including the increases announced in the budget for funding to rural development programmes from €494 million to €601 million, the reopening of schemes such as the green low-carbon agri-environment scheme, GLAS, and the beef data and genomics programme.
"We also discussed the income averaging facility which allows farmers facing an exceptionally poor year to pay only the tax due on a current year basis with any deferred tax liability becoming payable over subsequent years. This is a common sense solution to what had all the ingredients of the perfect financial storm for many farmers. Minister Creed highlighted improvements in the means testing arrangements for low-income farmers on farm assist, including farm families with children. The expansion of the rural social scheme by 500 places is a further underscoring of an important initiative supporting rural Ireland.
"I welcomed the fact that the Minister is exploring new sources of funding for Irish agriculture as evidenced in the proposed €150 million agri cashflow support loan scheme which will offer loans at 2.95 per cent to borrowers. I urge him to continue with this strategy and not leave the delivery of this initiative solely in the hands of the commercial banks. €111.6 million has been allocated for forestry development and this will help in the drive towards increased forestry and mobilisation of our biomass resources which are core objectives for growing the timber processing industry" the Clarecastle TD concluded.