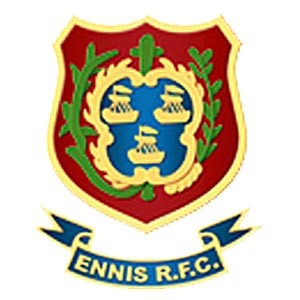 Nenagh 5 – Ennis 32
Ennis Under 16's got their Pan Munster campaign off to a winning start with a comprehensive win away to Nenagh on Sunday.
After two lacklustre performances in early season warm-ups against Galwegians and Ballinasloe, there was pressure on last year's Conference Champions to return to form and winning ways. With the structure of this year's competition, team management identified this game as a must-win opportunity.
The Ennis pack started off on the front foot, with hard running from Eoin Cullinan and Cormac Browne, making good inroads into Nenagh territory. Shane Regan, recently returned from injury, made a number of barnstorming incursions into the Nenagh 22 and this pressure resulted in an early try for Alex O'Callaghan.
The Ennis Pack continued to dominate in the set piece with Eoin Purcell dominating the front of the lineout and Matt Hanrahan quickly cleaning up any loose ball. Alex O'Callaghan was a live wire in the loose and essentially added another loose forward option to the lively backrow of Dale Watson and new signing M.J. Malone.
Fionn Langan was kept busy all day with plenty of go-forward ball to distribute at the breakdown.
The early strong running and forward pressure paid off with three early tries before the 15 minute mark from O'Callaghan, Cormac Browne and Eoghan O'Brien. Mj Malone added the forth Ennis try before the half time break.
The back line played their part in these early exchanges with Eimhin Crowley and Dylan Power constantly asking questions of the Nenagh defence in midfield and providing rock solid defence and several turnovers. The Ennis back three cleaned up any 1st half pressure that came their way with Robbie O'Connell and Eoghan  O'Brien coming effectively into the backline on the counter attack.
Dylan Kenny had another solid game at outhalf, finding touch when needed and dictating the pace of play as the conditions demanded. Speed merchant Eimhin O'Daly didn't get much ball to hand in the first half but when he did start to be brought into the play in the second half he gave full value and kept the Nenagh defence on their toes.
After the initial dominance the 1st half levelled off with Nenagh containing the Ennis threat.
Ennis made changes at half time with Brendan Cleland coming in for the lively O'Callaghan and the 2nd Row engine room getting a full overhaul with Adam Harvey and John Curtin coming in for Cullinan and Hanrahan. New signing Liam Hogan came on for Watson and shortly after Jack Hassett replaced an injured MJ.Malone.
Nenagh continued to maintain a solid defence early in the second half but gradually Ennis gained the upper hand through continued forward dominance and the backline coming more into the game.
Ennis were strong enough in defence apart from one episode they will want to forget when poor tackling  allowed the Nenagh No. 13 Patrick Finn,  run from his own 22 to score in the corner. The Ennis coaching team won't be long reminding the players of this lapse. Ennis finished strong with their big runners making the hard yards and some good work at ruck time. Late tries for Curtin and O'Daly sealed the win.
This was a welcome win but Ennis will be under no illusion that harder challenges lay ahead starting with Young Munster at home this coming Sunday.
Ennis: Shane Regan, Alex O'Callaghan, Cormac Browne, Matt Hanrahan, Eoin Cullinan, MJ Malone, Dale Watson, Eoin Purcell (c) , Fionn Langan, Dylan Kenny, Robert O'Connell, Dylan Power, Evan Crowley, Eimhin O'Daly, Eoghan O'Brien, Brendan Cleland, Adam Harvey, John Curtin, Liam Hogan and Jack Hassett