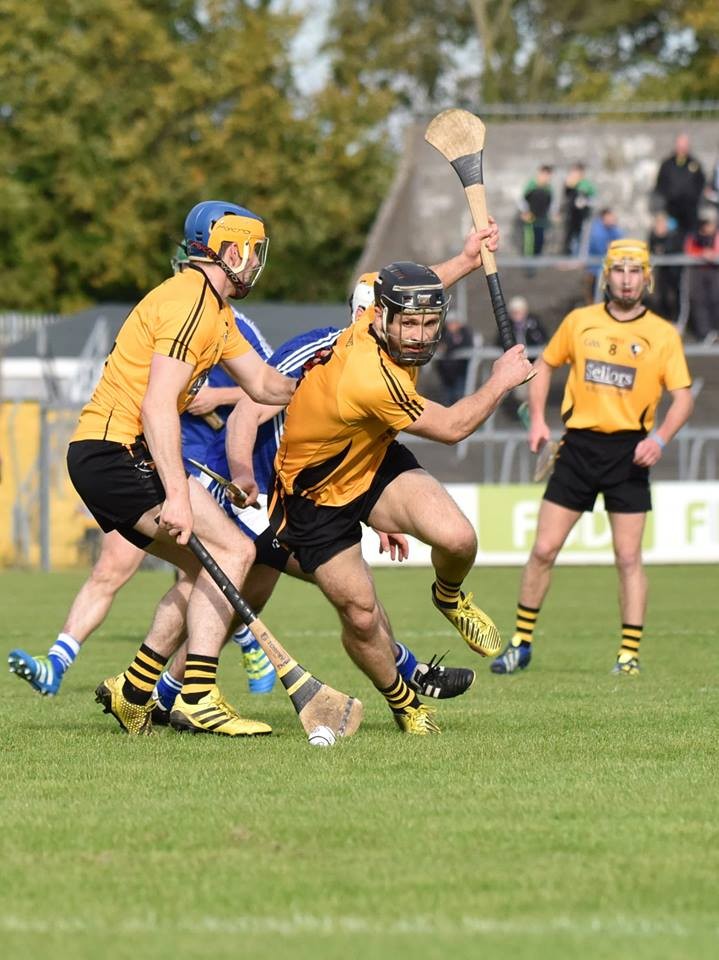 This year Domhnall O'Donovan has been able to concentrate solely on his club career when it comes to hurling, it's allowed him to build a greater bond with his teammates and one he's determined won't break on Sunday.
Having stepped aside from the Clare Senior Hurling panel due to work commitments, it has afforded him more opportunity to devote to Clonlara. He's no longer returning from the wilderness when the inter-county season but instead is now a frequent club trainer.
"Being down here a bit more, it's hard to put into words but you develop a stronger bond with the guys as opposed to when you come back in from the Clare scene, you are good friends with these guys but from training with them throughout the year you develop a much better relationship and I think that does stand to you when you play alongside these guys when games are in the melting pot like they were against Cratloe, those relationships really help you in those games" he told The Clare Herald.
By devoting more time to the cause it makes it all the sweeter that they're back in the County Final. "It's nice at the moment from not playing with the county I've been able to give a bit more to the club so it's great to get back into the club scene and make that extra bit of an effort and to be in a county final with the guys you've been playing hurling with since you were eight years old is a really nice feeling".
So as a staunch club hurler does he think a fixtures masterplan needs to be put in place for their sake? "It would be absolutely fantastic to do it but I don't know if any Counties are actually doing that and when they do it, adhering to it. It would be a great thing to do so a lot of lads could actually plan their holidays and obviously this time of year it would be nice to train in the light when we have to struggle to get about a half an hour of training in just before dusk so it would be brilliant to have that fixtures plan but is it ever realistic I don't know".
His role as a manufacturer analyst with Kerry Group results in a lot of travelling both at home and abroad, it can become quiet problematic for one's hurling career when the work is piled on.
"At the moment it's not too bad because I'm not travelling too much but when I travel it's difficult, if we did have that masters fixtures plan and all the hurling ended up being throughout the summer I'd have been in trouble because I was travelling for a lot of that but thankfully it actually helped me in this regard so I managed to get as much training in from the quarter-final stage all the way through the season, it's actually ok at the moment but work for me comes in cycles and I have to travel occasionally and it's that unpredictability that can be difficult".
For the first time in over six years he watched the Clare Senior Hurlers from a different angle, a position he didn't find all too comfortable. "It was very tough, it's actually a difficult place to be, ok I've got more time in the evenings and everything and I do appreciate that but once you sit in the stand and you're looking out you're like 'oh man I'd give anything just to be out there', it's a very difficult place to be but those guys put in so much effort and they deserve to be there, it's just unfortunate the way it panned out this year because they have an unbelievable squad".
Domhnall was only nineteen when Clonlara burst onto the scene in 2007 winning the Clare Intermediate Hurling Championship, a year later they went on to win the Senior equivalent. Since then they haven't won a title, the defender puts it down to the lack of collective development for their short supply of silverware in recent years.
"What I think it was is in those years we had nobody on the county team and once we got so many players onto the county team we may have had this sense about us that 'we are good enough we'll get through it with these players', we never managed to develop enough as a team, unfortunately Clare's early exit has afforded us some time to get together at the early stage of the season before we got into a quarter-final to develop as a team and learn how to play together".
While the County and development issues are likely factors, one of the other causes is the loss of his brother Tomás the elder of the O'Donovan's who was the spiritual leader of the Clonlara team when they were at their most dominant.
"He's almost forgotten but he's not forgotten amongst the team anyway, he was almost seen as the protector amongst the team, he was not only like an older brother to myself and Cormac but he had that figure of himself amongst the other guys and he would always look after the new blood in the team, he had that physical presence that a lot of teams would cry out for, that was something we have lacked but I think with John and Darach in our forwards now we've got plenty of that".
Chances are in reading this article and glancing at the name Domhnall O'Donovan you have either done a hoarse impression of Syl O'Connor or else uttered the words 'holy moses' in the tone of Marty Morrissey. It's all because of Domhanll's historic and unforgettable equalising point in the 2013 All-Ireland Senior Hurling final, a score that will live on in the memories of Clare people for generations to come, winning on Sunday will give O'Donovan something to recollect on with equal fondness for the rest of his days.