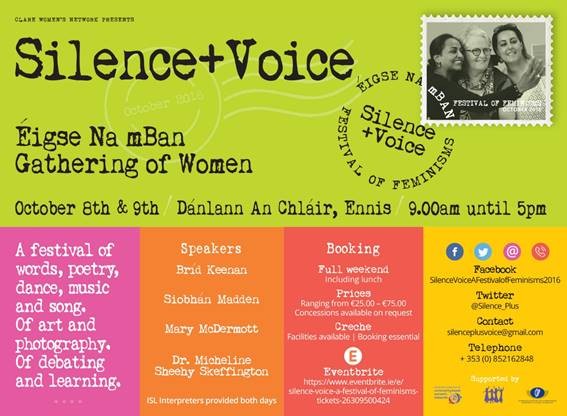 A festival that will explore the journey of women living in Ireland through the themes of silence and voice will take place in Ennis this weekend.
Éigse Na mBan will offer 400 participants an opportunity to reflect creatively on silence and voice as part of their journey as women in Ireland. The festival will be filled with debate and learning, music, song, drama, poetry and art and is open to ALL women.
Speakers at the two day event will include: Brid Keenan, Belfast, on the effects of trauma; Siobhan Madden, Galway, on the transformative possibilities of women's story-telling through feminist community education; Micheline Sheehy Skeffington, Galway, on her feminist, political activist grandparents and her current struggle for equality and Mary McDermott, Dublin, on gender equality in Ireland and possible ways forward.
The speakers will be joined by local musicians, singers, poets and artists, with some dancing and acting thrown in for good measure!
The event will take place at Dánlann an Chláir in Ennis on October 8th and 9th between 9am and 5pm.