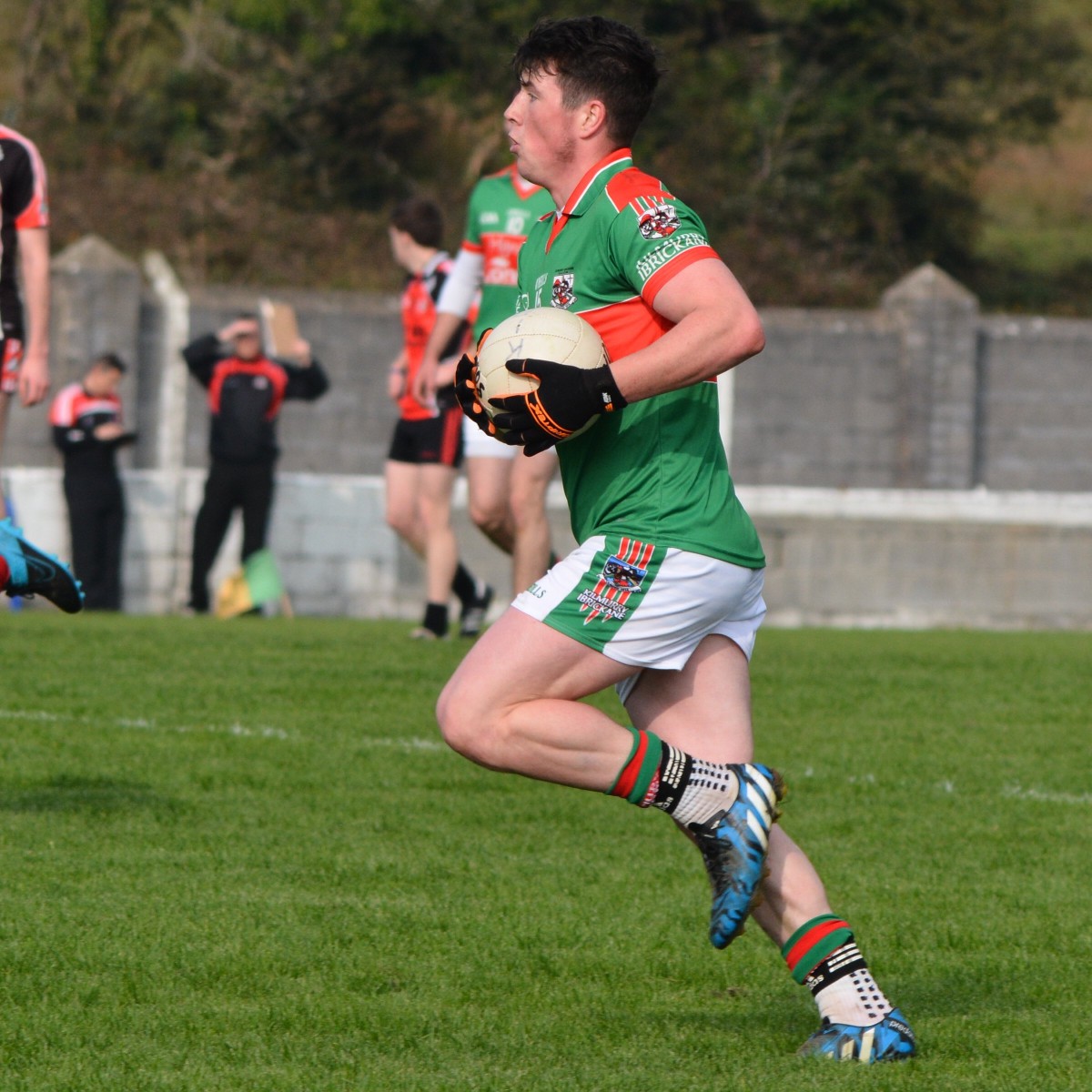 At the moment life is enjoyable for Keelan Sexton, he's settling into his first year at college and at the same time his football performances are on an upward curve, he isn't in need of a lift except to college but he's sixty minutes away from collecting his first senior championship medal which would be the highlight of his career to date.
This will be his first Senior County Final and Sexton is making sure he savours the build-up. "Growing up as a young lad you'd be watching the lads competing in finals and it's the main goal in your club career to get to a County Final with your club".
"The boys before me have bundles of experience so I think I'm just going to sit back and enjoy the atmosphere and soak up the build-up and just go out on the day and enjoy the football, at the end of the day it's another game of football, another sixty five minutes of football, the game is there to be won and obviously your goal is to win the county championship and we're going to go out with that in our heads to win it and Cratloe have the exact same thing in mind, if I was a spectator I'd be licking my mouth at this one I'd say it'll be an enjoyable one to watch, the two teams love to play football and there's some fantastic players on each side so it'll really be something to watch and hopefully we'll come out on the right side of it".
If Kilmurry Ibrickane reproduce their semi-final performance it won't be good enough to get over the line on Sunday. He said of their meeting with Cooraclare "I suppose we caught them on the hop, they got a man sent off, realistically they're probably better than what they showed, we left a few scores out there we weren't happy with how we performed, there's a lot more in us, we feel we're going to need a lot better of a performance if we're to even come close to Cratloe, they're a different beast altogether, if you make mistakes against them they'll punish you all day long".
Now a first year student at the University of Limerick, Keelan doesn't have to fret about organising lifts to college and then to club training as teammates such as Declan Callinan, Enda Coughlan, Shane Hickey and Martin McMahon are queuing up to have the nineteen year old in their company.
"I'm lucky enough that a few of the boys are going back for training, we've one or two lads living in Limerick, I'm hitching in lifts with them and stuff. I'm enjoying it, it's grand when you're enjoying your football, it's a lot easier when you don't have to get behind the wheel and drive yourself when the lads are coming back and forth to training so it's a great help and it's just easier to get up and down to training, easier to bring yourself to hop into the car and just sit there, it'd be a different story if you were driving yourself, the long miles are tough after a hard training so it's good that the boys are living below and I'm enjoying college at the moment, enjoying the course, enjoying football so everything's going well".
One subject seems to always be the topic of conversation on these journeys. "When we're going down we're talking about football, when we're coming home we're talking about football, we have football on the brain for the next week or two, it's all about preparing and we're looking forward to Sunday and it's a lot easier to get into the car when you're looking forward to a County Final".
Keelan comes up against his County manager Colm Collins in Sunday's final. He expects the Cratloe boss to have a few aces up his sleeve. "It's a credit to him that he's getting Cratloe to another final and obviously with him over us in Clare he knows a lot about a few of our players and we know a lot about his style, he's one of the best managers around, what he's done with Clare and Cratloe is immense so I'm sure he'll have something up his sleeve for us the next day, to be fair to him he always has some sort of trick".
Of Clare's run in this year's championship the nineteen year old commented "That was very enjoyable, we enjoyed our football this year and to get a run like that it only promotes football in the County and you can see the standard of the club championship in the last year or two. It's great for football in Clare when the County team is going well and it just transcends into the championship and it's been a good championship up to now so hopefully it ends well for us".
His profile as a lethal forward has developed on the back of performances for club and county. Keelan now finds himself being double marked. "It's hard to describe, I don't know why I'm being marked as such, all I'm doing is the easy part putting it over the bar or putting it in the net, it's the lads out the field that are giving me the kind of profile that I'm getting, the ball that's coming in it's easy to kick a ball over the bar it's hard work making the runs, people delivering the ball perfectly to you so I can have no complaints, it's just about the team that you're around, no one individual is good enough to win a game on his own".
In 1993 Wesley Snipes starred opposite Sylvester Stallone in the directorial debut of Marco Brambilla titled 'Demolition Man'. In the science fiction film, Snipes' hairstyle grabbed plenty of attention as he sported bleached highlights. Sexton himself has gone for a less radical but similar style, due to his mother's occupation the Law Plus student sometimes finds himself being used for new experimental looks. "The mother's a hairdresser so I'm just giving her a bit more advertisement" he laughed.
If Kilmurry Ibrickane are to succeed, the influence of their very own demolition man will be the difference.