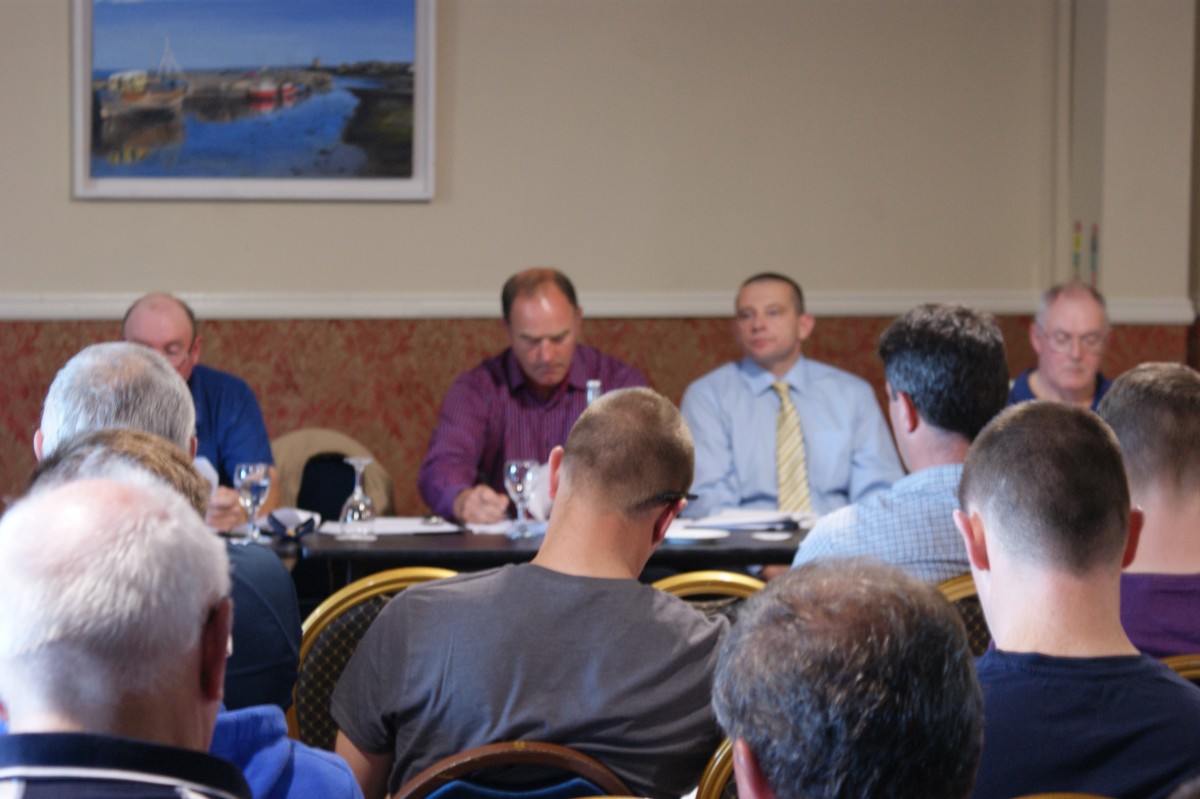 As title-holders, Clare's Oscar Traynor side are being targeted by every other team in the competition.
Donie Garrihy is in his second year in charge of the Clare team having served as Chairperson of the Clare District Soccer League. As reigning champions he's fully aware that all teams in the race for the Oscar Traynor Trophy will be out to knock the Banner.
"No matter who we're playing whether it's Galway or Innishowen or Mayo or Roscommon or Wicklow or the West Cork League or the Limerick District League if I could explain it this way our team will be up on top of a little raft outside in Galway Bay and there'll be about forty sharks trying to take a bite of us, that's the way it's going to be when you're champions".
Nonetheless it's the position Donie and his team are relishing being in. "We love this, we'd rather be inside looking out than outside looking in, the rest of them are outside looking in, we're in the middle of the fair this year and we'd like to stay there, I'm not going to set ourselves up for a big fall, we intend to stay there".
While they're conscious to the fact that everyone to takes them down, Clare are adapting a clean slate approach and talk of back to back titles has never been mentioned. "It's the first game of a four team group and there has been no talk for the last four or five weeks of back to back or two in a row, that's not in the context at all, it's a new campaign, the Clare District Soccer League always try to keep their standards high for the Oscar Traynor and this year will be no different".
Captain from last year Paddy Purcell is unavailable for their opening game this evening while fellow defender Darren Murphy opted against joining the squad this season. Enda Braddock sustained a double leg break which Garrihy laments. To counteract this some new faces have been added to the squad.
"There's younger players in, guys who weren't available last year in, there's some older faces some of them that are injured some that can't commit but as I said last year and the previous four years when I was Chairman there's damn good players in County Clare and the guys that have come in are good players and they want to play".
One of the new additions is Clare hurler, Colin Ryan. "Colin is all business and we love having him, I've seen Colin play down through the years with Newmarket and a damn good player. I can't really talk about his qualities as a hurler but I know he has the medals to back it up. He brings an energy and enthusiasm into our squad, we saw him playing last week, some of the guys in the other team were in awe of him".
Ahead of this evening's game which kicks off at 5pm, the Clare boss is confident his charges will give it their best. "When the game comes on Saturday just like every other game last season, when you pull on the County jersey you have to be prepared to play against anybody, if you're not in that mindset to play against anybody you don't belong inside in that dressing room, it's another game and whoever is front of us the Clare boys will give their best they're renown for giving their very best" he told Clare FM.