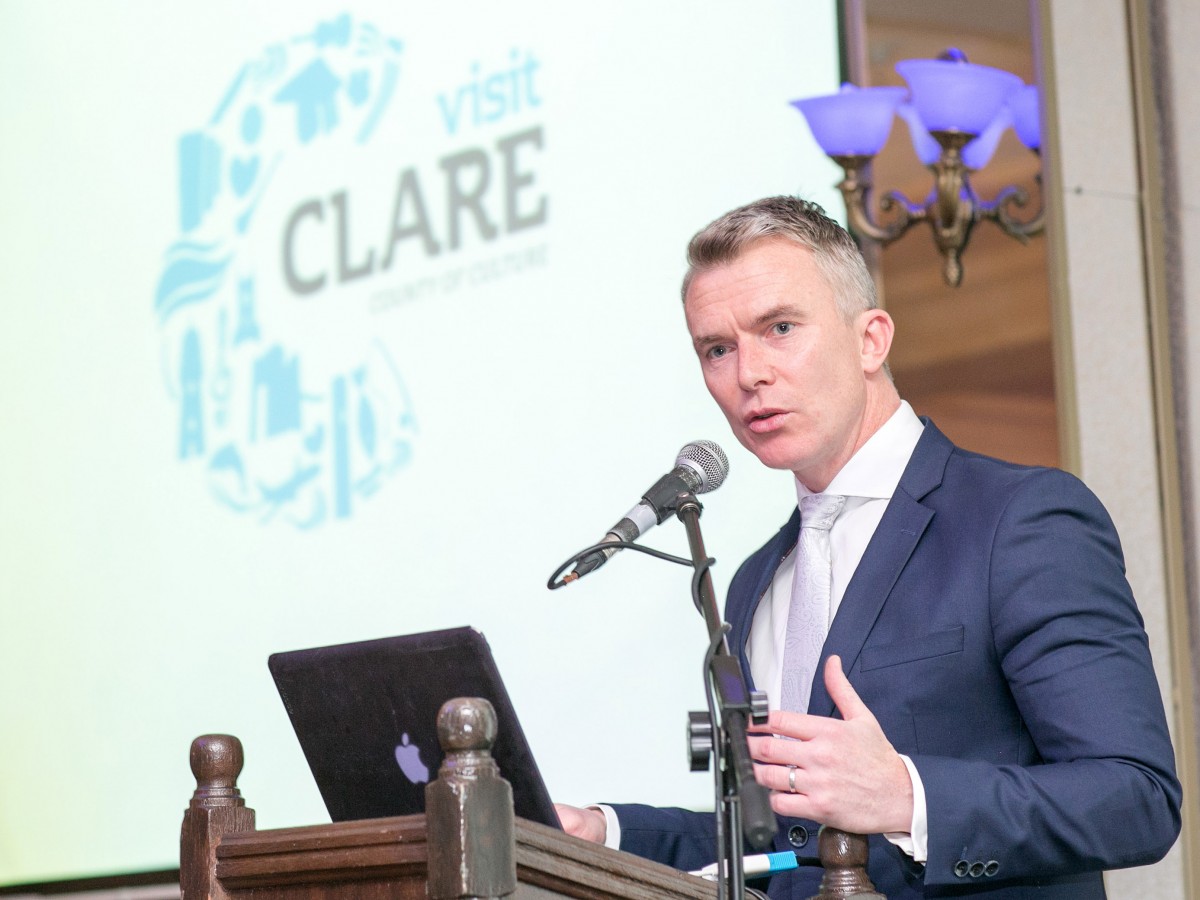 Clare tourism successes in 2016 as well as the tourism challenges and opportunities for the year ahead were discussed at the annual Clare Tourism Networking Event in Treacys West County Hotel.
More than 200 tourism providers from throughout County Clare participated in the event. Among the guest speakers who addressed the event were Suzanne Trehy of Fáilte Ireland and Rory Casey and Frank Whelan of Fleadh Cheoil na hÉireann, while Maureen Cleary of Clare Tourism meanwhile, showcased how the new 'Visit Clare' branding has been successfully rolled out locally, nationally and internationally.
Paul Madden, Chair of Clare Tourism and General Manager of the Temple Gate Hotel explained "2016 was a very productive year for Clare Tourism. A large part of the evening consisted of business to business meetings between Clare Tourism providers. This was the ideal opportunity to create new connections, work on bundling offers among the trade and update each other on plans for 2017," he said.
Mr. Madden added, "We outlined some of our many achievements such as the launch of our redesigned website (www.clare.ie), which is a state-of-the-art interactive model promoting all Clare tourism products through listings, images and stories with no charge to the provider. Michael Byrne of Acton BV, our website provider, presented some of the recent stats which indicate a great deal of referral business to our Stakeholders since its launch."
Paul said that Clare Tourism has been "very active" in promoting the organisation's new branding through national and international print and online media forums. We were also heavily involved during Fleadh Cheoil 2016. We acquired a premises in Abbey Street on a two-year lease, which is a showcase of our branding. We had our brand splashed all over Fleadh TV and the Luminarium as well as bunting throughout the town, and we also arranged over 10,000 high quality Bounce Back Voucher Books for visitors to Ennis and Clare to return," he explained.
Mr. Madden explained that the Networking Event provided an opportunity for Clare Tourism to acknowledge local tourism providers who had achieved business success during 2016. He said, "We recognised all of the many tourism products that won honours and awards throughout 2016 from the Cliffs of Moher and Burren UNESCO Geopark winning a hugely recognisable International National Geographic award to the various local food eateries that received recognition in the Michelin Guide."
All pics by Arthur Ellis