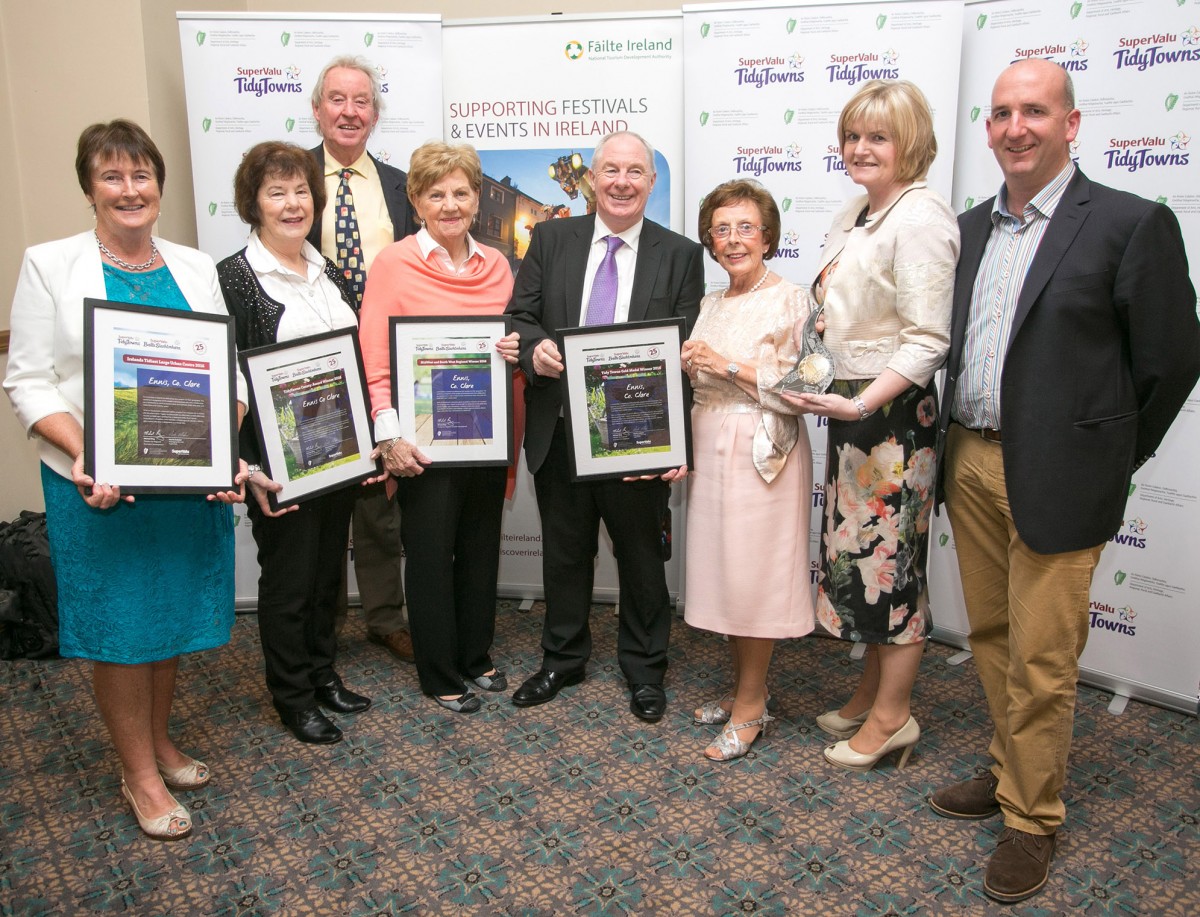 This year's SuperValu TidyTowns awards for the Midwest and South West region were presented at a prize-giving ceremony in the Woodstock Hotel, Ennis, Co Clare.
Michael Ring, Minister for Regional Economic Development, and Niall O'Callaghan, SuperValu Sponsorship & Community Brand Manager, proud sponsors of the competition presented the winners with their awards. Also joining the Minister on stage was Siobhan King of Fáilte Ireland.
Ennis won the title of Ireland's Tidiest Large Urban Centre and Listowel, Co Kerry held the title of Ireland's Tidiest Small Town. Kilrush and Ennis picked up a Gold Medals with Mountshannon the sole recipient of a Silver Medal. Bronze Medals were award to Ballynacally, Ballyvaughan, Kilkee, Quin and Tuamgraney.
Speaking at the awards ceremony Minister Ring said: "It is fantastic to have the opportunity this evening to meet TidyTowns groups across this region. These awards are just a small reward for the efforts of so many volunteers who take pride in their home town and work tirelessly to make it a better place now and for future generations. This unselfish effort and the generosity displayed by these volunteers makes a huge difference in our communities. I must make special mention of Ennis and Listowel, both National winners; congratulations to them as well as all of today's other prize-winners."
Ring also thanked TidyTowns' main sponsor SuperValu. "For 25 years SuperValu has been involved in this competition at local and national level and they have helped it to flourish and grow and continue to demonstrate a real commitment to supporting local communities. They have worked closely with Department officials to help make it the success it is today."
Niall O'Callaghan SuperValu Sponsorship & Community Brand Manager said: "At SuperValu we believe in building vibrant local communities and the SuperValu TidyTowns competition goes to the heart of what community is all about. The incredible dedication shown by the volunteers involved is truly admirable and continues to amaze us year after year. Their relentless commitment to working for the good of their local community is what makes this competition the success it is today".
Interest in the SuperValu TidyTowns competition has been stronger than ever in recent years and with 859 communities entering the competition in 2016. The competition has been running since 1958 and is organised by the Department of Arts, Heritage, Regional, Rural and Gaeltacht Affairs. The competition has been sponsored by SuperValu since 1992.
All pics by Arthur Ellis
SuperValu TidyTowns – Ireland's Tidiest Large Urban Centre – Overall Winner
Sponsored by SuperValu
Recipient County Award
Ennis Clare National Winner
SuperValu TidyTowns – Ireland's Tidiest Small Town – Overall Winner
Sponsored by SuperValu
Recipient County Award
Listowel Kerry National Winner
SuperValu TidyTowns – Midwest and South West Region – Regional Winner
Sponsored by the Department of Arts, Heritage, Regional, Rural and Gaeltacht Affairs
Recipient County Award
Ennis Clare Regional Winner
SuperValu TidyTowns – Midwest and South West Region – Medallists in National Awards Sponsored by SuperValu
Recipient County Award
Adare Limerick Gold Medal
Ballincollig Cork Gold Medal
Clonakilty Cork Gold Medal
Cobh Cork Gold Medal
Coolagown Cork Gold Medal
Ennis Clare Gold Medal
Kenmare Kerry Gold Medal
Killarney Kerry Gold Medal
Kilrush Clare Gold Medal
Kinsale Cork Gold Medal
Listowel Kerry Gold Medal
Rathbarry Cork Gold Medal
Rosscarbery Cork Gold Medal
Sneem Kerry Gold Medal
Tralee Kerry Gold Medal
Bantry Cork Silver Medal
Carrigaline Cork Silver Medal
Eyeries Cork Silver Medal
Lislevane Cork Silver Medal
Macroom Cork Silver Medal
Mountshannon Clare Silver Medal
Youghal Cork Silver Medal
Ardpatrick Limerick Bronze Medal
Ballydehob Cork Bronze Medal
Ballynacally Clare Bronze Medal
Ballyvaughan Clare Bronze Medal
Bandon Cork Bronze Medal
Castletownroche Cork Bronze Medal
Galbally Limerick Bronze Medal
Kilkee Clare Bronze Medal
Kilmallock Limerick Bronze Medal
Knightstown Kerry Bronze Medal
Midleton Cork Bronze Medal
Millstreet Cork Bronze Medal
Newcastle West Limerick Bronze Medal
Portmagee Kerry Bronze Medal
Quin Clare Bronze Medal
Skibbereen Cork Bronze Medal
Timoleague Cork Bronze Medal
Tuamgraney Clare Bronze Medal
SuperValu TidyTowns – Midwest and South West Region – County Awards
Sponsored by SuperValu
Recipient County Award
Ennis Clare County Winner
Kilrush Clare Highly Commended
Mountshannon Clare Commended
Kilkishen Clare Endeavour *
Coolagown Cork(North) County Winner
Castletownroche Cork(North) Highly Commended
Kiskeam Cork(North) Commended
Newtwopothouse Cork(North) Endeavour *
Ballincollig Cork(South) County Winner
Kinsale Cork(South) Highly Commended
Cobh Cork(South) Commended
Carrigaline Cork(South) Endeavour *
Clonakilty Cork(West) County Winner
Rosscarbery Cork(West) Highly Commended
Rathbarry Cork(West) Commended
Inchigeelagh Cork(West) Endeavour *
Listowel Kerry County Winner
Kenmare Kerry Highly Commended
Killarney Kerry Commended
Duagh Kerry Endeavour *
Adare Limerick County Winner
Ardpatrick Limerick Highly Commended
Galbally Limerick Commended
Rockhill Limerick Endeavour *
* Endeavour Award winners are those who achieved the greatest improvement in score in 2015
SuperValu TidyTowns – Midwest and South West Region – Special Awards
Recipient County Sponsor & Award
Coolagown Cork Irish Water Value Water Award
Tuamgraney Clare Irish Water Value Water Award
Cobh Cork Irish Water Value Water Award
Carrigaline Cork Clean Air Award – Highly Commended, sponsored by Department of Communications, Climate Action and Environment
Scarriff Foróige Youth Club Clare SuperValu Regional Youth Award
Kildorrery Cork Let's Get Buzzing Pollinator Award – sponsored by Local Authorities
Killarney Kerry Let's Get Buzzing Pollinator Award – sponsored by Local Authorities
Bere Island Cork Department of Arts, Heritage and the Gaeltacht Island Award Winner
Sherkin Island Cork Department of Arts, Heritage and the Gaeltacht Island Award Highly Commended