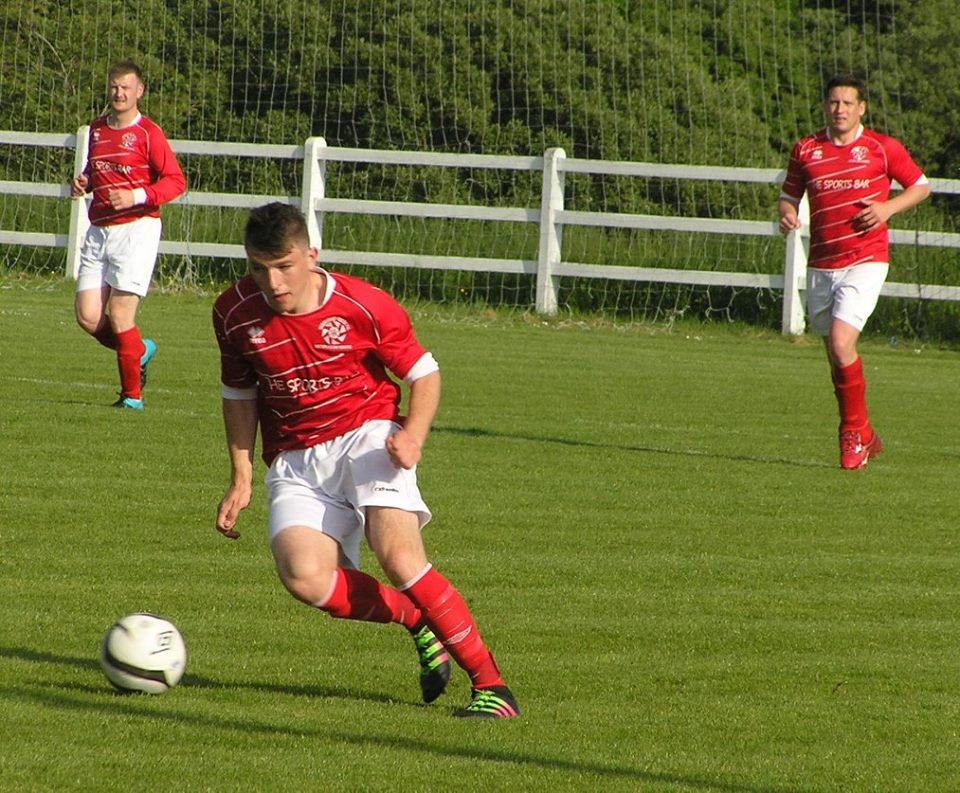 Newmarket Celtic advanced to the last sixty four of the FAI Junior Cup overcoming neighbours Bridge Utd on Sunday morning.
Newmarket Celtic 3
Bridge Utd 0
Newmarket Celtic moved on to the next phase of the FAI Junior cup after a convincing win over Bridge Utd in McDonough Park.
Chances were few and far between in the first half and it was just before half time when Celtic took the lead.
A corner from Eoin Hayes was diverted into his own net by Bridge Utd goalkeeper Kieran Brennan to gift the hosts a very soft goal.
The second half saw a bit more goalmouth action and it was former Bridge man Brian Monaghan who did the damage. He got on the end of a long throw from Eoin O'Brien and made no mistake with the finish.
Monaghan later doubled his own total for the day late to put the game to bed and seal Newmarkets place in the last 64 against Aungier Celtic.
Newmarket Celtic: Rob Shier; Seamus Lawlor, Mark Donlon, Paddy Purcell, Eoin O'Brien; Ian Collins, Colin Ryan, Tino Nzvaura, Brian Monaghan; Eoin Hayes, Davy McCarthy. Subs: Daithi O'Connell for Nzvaura, Steven Carroll for Lawlor, David O'Grady for Monaghan, Cathal Hayes for McCarthy.
Bridge Utd: Kieran Brennan, Christy Griffen, Eoin Guinan, Kevin Kelly, Darren Murphy, Alan Mulready, Darragh Fitzgerald, Shane Golden, Kieran Quinlan, Eoghan Pewter, Jon Okoro. Subs: Trevor Maxwell for Pewter (inj), Mikey Mcnamara for Quinlan, Brian O'Connor for Golden, Lee Wall for Fitzgerald, Gavin Whyte for Okoro.
Munster Junior Cup Round 2
Turnpike Rovers 2-2 Coole FC (AET) – Coole won 7-6 on penalties
Coole FC advanced to round 3 of the Munster Junior Cup after a dramatic sudden death penalty shootout victory over Turnpike Rovers at Lees Road on Sunday. Coole started well and were 1-0 up after 10 minutes after a cross field ball found Jason Grealish and he turned the defender before firing a low shot into the bottom corner.
Turnpike had a chance to draw level before the break when they were awarded a penalty but it well saved by Arek Mamala in the Coole goal. The score at the break was 1-0 to Coole. Turnpike came out with guns blazing the start of the second half and drew level few mins in when they scored from a shot from outside the box. Coole were then caught out with a set piece after a corner wasn't defended and Turnpike went 2-1 up.
With the match in injury time Coole had one last chance and a free kick from outside the box from Dave Cahill came back off the crossbar to find the on rushing Fergus Tuohy who fired home from close range to send the game to extra time. There was no more goals in extra time and Coole kept their nerve better in the shootout and qualified for a home match in round 3 against Shannon Town B or Rineanna Rovers.
Coole FC: Arek Mamala, Jake Farrell, Noele Glynn, Fergus Tuohy, Sean Roche, Kieran Burke, John Cosgrove, Rafa Mamala, Dave Cahill, Darragh Reilly, Jason Grealish. Subs: Darren Grealish, Ayrton Quinn, John Regan
First Division League
Hermitage 2-0 Kildysart Celtic
Hermitage moved into second place in the First Division after getting the better of Kildysart Celtic in a well contested match at the Fairgreen on Sunday. Michael Mahony put Hermitage in front in the first half and it remained that way until four minutes from time when Tomas Radilek fired home from a free kick on the edge of the box to wrap up the victory and secure the 3 points for the Ennis side.
Hermitage: Joe Burke, Jack Crowley, Tomas Radilek, Sean Dobbins, Pat Sherlock, Simon McDonagh, Neil Slattery, Arthur Rogers, Matthew Kearney, Johnny Ferns, Michael Mahony. Subs: Sean McGee, Kevin Considine, Conor Walsh, Alan Whyte, Alan Daly
Kildysart Celtic: Paddy Breen, John Ginnane, Francie O'Reilly, Shane McNelis, Eoin Griffin, Brian Eyres, Gerry Finn, Kieran Eyres, Francie Hayes, Damian Hill, Colin Stewart. Subs: Daryl Maxwell, Kieran Connelly, Rory McMahon, Pa Kelly
Mountshannon Celtic 2-3 Moher Celtic
Moher Celtic made the trip to Scariff on Sunday and came away with the points after defeating Mountshannon Celtic. Moher went in front when Sean Garrihy scored a great individual goal with a strike from outside the box. Mountshannon drew level when a Moher defender scored an own goal. Moher went back in front when Mountshannon returned the favor with an own goal. Moher started the second half well and Johnnie Daly put the visitors 3-1 up after a goalmouth scramble. Mountshannon pulled a goal back before full time but was not enough to stop Moher winning.
Moher Celtic: Craig Flanagan, Diorraing McNamara, Cobhan Phillipson, Caoimhin Phillipson, John Dillon, Jack Cagney, Paul Cagney, Sean Garrihy, Johnnie Daly, Mattie Kinch Jimín Doolay
Suttons Lighting Third Division
Inch Crusaders 3-0 Shannon Town C
Inch Crusaders put in a good performance to defeat Shannon Town C at Lees Road on Sunday and move up to fourth place in the Third Division. Inch started well and went in front after 20 minutes when Eamonn Bracken brilliantly volleyed home from outside the box. Inch went two up when Ronan Grace set up Rory Kileen who scored with a great strike giving the Shannon Town keeper no chance. Inch wrapped up the victory with a third goal with great work from the impressive Bracken who squared the ball to the advancing Edward Fogarty who made no mistake from 5 yards out.
Inch Crusaders: James Rynne, Mark Connellan, Emmet Pyne, Sean Talty, Eoghan Grace, Ronan Grace, Cillian Gregan, Rory Killeen, Edward Fogarty, Brenno Henrique, Eamonn Bracken
Subs: Oran Killeen for Bracken, Joe Carmody for Killeen, Aaron Bradley for Eoghan Grace, Eoghan Culligan for Ronan Grace.
Treacys West County Hotel Clare & District Soccer League Results
Sunday 20th November 2016
FAI Junior Cup Round 4
Newmarket Celtic 3-0 Bridge Utd
Dingle Bay Rvs 2-0 Avenue Utd
Munster Junior Cup Round 2
Turnpike Rvs 2-2 Coole FC (AET) – Coole won 7-6 on penalties
Ennis Town 4-3 Lifford (AET)
First Division League
Hermitage 2-0 Kildysart Celtic
Mountshannon Celtic 2-3 Moher Celtic
Suttons Lighting Third Division
Inch Crusaders 3-0 Shannon Town C
Shannon Olympic B 3-4 Sporting Ennistymon B
Saturday 19th November 2016
FAI U17 CUP Round 3
Galway Hibs 2-2 Avenue Utd (AET) – Avenue won 8-7 on penalties
Treacys West County Hotel Clare & District Soccer League Fixtures
Saturday 26th November 2016
CDSL Youths League
Roslevan: Avenue Utd v Lifford 2pm Trevor White
Corrib Drive: Shannon Town v St Pats 2pm Lukasz Baranowski
Mullagh: Sporting Ennistymon v Bridge Utd 2pm Niall Quinn
Sunday 27th November 2016
Oscar Traynor Trophy Round 2
Milebush Park, Castlebar
Mayo v Clare 2pm Mayo Officials
Munster Junior Cup Round 2
Corrib Drive: Shannon Town B v Rineanna Rvs 11am Julian Sandford
First Division League
Lahinch: Moher Celtic v Bridge Utd B 11am Martin OBrien
Roslevan: Avenue Utd B v Kildysart Celtic 11am Michael Rock
McDonagh Pk: Newmarket Celtic B v Kilkishen Celtic 11am Terry Kennedy
Lees Road: Turnpike Rvs v Mountshannon Celtic 10:30pm James Ferns
Selprint Second Division
Tiermaclane: Kilmaley Fern Celtic v Ennis Town B 11am Mark Rellis
Kilrush: West Clare FC v Manus Celtic 11am Michael Talty
Suttons Lighting Third Division
Olympic Pk: Shannon Olympic B v Inch Crusaders 11am Shane Hayes
Bunratty: Bunratty/Cratloe v Moher Celtic B 11am Sean Kenneally
Cassidy Pk: Lifford B v Corofin Harps B 11am Frank Coote
Note: All results to be with Donal Kirby on 085-1765828 immediately after games otherwise a €40 fine will be incurred.