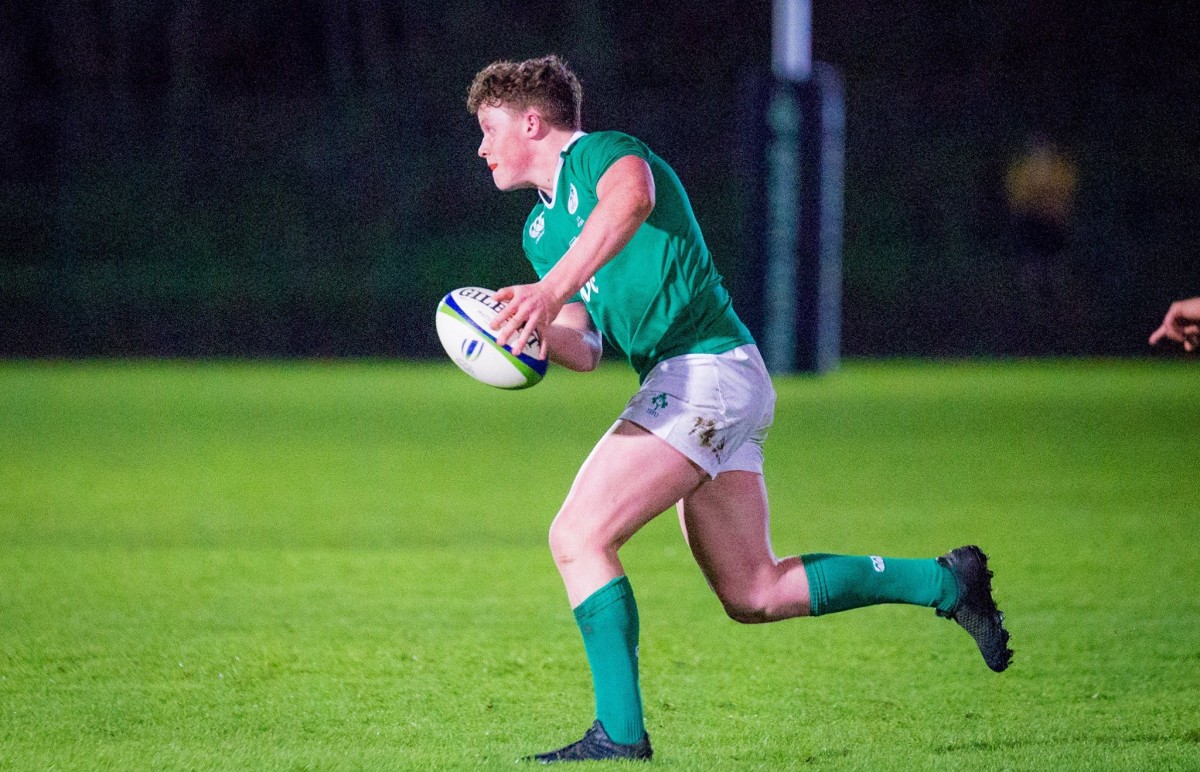 In his first outing as an International captain, Clare's Evan O'Gorman led the Irish U18s to victory against Portugal.
A native of Shannon, Evan plays his club rugby with Young Munster. He started the match at inside centre and his tackling skills along with those of his fellow backs were impressive as the Irish U18 clubs team recorded a 46-12 win over Portugal in Jamor.
Portugal ran over for two tries with thirteen minutes on the clock but Ireland finished with thirty one points on the trot to get their season off to a winning start. This was the first occasion in which this Irish contingent played together and they were under the stewardship of Dan van Zyl and Brendan O'Connor.
It is the first time O'Gorman captained his country and it is an achievement both he and his family are very proud of.
Ireland U18 Clubs: Conor Hayes (Young Munster RFC/Munster); Morgan Purcell (New Ross RFC/Leinster), Kieran Dunne (Sale Sharks Academy/Exiles), Evan O'Gorman (Young Munster RFC/Munster) (capt), Hugh Lane (Galwegians RFC/Connacht); Harry Byrne (Garryowen FC/Munster), Garrett Fitzgerald (Tullow RFC/Leinster); Jack Walters (London Irish Amateurs RFC/Exiles), Patrick Nixon (Wicklow RFC/Leinster), Jack McIntosh (Rainey Old Boys RFC/Ulster), Niall Murray (Buccaneers RFC/Connacht), Cameron Boon (Welwyn RFC/Exiles), Cian Huxford (Corinthians RFC/Connacht), Conor Finch (Welwyn RFC/Exiles), John Hodnett (Clonakility RFC/Munster).
Replacements all used: Harry Donnelly (Waterpark RFC/Munster), Daniel Arnold (Creggs RFC/Connacht), Conan Dunne (Kilkenny RFC/Leinster), Evan Murphy (Nenagh Ormond RFC/Munster), Martin Moloney (Athy RFC/Leinster), Caolan Englefield (Harlequins RFC/Exiles), Iwan Hughes (Bristol Rugby Academy/Exiles), Darragh Kelly (Suttonians RFC/Leinster).
Portugal: Thomas Marrana; Rodrigo Marta, José Leal da Costa, Diogo Cabral, Francisco Afra; Morais Vasco, Manuel Almeida; Duarte Conde, Rodrigo Bento, David Costa, Manuel Barros, Martin Bello, Manuel Nunes, Bernardo Ramos, José Roque.
Replacements: João Almeida, João Carneiro, Hugo Sousa, Miguel Martinha, Sebastian Silva, José Babe, Baltasar Melo, Luis Cows, Luis Martin, Francisco Nobre, Miguel Casadinho.