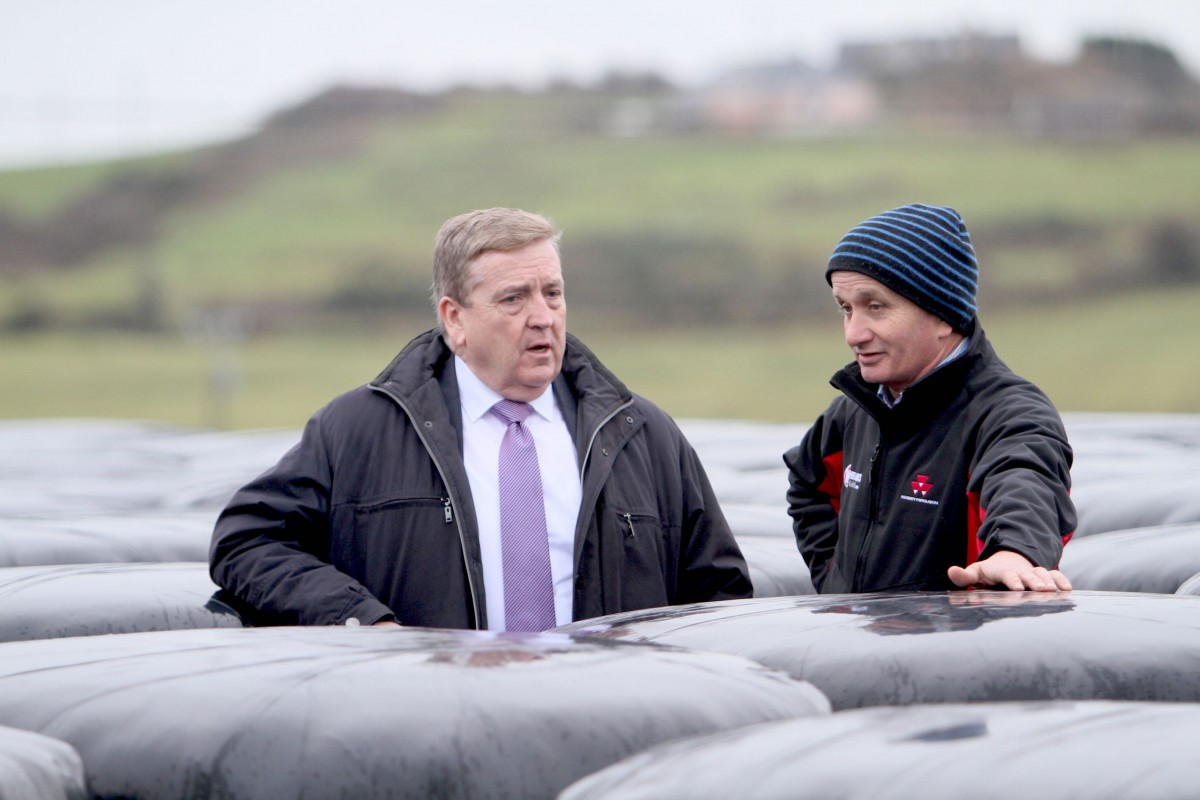 Up to thirty local farmers accompanied Clare TD Pat Breen on a farm safety walk in Kilrush on Monday.
Organised by the Health and Authority and Teagasc, the walk took place on the farm of Martin Fennell, a suckler farmer in Ballyket, Kilrush. It is designed to give local farmers an opportunity to learn first-hand about the practicalities of safety allowing them to see and discuss good practice, while learning how to minimise the risk of accidents to themselves and their families.
Four key areas were addressed; Tractors and machinery, livestock handling, farm buildings and slurry management.
During the walk farmers were given advice and information on; risks around tractor use, changing and maintaining PTO guards, vehicle safety including a SAFE STOP procedure and the additional risks involved when carrying out maintenance work. Examples of good practice, such as yard layout and lighting, cattle handling facilities and adequate calving facilities, were also on show.
Farmers were encouraged to take more care when working at height, to use the appropriate equipment such as a mobile elevated work platform (MEWP) and not to take risks particularly while carrying out maintenance on fragile roofs. The importance of removing livestock and only carrying out slurry agitation on a windy day was also emphasised.
Speaking in Kilrush the Minister of State for Employment and Small Business voiced his concern at the sharp increase in fatal accidents on farms recently:
"Since mid-November there have been four people killed on farms, with 19 deaths in total so far this year. No other sector is experiencing that level of fatal accidents and it is greatly concerning to me that so many families are losing loved ones due to work activity. I would appeal to farmers to take some time to consider the risks in every job they do and to work out a plan to manage the hazards before they start work".
Breen added "Farming is a way of life as well as an industry and we must remember that it is not the farmer that is at risk, but family members too. I believe that we must all work together, as a community along with the HSA and Teagasc, to reduce these tragedies. Farm safety walks are an excellent example of this, they encourage farmer-to-farmer learning and promote safer farming."
Professor Jim Phelan, Chair of the Farm Safety Partnership called on farmers to commit to making changes in how they approach farm safety: "These events give the HSA and Teagasc an opportunity to meet with farmers in one location and give practical advice on farm safety. We know that farmers are receptive to the message that safety is vital, but we need to see that manifest in how they approach their work. Safety is not something you just talk about, it is something you must build into your work every day."
John McNamara, National Health and Safety Specialist with Teagasc said that Knowledge Transfer (KT) is becoming important in all aspects of farming: "Farm walks and knowledge transfer groups are about establishing networks so farmers can learn from each other. They are integral to much of what we, in Teagasc, are working towards."
All pictures by Noel Gavin