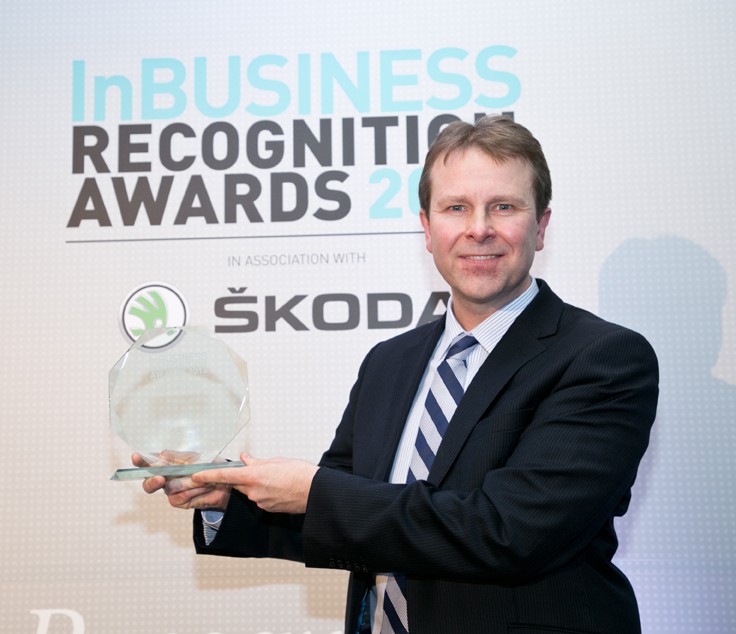 Shannon Group received the Brand Award at the fifth annual InBUSINESS Recognition Awards.
Hundreds of guests from across the country converged at the Conrad Hotel, Dublin to celebrate Irish business by recognise their outstanding achievement in the Irish business community. Winners of the InBUSINESS Recognition Awards were chosen across 22 categories based on the broad criteria of growth, profile of business, range of services and customer care.
Hosted by Newstalk's Vincent Wall each winner had the unique opportunity to address the audience to give some further insights to their business as they received their award.
CEO of Shannon Group plc Matthew Thomas accepted the Brand Award on behalf of the group which was chosen as the national winner. The group was the only Clare winner at the awards.
The 'Company of the Year Award' was presented to Vodafone Ireland. Julie Sinnamon of Enterprise Ireland was named 'Businesswoman of the Year', while Joe Barrett of Applegreen was named the 'Businessman of the Year'.
Legal Firm Eversheds were named 'Business Law Firm of the Year' for the third year running while Russell Brennan Keane took the award for 'Accountancy Firm of the Year'. Kemmy Business School at the University of Limerick receiving, 'Best Business School' while Virgin Media were recognised as 'Best Business Broadband'.
NSAI was named 'Best State/Semi-State Body' and AdMailer.ie was received the award for the 'Best Newcomer'. Paypal took the award for 'Best in E-Commerce', Dublin Port was recognised for being 'Best in Tourism' while the S90 was named 'Best Executive Car'.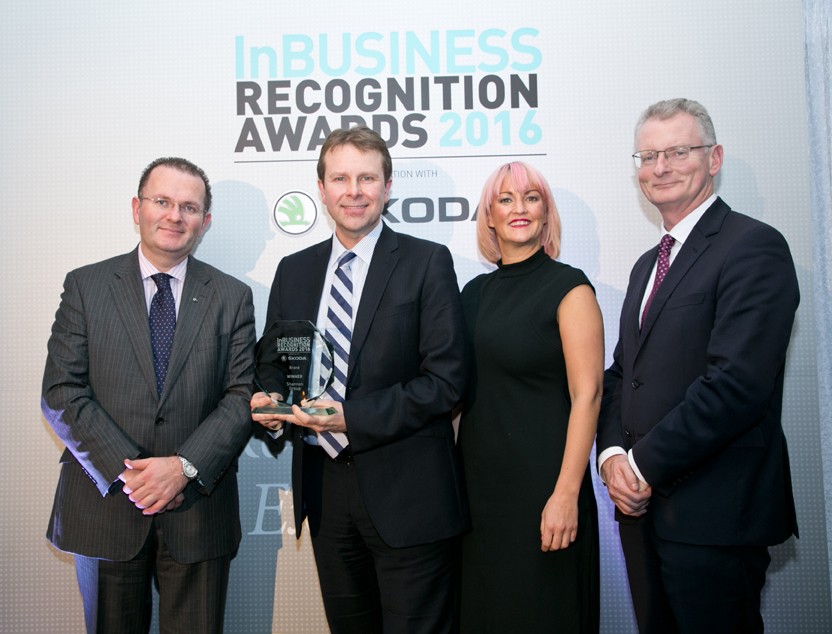 Speaking at the awards, John Donegan Brand Director at ŠKODA Ireland said: "I would like to congratulate the 22 category winners today. When I look at this prestigious list I can relate to many of them. Over the last number of years the ŠKODA brand in Ireland has persevered and grown through the most difficult of business environments. Ten years ago it was unthinkable that ŠKODA would be on the cusp of breaking into the top-five bestselling car brands in Ireland but this has become possible through Innovation, investment, recruitment, hard work and determination".
Full list of InBUSINESS Recognition Awards Categories and Winners
Businesswoman of the Year: Julie Sinnamon- Enterprise Ireland
Life Assurance and Pensions Award: Zurich Life
Presented to Joe Creegan, Head of Corporate Life and Pensions
Tourism Award: Dublin Port
Presented to Pat Ward, Head, Corporate Services, Dublin Port
Accountancy Award: Russell Brennan Keane
Presented to David Gleeson, Managing Partner, Russell Brennan Keane
e-Commerce Award: Paypal
Presented to Maeve Dorman, Head of Global Operations, PayPal
Exporter Award: CLdN
Presented to Koen Vanhentenrijk, Commercial Route Manager Ireland, CLdN
Banking Award: AIB Private Banking
Presented to Dave McLaughlin, Head, AIB Private Banking
Business School Award: Kemmy Business School
Presented to Prof. Sheila Killian, Assitant Dean, Kemmy Business School
Energy Award: Bord Gáis Energy
Presented to Ken O'Byrne, SME Category Manager, Bord Gáis Energy
Law Firm Award: Eversheds
Presented to Alan Murphy, Managing Partner, Eversheds
Executive Car Award: Volvo S90
Presented to Stephen Teap, Corporate Sales & Used Car Manager, Volvo
Financial Services Award: New Ireland Assurance
Presented to Michael Gordon Head of Marketing, New Ireland Assurance
Best County Council for FDI Award: Mayo County Council
Presented to Peter Hynes, Chief Executive, Mayo County Council
State Body Award: NSAI
Presented to Maurice Buckley, CEO, National Standards Authority of Ireland
Newcomer Award: AdMailer.ie
Presented to Fiona Heffernan, Head of Post Media, An Post
Marketing Initiative Award: AIB Start-up Academy
Presented to Alice Grant, Senior Brand Manager, Business Marketing, AIB
Support to SME's Award: Credit Review Office
Presented to John Trethowan, Credit Reviewer, Credit Review Office
Special Merit Award: Bank Of Ireland Group for CSR
Presented to Audrey Nolan, Group Communications, Bank of Ireland
Brand Award: Shannon Group
Presented to Matthew Thomas, CEO, Shannon Group plc
Business Broadband Award: Virgin Media Business
Presented to Aidan Darcy, Head of Business Division, Virgin Media
Businessman of the Year: Joe Barrett, COO, Applegreen
Company of the Year: Vodafone Ireland
Presented to Anne O'Leary, CEO, Vodafone Ireland