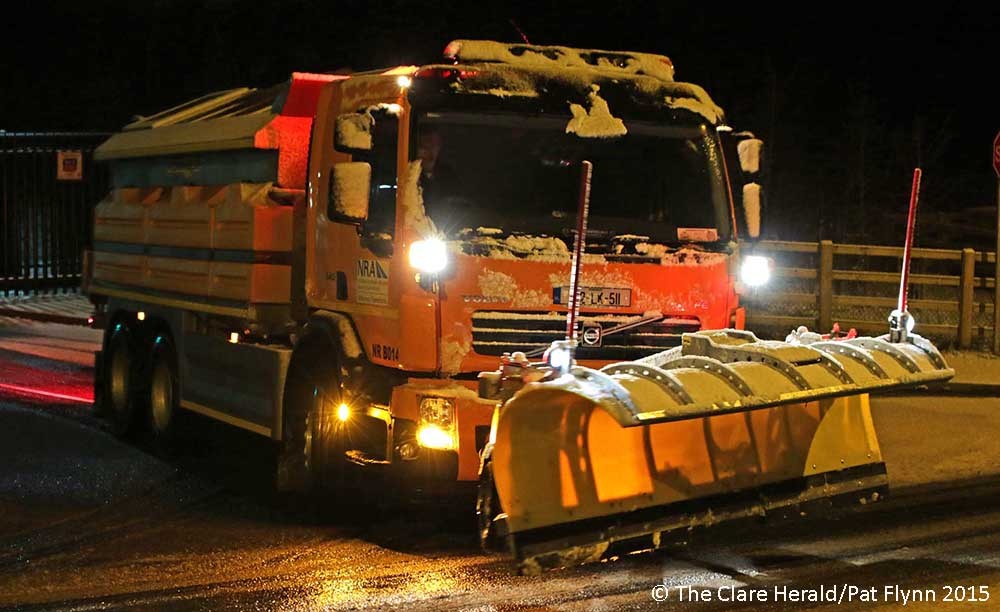 Clare County Council is reminding the public of a a Status Yellow Weather Advisory that has been issued by Met Éireann for County Clare.
Very cold wintry weather will develop from Wednesday night onwards.
Showers will turn wintry in many places, from Wednesday evening to Saturday, with falls of sleet and snow expected. The heaviest of the snow fall is most likely over Ulster, Connacht, north Leinster and west Munster and especially so on high ground.
Issued: Tuesday 10 January 2017 14:00
Valid: Wednesday 11 January 2017 18:03 to Saturday 14 January 2017 12:00
STATUS YELLOW WEATHER ALERT: Very cold wintry weather will develop from Wednesday night onwards. READ: https://t.co/oskxlV08YF pic.twitter.com/v0uMOmFWML

— Clare County Council (@ClareCoCo) January 10, 2017
Meanwhile, Minister for Transport Tourism and Sport, Shane Ross TD, reminds people to be winter ready and take all necessary precautions.
Speaking today Minister Ross said: "I would urge all people to heed the advice of the agencies and take all necessary precautions if out during the severe weather. If travelling I would advise that you plan your route and check local information , allow extra time, drive slowly and carefully and stay safe."
Useful information on how to prepare for severe weather can be found on the Be Winter Ready website, www.winterready.ie.
The Department also publish a "Transport Information for Severe Weather" page on our website:  http://www.dttas.ie/corporate/english/emergency-planning 
This page outlines where to find information on weather, roads, public transport and road safety during severe weather. It includes contact details for local authorities, and links to each local authority winter service plan. These plans outline plans for dealing with winter weather, including the priority salting routes for each local authority.
As of January 2nd 2017, salt usage to-date this winter amounted to 38,400 tonnes, with stocks of 203,500 tonnes of salt remaining. By comparison, 96,000 tonnes of salt was used over the winter of 2015/16 and some 130,000 tonnes was used during the very severe winter of 2010/2011. Storage capacity has increased substantially since 2010 and this allows for greater stocks of salt to be stored in advance of winter.
Transport Infrastructure Ireland provides details of motorway and national road conditions on www.tii.ie and www.tiitraffic.ie. Local authorities will publicise local roads closures, and a number of local authorities provide mobile alert services which include updates on any such closures. Information on traffic and road closures can also be found on the AA Roadwatch website, www.theaa.ie/roadwatch and on local radio stations.
Each of the transport operators update their websites and social media during severe weather and their details can be found on our information page. 
The Road Safety Authority has information and safety advice for drivers, motorcyclists, cyclists and pedestrians on their website, www.rsa.ie.