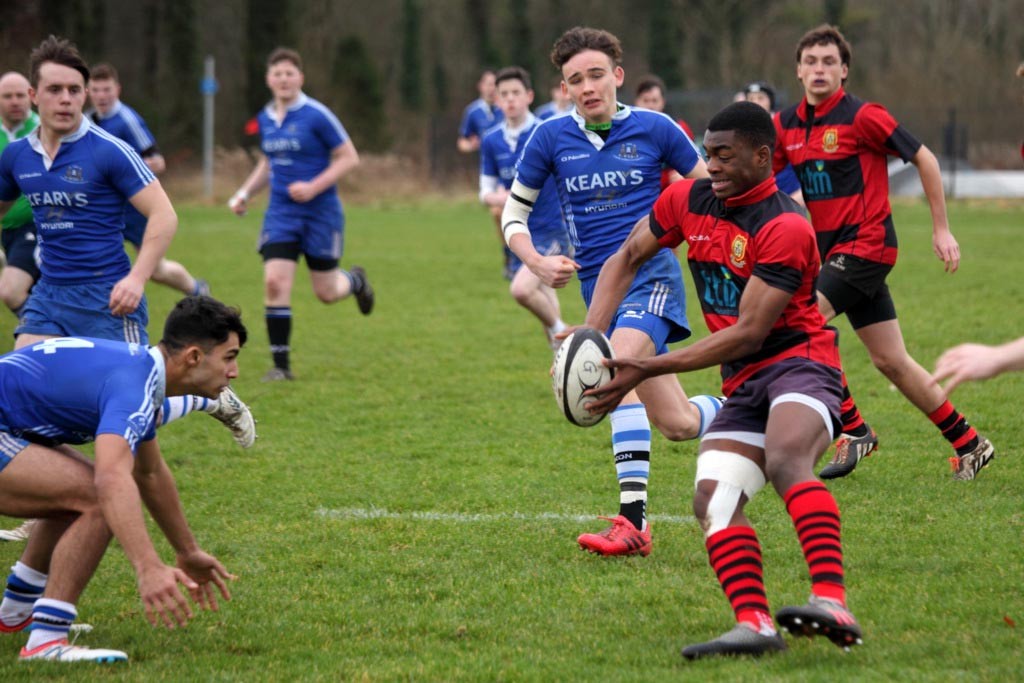 Ennis RFC teams enjoyed mixed fortunes in what was a busy weekend for the club with senior, U18, U16 and U13 sides all in action.
Munster J2 League
Ennis 10-22 Tralee
Ennis RFC 1st XV suffered a huge blow to their chances of survival in Munster Junior Division 2 after a home defeat to Tralee on Sunday.
Ennis were sitting second from bottom going into the must-win game but with four games to play, Ennis now are rooted to last place and must pick up a win next week away to Mallow — who Ennis beat last week in the cup — to be in with a chance of staying in the league.
Two early tries in the first half from Tralee, separated by a penalty kick from Ennis outhalf Bryan Murphy — meant Ennis had a mountain to climb in order to get something out of the game.
While Ennis dominated the scrum for most of the match, Tralee benefitted from a superior line-out which gave them a strong platform to get the ball out to their right winger, who scored two of their four tries.
Tralee scored a third try in the first half while a try before half time for Ennis from Stuart Holly came after some sustained pressure from the home side, leaving it 17-10 at half time, and with it all to play for in the second half.
However in a low-scoring second half, Tralee scored the only try which saw the Kerry outfit leaving Ennis with a bonus-point win.
Ennis: Jason Smith (replaced by Liam Ryan); Darragh Commane (replaced by Ciaran O'Connor); Joe Moloney; Stuart Holly; Enda Galvin; Adam Ryan; Gary Crowe; Frank Coffey; Sean Hayes; Bryan Murphy; Conall Curtin; John Brophy; Cian Nugent; Conor Guilfoyle; Cian Guilfoyle.
U18's
Ennis 27 – Cork Constitution 12
Ennis continued their winning start to the Pan Munster cup with a convincing 27-12 victory over Cork Constitution.
Playing with the elements in the 1st half , Ennis started brightly pinning their Cork visitors back in their own half , however good defence from Constitution kept Ennis at bay.
Finally good work Ben Quinn , David Mescal and a great break and offload from Aaron Hennessy to Keelan Butler led to a try to Butler next to the posts.  The conversion was scored by Ben Quinn to put Ennis into a 7 point lead.
Further pressure through strong work from Gavin McGonagle, Cathal Talty , Ronan Corey and Eldon Nolan led to a penalty opportunity which was converted by Ben Quinn to make it 10-0 to the hosts. Cork Con , to their credit fought back hard and got an unconverted try to bring the score to 10-5. Ennis came back however to score again through Ben Quinn who converted his own try to take the half time score to 17-5.
Cork Con started the 2nd half very strongly and were rewarded with a converted try to make it a 5 point game. Ennis knuckled down to the hard work of working their way up the field playing into the wind.
Strong work from Eldon Nolan, Morgan Garry, Stephen Sheehan, Conor Cahill and Darren O'Loughlin secured field position leading to another penalty opportunity converted by Ben Quinn to give Ennis a 20-12 lead.
Ennis continued to pressure Cork Con and after a series of tapped penalties forcing the visitors back Ikem Ugweuru got in for a decisive score again converted by Ben Quinn to bring the score to 27-12 .
Cork Con pushed hard to get another score , but Ennis held firm to close out the game for a well deserved victory. The competition continues next week against Shannon/St Marys.
Ennis U18's: Conor Cahill, Darren O'Loughlin, Ikem Ugweuru, David Mescal, Niall O'Brien, Ben Quinn, Morgan Garry, Cathal Talty, Ross O'Flaherty, Keelan Butler, Gavin McGonagle, Ronan Corey, Eldon Nolan, Jack Colleran (c), Aaron Hennessy. Subs used – Stephen Sheehan , Zack Whelehan , Eoin O'Ceallaigh.
U16 Pan Munster Cup
 Ennis 19 – Clanwilliam 0
Ennis RFC u16s travelled to Tipp town to play Clanwilliam rfc on Sunday. Nothing was being taken for granted and Ennis were up for this game having been narrowly beaten by WaterPark last weekend.
From the start possession was toing and froing with kicks coming out of both defences. Ennis fullback Dylan Kenny made a breakthrough run and got Ennis into a scoring position only to be foiled by an unfortunate knock on.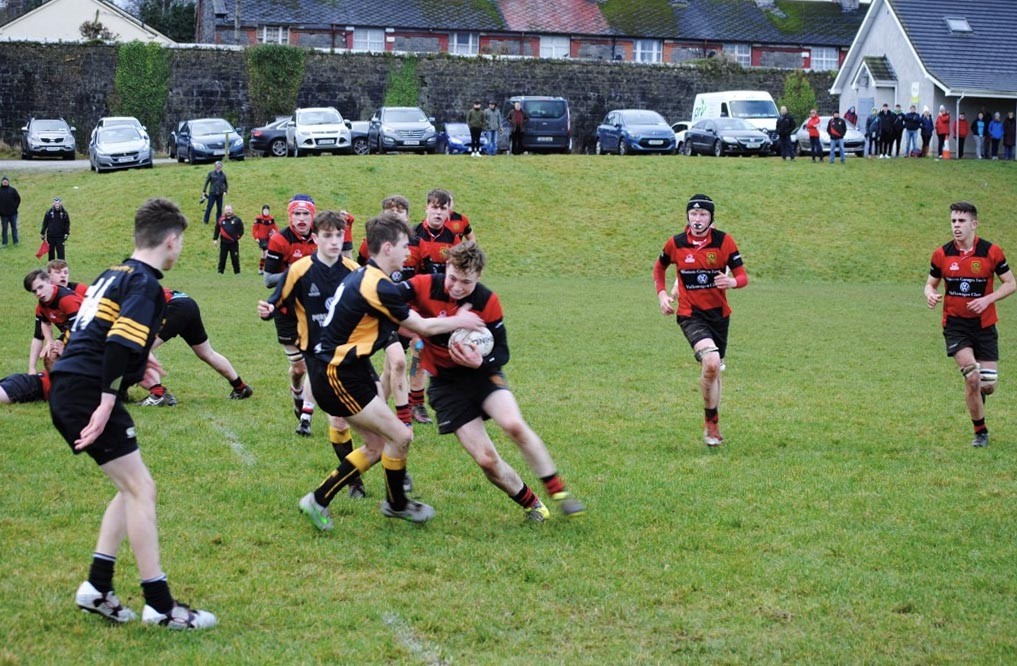 A second knock on occurred in the next Ennis attack. Then a Clanwilliam knock on gave Ben Ryan the opportunity for the opening score and he didn't shirk on this responsibility, going in at the corner. After the restart Ennis got back into the Clanwilliam 22 and with a great effort from all Cormac Browne got a try near the posts which was converted by Dylan Kenny. Half time 12-0 to Ennis.
Early in the 2nd Clanwilliam were stopped from scoring by Dylan Kenny making a great tackle  that put the player in touch. Ennis played really well from here on, keeping their shape and going through the phases. Clanwilliam were defending well.
But through patience and sustained pressure and some great carries from Alex o Callaghan, Matt Hanrahan, Cormac Browne and Liam Hogan Ennis were rewarded by a 2nd Ben Ryan try which was well converted by Kenny.
Clanwilliam got up into Ennis s 22 but eventually possession was turned over after some good tackling and defending. After this the game was played out in Clanwilliam half inside their 10 m line.
Ennis play Mallow at home next week in next round of U16 Pan Munster cup
Ennis U16's: Dylan Kenny,Ben Ryan, Fionn Langan, Evan Crowley, Ben Sullivan,  Eoghan O'Brien, Robert O'Connell, Eoin Cullinan, Brendan Cleland, Cormac Browne, Eoin Purcell, Matthew Hanrahan, Alex O'Callaghan, Dylan Power, Liam Hogan, Hope Omorodion, Adam Harvey, Eoin Duggan, Jack Duggan, Daniel Geraghty  and Jack Hassett
Meanwhile, Ennis' U13's earned a hard-fought win against a determined St. Senans side. Ennis prevailed by 24 points to 21 in their rescheduled North Munster League encounter.