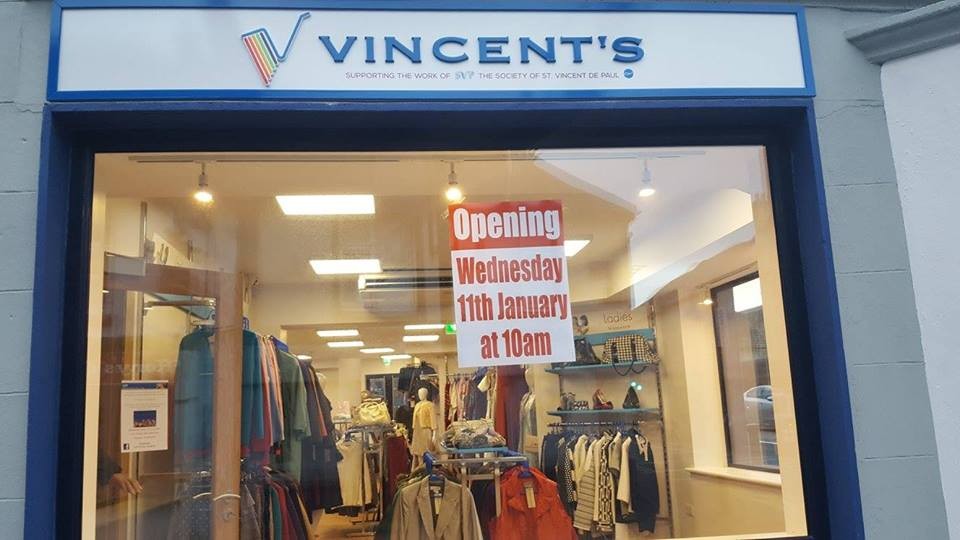 Clare's branch of St. Vincent de Paul has opened a new centre in the county.
Located at 86 Parnell St in Ennis, the new premises is a one-stop-shop for all SVP activities in Ennis and a positive benefit for the community. It will incorporate an SVP retail shop and centre for donated goods plus café and area for resource activities along with an office.
This new facility is only possible because the Society of Saint Vincent de Paul in Clare was the recipient of a substantial bequest four years ago from a generous benefactor. One of the conditions of the donor's will was that the money was to be used for the benefit of the Society in Ennis and the Clare area.
That benefactor was the late Edward Staunton former County Surgeon at Ennis County Hospital from 1950 to 1989 who died in 2012. With the agreement of his family, a plaque to his memory is erected to the front of the new premises.
Using the bequest to purchase and develop this new building was a strategic decision, which will ensure that SVP has a strong foundation for providing its services to the people of Ennis and the Clare region well into the future.
A small charity shop has been operated by SVP for close to twenty years in various rented premises around Ennis. This new building is twice the size of the existing shop, it will ensure a stronger income stream and will be an immense benefit to the Society in integrating other SVP services and will ultimately have a long term benefit for the Society and those it helps. The shop will sell a wide range of reasonably priced clothes, shoes, books and general items and all profits will be used for the benefit of families supported by SVP in the area.
John Cullinane is the Clare Area President of SVP, he told The Clare Herald gave an insight into how even after his death Edward Staunton is still saving lives. "This beautiful building we have created is here for the work of St. Vincent de Paul to continue in Ennis and throughout County Clare. It only exists today because of the generosity of former County Surgeon Mr Edward Staunton. When you think what it means to be a Surgeon, we know it involves a rigorous training, a quick intellect, being courageous and always working on behalf of patients, it involves lifelong discipline, endeavour and integrity of purpose".
He continued "The Surgeon is often the last bastion of hope for the patient with the diagnosis they were hoping would never be delivered to them. Mr Staunton as a County Surgeon had to deal with every type of trauma and remedial surgery. When you are a County Surgeon you have to be fearless and deal with whatever presents to your theatre, you have to be brave and you have to be resilient in the face of adversity. A Surgeon deals with people who are very much on the cusp between life and death.
"A life spent in the service of other people's health and wellbeing has to make a person think about the meaning of life and what matters most. How many people did he save who went on to do good things? How many families did he keep together? How many people's lives did he improve by his actions over the course of his life as a healthcare professional? This life of service, of thinking about others was a guiding principle of his professional life and his generosity continues with his decision to be a benefactor to SVP.
"It is our intention and sincerest hope Mr Staunton's guiding principles to be a bastion of hope; to be of service and to make a difference to the lives of others who come to us in their hour of need will be the lived experience of this building. That the lives of the people we meet, the people we serve and reach will be made better because of Mr Staunton's legacy".