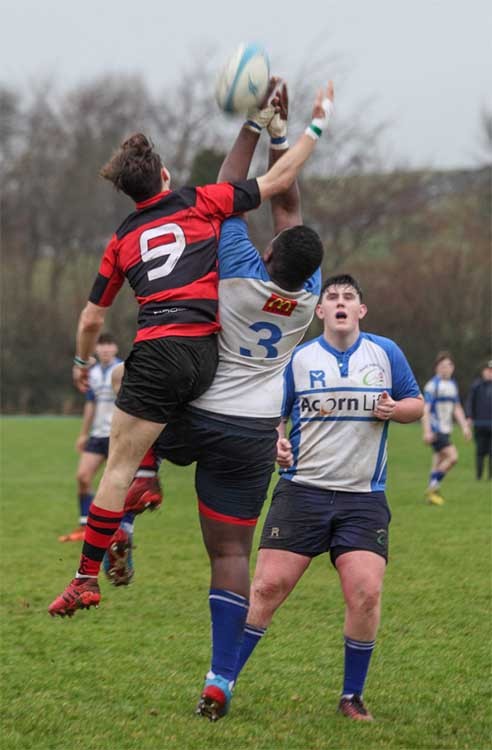 Ennis Under 18s maintained their unbeaten record in the pool stages of the Pan-Munster cup to top their group and secure a home quarter-final by defeating Midleton RFC in East Cork on

Sunday

.
Playing with a slight wind advantage Ennis started brightly and put the home team under pressure in their own half.
Midleton struggled to build any momentum and after continued defensive pressure from Stephen Sheehan , Jack Colleran and others, an attacking scrum in the centre of the field about 30 metres out allowed Ennis to unleash fullback Conor Cahill in a pre-planned moved to score an unconverted try on the right-hand side giving the visiting team a precious lead . Midleton came into the game more through their big forward pack as they carried the ball strongly into the wind.
The Ennis defense held firm however through strong work by Keelan Butler , David Mescal & Ikem Ugweuru in the mid-field. After a break for an injury to a Midleton player  Ennis pushed hard for another score and made progress up the field through Aaron Hennessy, Hugh Black, Conor Hasset and Gavin McGonigle up front and some strong breaks by wings Darren O'Loughlin and David McNamara wider out.
Continued pressure at the Midleton breakdown forced a turnover allowing number 8 Cathal Talty to show a fine turn of pace to break free about 40 metres out and score another unconverted try. This brought the score to 10-0 at the half-time break.
As expected Midleton came out strongly in the 2nd half with the wind at their backs and their efforts were rewarded with a try of their own to bring the score to 10-5 after 45 minutes.
As Midleton pushed for another score, fine defensive work from Ronan Corey , Morgan Garry and substitutes Niall O'Brien, Joe Connaughton and Eoin O'Ceallaigh continued to thwart the home team. There were to be no further scores in the match , but both teams battled to the final whistle in a very physical game.
The result gives Ennis a home quarter final in a few weeks time and Midleton have the consolation of finishing 2nd in the group and getting into the Quarters themselves.
Ennis U18s – Conor Cahill , Darren O'Loughlin , Ikem Ugweuru , David Mescal , David McNamara , Keelan Butler , Morgan Garry , Cathal Talty , Stephen Sheehan , Jack Colleran , Ronan Corey, Gavin McGonigle , Conor Hassett , Hugh Black , Aaron Hennessy . Subs – Niall O'Brien , Eoin O'Ceallaigh , Stephen Hogan , Zack Whelehan , Joe Connaughton , Gavin Lawlor.
Meanwhile, Ennis U16s also secured a QF place, winning their last Pan-Munster pool match against Castleisland 30-27. However Ennis U13s lost League QF to Garryowen 31-10.