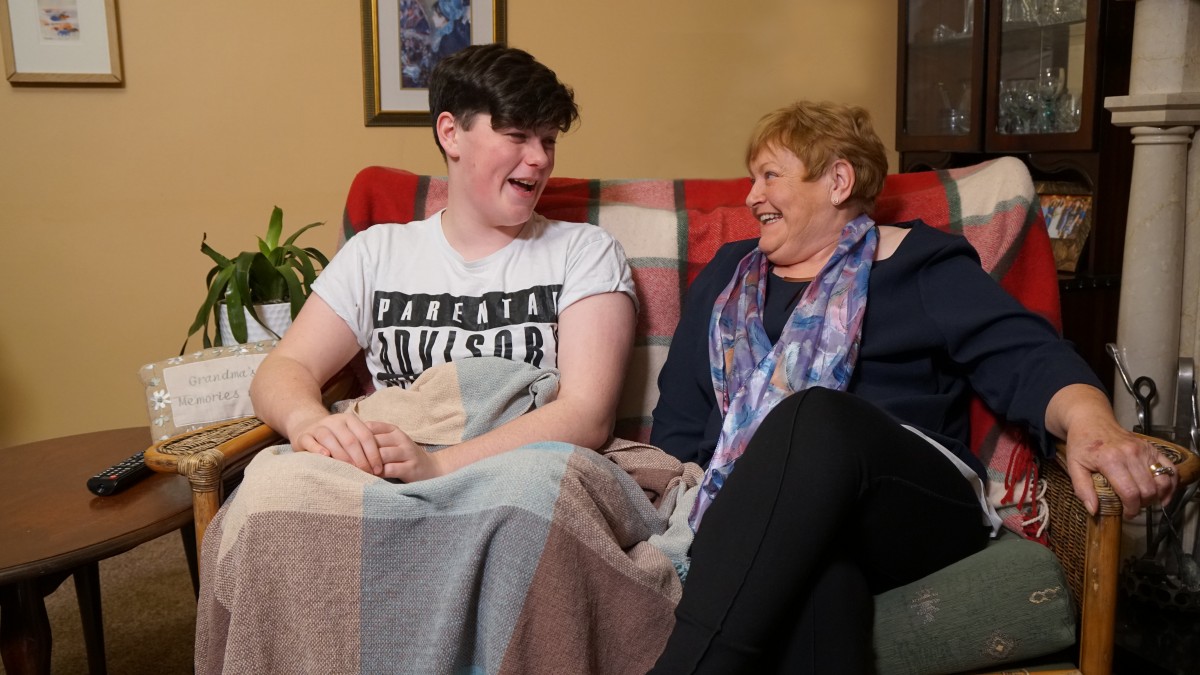 Clare is now represented on the latest series of TV3's Gogglebox Ireland with the addition of Tadhg and Ettie to the cast.
Sixteen year old Tadhg Hession visits his grandmother, Ettie everyday and stays overnight with her in the South East Clare village overnight as often as he can. They debuted on the TV3 programme on Wednesday and are one of five families that have been added to programme's cast.
Ettie spent eight years in the UK working as a nurse and returned to Ireland in 1976 in order to raise her family. Until her recent retirement, she worked with adults with Special Needs and now spends her spare time reading and looking after her grandchildren. She dotes on Tadhg and their relationship is extremely close.
They have visited Boston and Lake Garda together and, last summer went to Australia to visit Ettie's son for a month. When it comes to TV, Ettie is a big fan of The Chase, Antiques Roadshow and WW2 documentaries. She and Tadhg enjoy movies together, while he also loves to watch The Walking Dead and Breaking Bad.
Viewers of the show reacted positively to the duo's first appearance with Rory Cowen of Mrs Brown's Boys one of those taking to Twitter to praise their debut.
Thanks to everyone for the support and compliments to granny and I we really happy and appreciative to be part of the #GoggleboxIRL cast😂👌😎😀

— Tadhg Hession (@HessionTadhg) February 8, 2017
"A Boobie model…", "OMG!" A big #GoggleboxIRL welcome to our newest Goggleboxers, Tadhg and his Granny Ettie, all the way from Co. Clare. pic.twitter.com/2p5tHsRlcU

— TV3 (@TV3Ireland) February 8, 2017
Tadhg and Ettie the newbies on #goggleboxIrl are fabulous.

— Rory Cowan (@1rorycowan) February 8, 2017
DONT MISS: 16 yr old Tadhg & his granny Ettie from Clonlara Co.Clare on tomorrow nights @GoggleboxIRLTV3 – they are BRILLIANT pic.twitter.com/gbLrqScG8Z

— Ciara Doherty (@ciarathedoc) February 7, 2017
Lovin the new series of #GoggleboxIRL @HessionTadhg and his nan are a great addition. Looking forward to next week.

— Helen Bowles (@NellsBells08) February 9, 2017
The grandson and granny from Co. Clare are already brilliant 😁 GoggleboxIRL @TV3Ireland

— Eugene Molloy (@eugenecmolloy) February 8, 2017