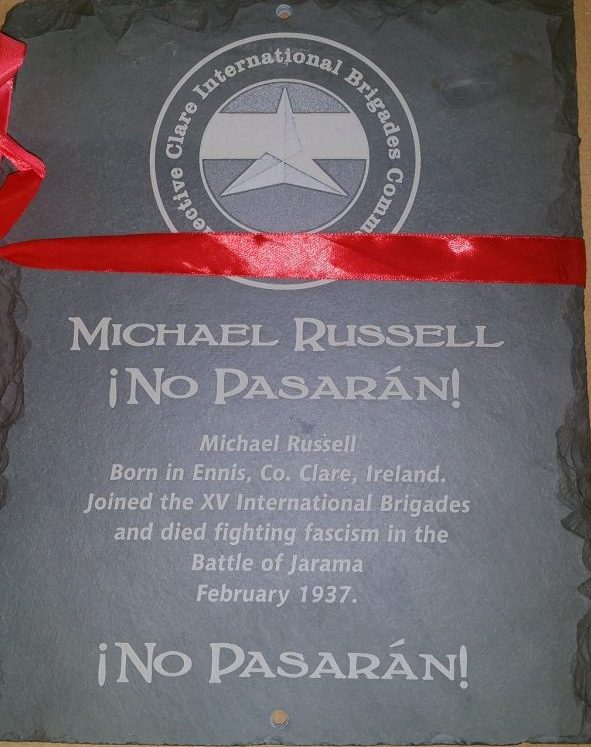 An Ennis man will be remembered at the eightieth commemoration of the Battle of Jarama.
The Clare International Brigades Commemorative Collective (CIBCC) will remember Ennis native Michael Russell at the 80th Commemoration of the Battle of Jarama in Spain on February 18th.
Michael Russell joined the XV International Brigades to defend against fascism in the Spanish Civil War 1936-1939. Comrade Russell was shot in action at Pingarron Hill on the 27th February 1937 along with Charlie Donnelly a poet and left-wing activist from County Tyrone who used the phrase "Even the Olives are bleeding" a quote that described the level of machine gun fire, and 100 others in the first ten minutes of the Battle of Jarama.
In all 133 Irish volunteers fought on the Republican side and of those 63 were to die. The volunteers came from all counties, but some had been living abroad when they joined up, so while it is possible that others from Clare defended the Republic, there are no definite records to suggest any others.
Two other local volunteers did serve, William O'Donnell arrived in Spain on 16th March 1937. A 22 year old with an address given as 4 Newtown, Killaloe, County Clare, a shoemaker. Brendan Moroney, originally from Ennis, travlled to Spain form London.
A memorial in honour of Russell will be placed by the CIBCC in Killaloe Slate near the Kit Conway Stone Memorial on the battle field were the men lost their lives in the name of freedom. The CIBCC who are a voluntary, non-party political committee set up under the auspices of the Clare Council of Trade Unions are currently in talks with the Clare County Council to have Michael Russell remembered in his native Ennis.