A United States "hurricane hunter" aircraft is currently based in Ireland and undertaking weather reconnaissance missions in Irish airspace.
The National Oceanic and Atmospheric Administration (NOAA) Lockheed WP-3D Orion, also known as "Kermit", arrived in Ireland on January 20th where, along with its 19-person crew, is based at Shannon Airport.
Best known for its role as a "hurricane hunter", it's also the plane's first major deployment since undergoing an extensive overhaul and equipment upgrades which includes a prototype antenna designed by the European Space Agency for use on Europe's next generation weather satellites
The aircraft, developed from the old Lockheed L-188 Electra, is supporting a NOAA Satellite and Information Service mission called "Ocean Winds". This is a multi-year project whose objective is to improve our understanding of satellite-based ocean surface wind measurements in the high wind regions of winter storms over the North Atlantic.
NOAA has two of the specially developed WP-3D Orion's in its fleet which have led the agency's continuing efforts to monitor and study hurricanes and other severe storms, the quality of the atmosphere, oceanographic conditions, and climate trends.
A spokesman for NOAA confirmed the aircraft and crew will conduct scientific research in Ireland until departure later this month.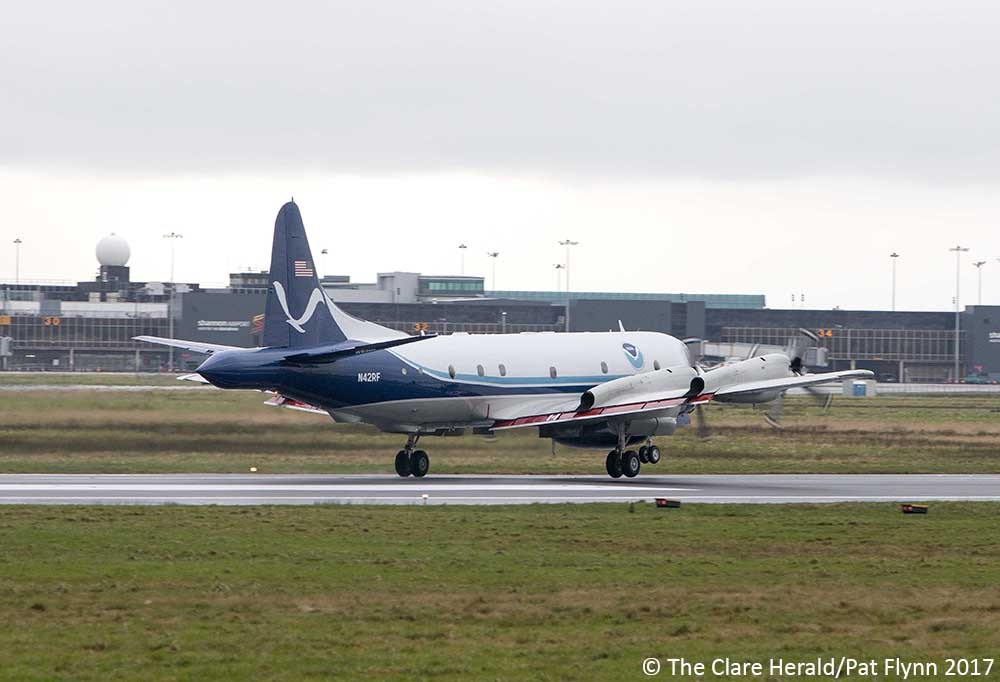 The overall goal of the mission is to improve understanding related to the remote-sensing of the wind field over the ocean surface. One objective will be to directly calibrate and validate satellite sensors aboard the A-SCAT satellite operated by the European Space Agency.
The crew will also collect measurements of strong winter storms over the North Atlantic with an objective of improving the understanding of remote-sensing physics.
"The knowledge collected will be used to improve guidance to weather forecasters in their daily decision-making relative to forecasts and warnings in the marine environment," the spokesman added.
"Additionally, one of the instruments will test an advanced prototype antenna designed by the European Space Agency for use on Europe's next generation weather satellites. As a member of the European Union, Ireland would benefit from this collaboration the U.S. has with our European partners," according to NOAA.
The experiment also seeks to determine how wind speed and direction changes across sea surface temperature boundaries. This mission helps to calibrate and validate weather satellite data.
The presence of the over 40-year-old turboprop aircraft has also attracted plane spotters from across the country over the past week.