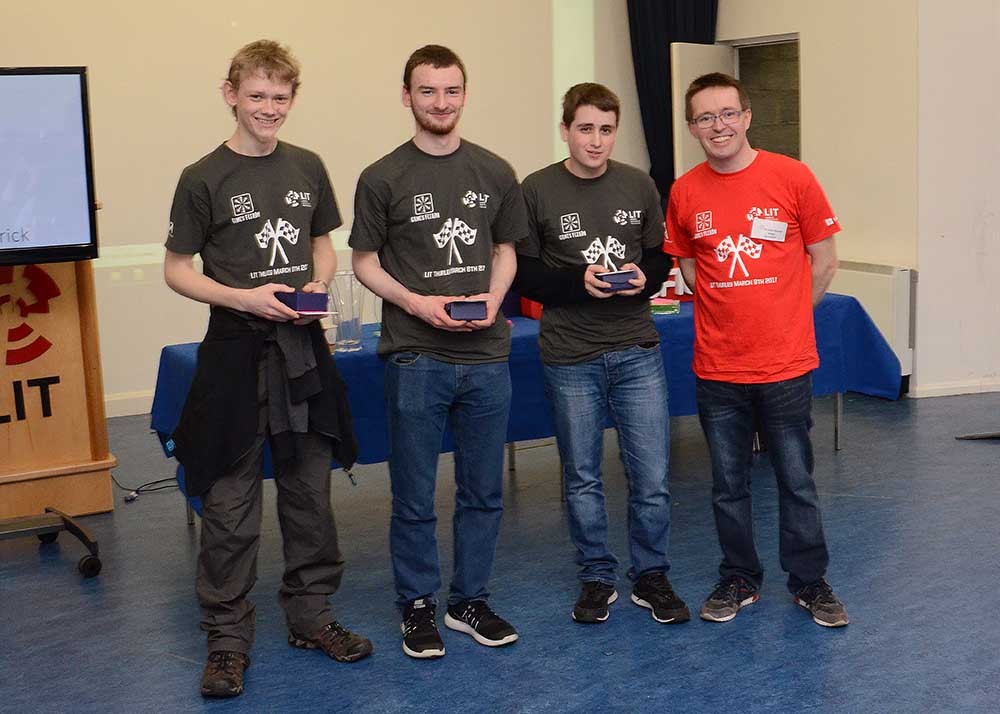 Fifteen LIT Thurles students have been recognised for their achievements in game design and development at Games Fleadh 2017, an all-island games design and development competition for third-level students. 
The University of Limerick is also celebrating a successful Games Fleadh having secured the overall prize as winners of the Games Studio Challenges.
The team of David Ryley, Christopher Brady,  David Ryan, Joseph Greaney and Shane O'Malley designed and developed the winning game "Trash Team Racing" and were presented with their award by Ms. Janice O'Connell, Head of the Dept of IT, Limerick IT.
Supported by Microsoft Ireland, EA Games, First Data, Game Sparks, Game Stop, and the Irish Computer Society, the 14th annual Games Fleadh event took place on Wednesday, March 8th on LIT's Thurles campus which is home to the B.Sc in Computing in Games Design and Development.
Event organisers reported their busiest year yet with more than 30 teams taking part in various game design and development competitions. The entries were viewed, played and tested by over 400 members of the general public who attended the event.
The judges, who included representatives from EA Games, Game Sparks, First Data, were tasked with the difficult job of reviewing the entries and scoring the students on their creations.
LIT's Robocode team comprised first years Ciaran Bent, Rory Ryan and Owen O Dea came third in the national Robocode Competition, which involved programming software tanks using the programming language Java. IT Carlow were the overall winners of the national Robocode Competition.
Speaking after Games Fleadh 2017, event organiser and lecturer at LIT's Game Design and Development degree in Thurles Dr. Liam Noonan said, "Games Fleadh was a fantastic event and it showcased the emerging Irish game design and development talent out there. We were delighted and very proud with the achievements of all our Games Design and Development students."