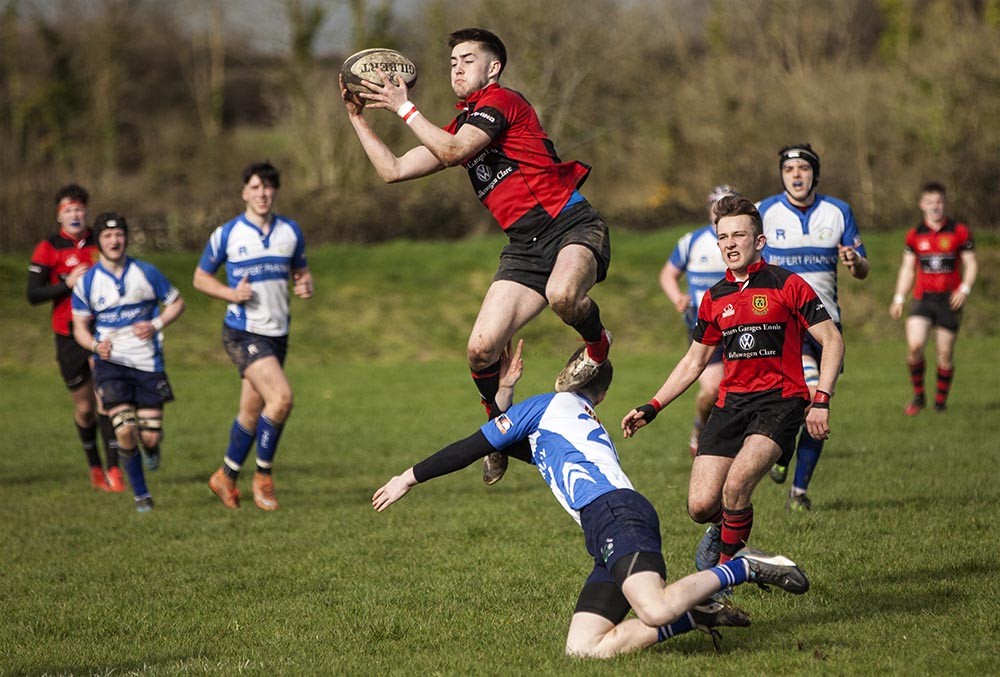 Ennis 20-17 Tralee
Ennis RFC's U18's are heading for a historic Munster Final in Thomond Park next Sunday after a nail biting semi-final against Tralee in Charleville.
Number 13 proved lucky for Ennis on Sunday as they won their 13th consecutive game in the Pan Munster tournament to get to a first ever Munster Final at this level.
Ennis got off to the perfect start, when straight from the kick-off they put Tralee under huge pressure and pushed them back into their 22 and after a series of strong phases, Aaron Hennessy barged over for a try close to the posts. The conversion from David Mescal gave Ennis a valuable 7-0 lead.
Tralee came back into the game through their massive forward pack and only the most resolute of defending from Ennis kept them at bay. The pressure told though as Tralee score six points from two well taken long distance penalties, leaving Ennis with a slender one point lead.
Ennis fought back with great work from the back row of Keelan Butler, Stephen Sheehan and Cathal Talty winning crucial turnovers to push Tralee backwards.
A great steal at a ruck from Gavin McGonagle got Ennis on the front foot in the Tralee half. Ennis pushed hard for a score and eventually got one through a neat drop-goal from Ben Quinn to give Ennis a 10-6 lead at half time.
Tralee continued to pressure Ennis in the second half forcing further penalties to give them a 12-10 lead. Ennis fought back and forced a penalty of their own, converted by David Mescal to restore the Ennis lead at 13-12.
Tralee kept the pressure on Ennis and following repeated assaults on the Ennis line, they finally got the breakthrough and scored a try with 15 minutes remaining taking the score to 17-13. Showing fabulous spirit Ennis came roaring back and kept Tralee pinned in their own 22 for a prolonged period and eventually got the ball wide and after Darren O'Loughlin was tackled near the line, Keelan Butler scooped up the loose ball and broke a few tackles to score a fantastic try.
Ben Quinn coolly slotted the conversion to give Ennis a 20-17 lead with eight minutes left.
In keeping with the game up to this point, Tralee came thundering back again and had Ennis on the ropes metres from their own line. Attack after attack was repelled by simply heroic tackling from every one of the Ennis team, there was simply no way they were going to lose this one. After a knock-on from Tralee, the referee finally brought proceedings to a close, much to the relief of Ennis and their supporters.
Onwards now to Thomond park and the Munster final, at 3:45pm next Sunday against Garryowen.
Team – Conor Cahill , David McNamara, Ikem Ugwueru, David Mescall, Niall O'Brien, Ben Quinn, Zack Whelehan, Cathal Talty, Stephen Sheehan, Keelan Butler, Gavin McGonagle, Ronan Corey, Arron Hennessy, Jack Colleran, Conor Hassett
Subs Used – Hugh Black, Ross O'Flaherty, Morgan Garry, Eoin O'Ceallaigh, Darren O'Loughlin.