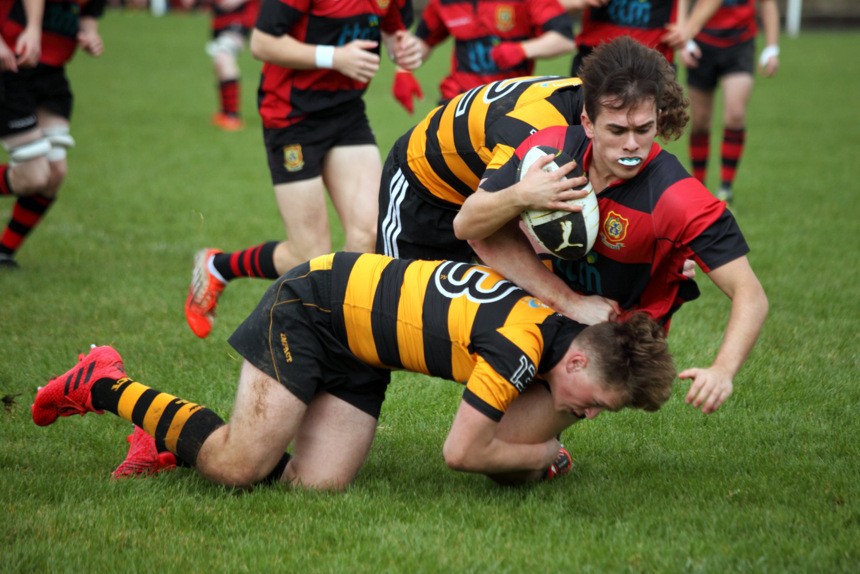 Ennis U18's march on to the Pan Munster Semi Final next week-end having beaten Skibbereen on Sunday in Lees Rd.
Ennis extended their unbeaten run to 12 matches to qualify for the Pan Munster Semi Final. The Clare side beat Skibbereen 29-14 in a pulsating quarter-final at Lees Rd.
Playing with the benefit of a stiff breeze Ennis started brightly, pinning Skibbereen back in their 22 from the kick-off.
Having forced a turnover, Ennis moved the ball quickly from the resulting scrum and a neat inside pass from outhalf Ben Quinn to David McNamara led to the winger touching down beside the posts for the first try after only 4 minutes. David Mescal converted giving the home team an early 7 point lead. 
Skibbereen continued to struggle for field position and strong tackling from Keelan Butler, Stephen Sheehan and Cathal Talty kept them pinned in their own half.
Following a kick-ahead a neat break from Zack Whelehan almost led to a try, with Ben Quinn only being denied by a last ditch tackle at the corner flag. 
Ennis kept the pressure on however and after a series of close in drives, captain Jack Colleran got over for another try, converted again by Mescal to give Ennis a 14-0 lead after 25 minutes.
As the second half opened Skibbereen, using the wind, began to get more of a territorial foothold forcing Ennis to defend strongly.
15 minutes into the 2nd half, a Skibereen player received a red card for foul play and David Mescal converted the resulting penalty to move Ennis to a 17 point lead.
Ennis scored another try from Morgan Garry after sustained pressure in the Skibbereen 22 taking Ennis to a commanding 22-0 lead. Skibbereen rose to the challenge however and scored a try of their own to take the score to 22-7.
Strong carries into the breeze by Aaron Hennessy, Conor Hassett and Gavin McGonagle pushed Ennis back up the field where further pressure forced an intercept in midfield by Ikem Ugwueru, who touched down under the posts to take Ennis to 29 points.
Ennis had a player sent to the bin for an infringement at the breakdown and Skibbereen capitalised to score another try to bring the score to 29-14. That was to be the last score of the game as Ennis held out for the final few minutes for a well deserved victory. 
They now move on to the semi-final against Tralee in Charleville next Sunday at 2:45pm.
Ennis Team – Conor Cahill, Niall O'Brien, Ikem Ugwueru, David Mescal, David McNamara, Ben Quinn, Zack Whelehan, Cathal Talty, Stephen Sheehan, Keelan Butler, Ronan Corey, Gavin McGonagle, Conor Hassett, Jack Colleran, Aaron Hennessy. Subs used – Eldon Nolan, Ross O'Flaherty, Alan Culligan, Darren O'Loughlin.