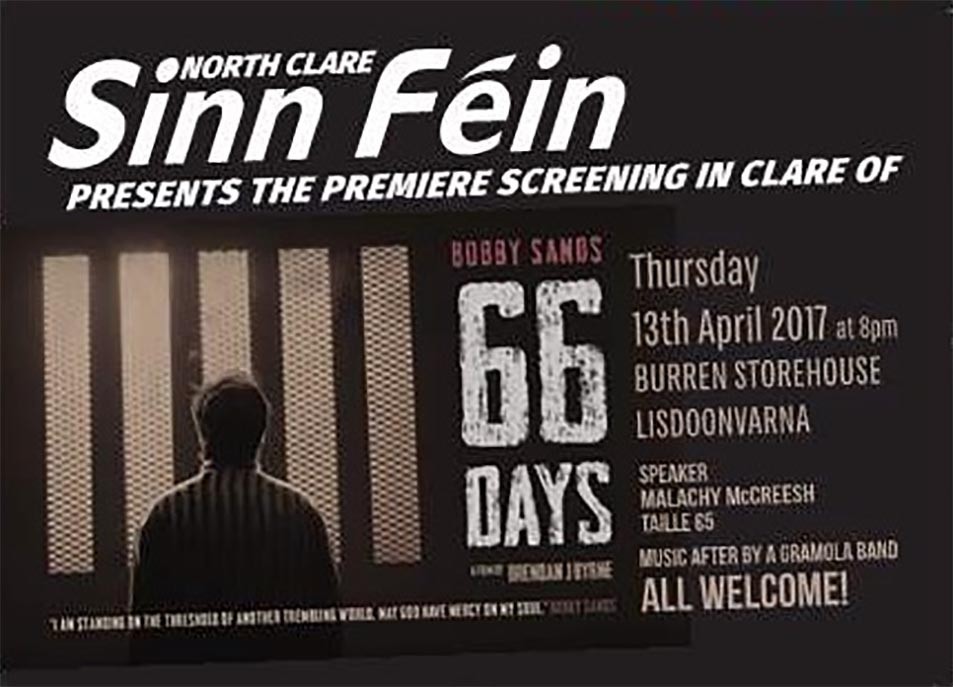 North Clare Sinn Féin will present the first screening in County Clare of the acclaimed documentary film Bobby Sands 66 Days.
The film will be premièred at the Burren Storehouse Lisdoonvarna this Thursday April 13th starting at 8pm sharp. 
'I am standing on the threshold of another trembling world. May God have mercy on my soul.' It was with these words that IRA volunteer Bobby Sands began his hunger strike on March 1st 1981.
Sands' undoubted act of personal bravery brought Ireland to a standstill as the outside world looked on to see an intense battle unfold between an unseen prisoner and the might of the British Government. 66 DAYS tells the factual story of Bobby Sands' life for the first time on film.
Seeing himself as a soldier in a conflict, Bobby Sands died for the right to be recognised as a political prisoner. He chose hunger strike, against the wishes of his movement's leadership, in the full knowledge it would bring the world's attention to his fight.
Using eye-witness testimony, unseen archive, reconstructions and animation, this cinematic odyssey serves as both the definitive account of a self-created Irish martyr and a seismic moment in 20th century Irish history, the legacy of which we continue to live with today.
66 DAYS documents an ordinary life lived at the epicentre of a turbulent and tragic conflict, which then became extraordinary as a young idealist starved himself to death to preserve the integrity of the republican movement he loyally served. The film charts how Sands became the architect of his own destiny, and saw him ascend into the ranks of international icon status.
The Burren Storehouse is a new venue in Lisdoonvarna with a 6 meter by 4 meter cinema screen which makes it an ideal setting for the first ever screening of this film in Clare.
Malachy McCreesh will be guest speaker on the night he will say a few words to introduce the film. Malachy is the brother of Raymond McCreesh from Camlough South Armagh who died on hunger strike in the H-Blocks of Long Kesh, 21 May 1981.