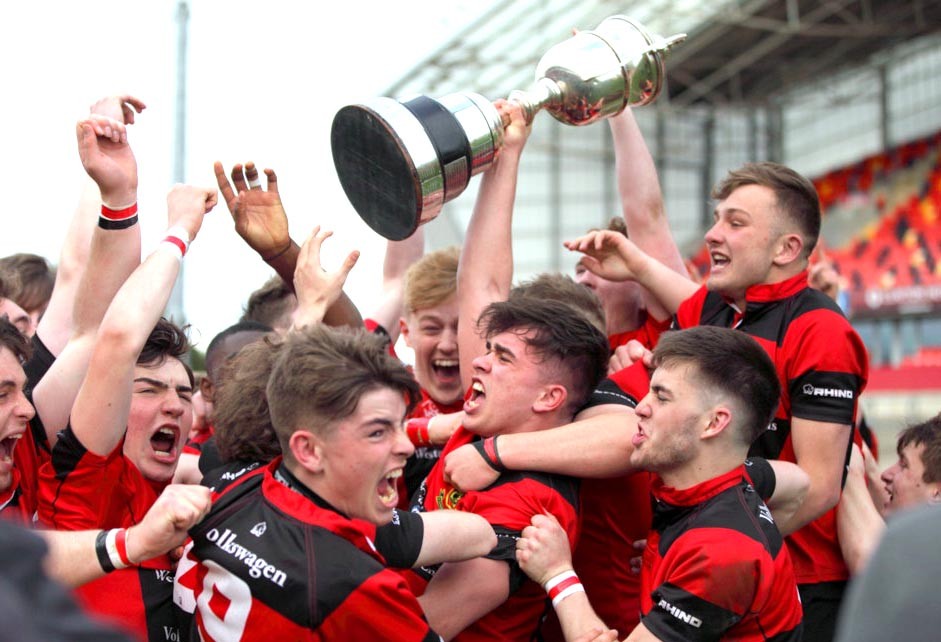 Ennis 27 – 26 Garryowen
Ennis' U18s showed huge character to mount at comeback against Garryowen in the Munster Cup final on Sunday and claim the trophy for the first time.
Ennis' character and a dash of luck, after Garryowen's No 10 Harry Byrne missed a kickable penalty attempt in the last play of the game, saw the Clare side hang on for the historic win.
Ennis had earlier mounted a brilliant comeback having trailed by 23 points to 13 well into the second half.
The talented bunch were led to the final by head coaches George Guilfoyle, John Colleran and team manager Eanna Lennon.
A chorus of My Lovely Rose Of Clare rang out across Thomond Park before Ennis captain Jack Colleran was presented with the trophy.
Ennis: Conor Cahill, Niall O'Brien, Ikem Ugwueru, David Mescall, David McNamara, Ben Quinn, Zack Whelahan; Conor Hassett, Jack Colleran, Aaron Hennessy, Gavin McGonagle, Ronan Corey, Keelan Butler, Stephen Sheehan, Cathal Talty.
Replacements: Eldon Nolan for Conor Hassett, Alan Culligan for Gavin McGonagle, Morgan Garry for Ben Quinn and Ross O'Flaherty for Stephen Sheehan.
Meanwhile, Ennis U15s kicked off a historic day for the club as they claimed the North Munster league title in dramatic fashion.
They beat Young Munster 17-11 at Fitzgerald Park.
Captain Tony Butler collected the trophy after a brilliant defence kept Young Munster at bay for the final 10 minutes.
The theme of the game was Young Munster's hard-hitting direct play on the fringes, versus Ennis's strong ball-handling skills and endeavour to spread the ball into the wide channels at every opportunity, with the strings being pulled by outhalf and captain Tony Butler.
In the second half with a strong wind at their backs, Young Munster began to build through the phases with the Limerick side dominating at the breakdown.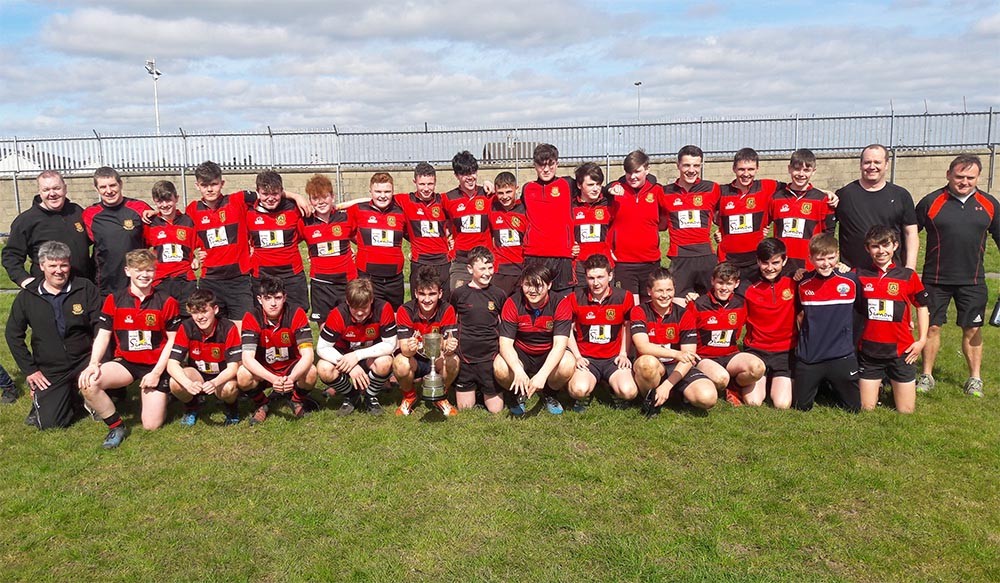 A penalty from the 22 just to the right of the posts saw the score line brought back to a one-score game at 12-6, not long before Tony Butler broke from half way after a brilliant intercept to speed home for a try. His own conversion attempt hit the post, leaving Ennis leading by 11 points, 17-6.
However Young Munster fired back with a try of their own in the right corner after more sustained pressure.
Despite giving away repeated penalties in the last five minutes, Ennis held on with a resolute defensive display.
Ennis: Colm Kearney, Brian Crowley Hayes, Jason Downes, Seanie Keane, Liam Hutton, Tony Butler (c), Ethan Coughlin; Bence Benko, Joey Keane, Ryan Murphy, Sean McGrath, Brian Barry, Darragh O'Callaghan, Daniel Fogerty, Conor Moloney
Replacements; Patrick Browne, Eoghan Hahessy, Denis Vaughan, Connor Hennessy, Dean McInerney, Conor Hegarty, Tommy Garrahy, Ben Geraghty