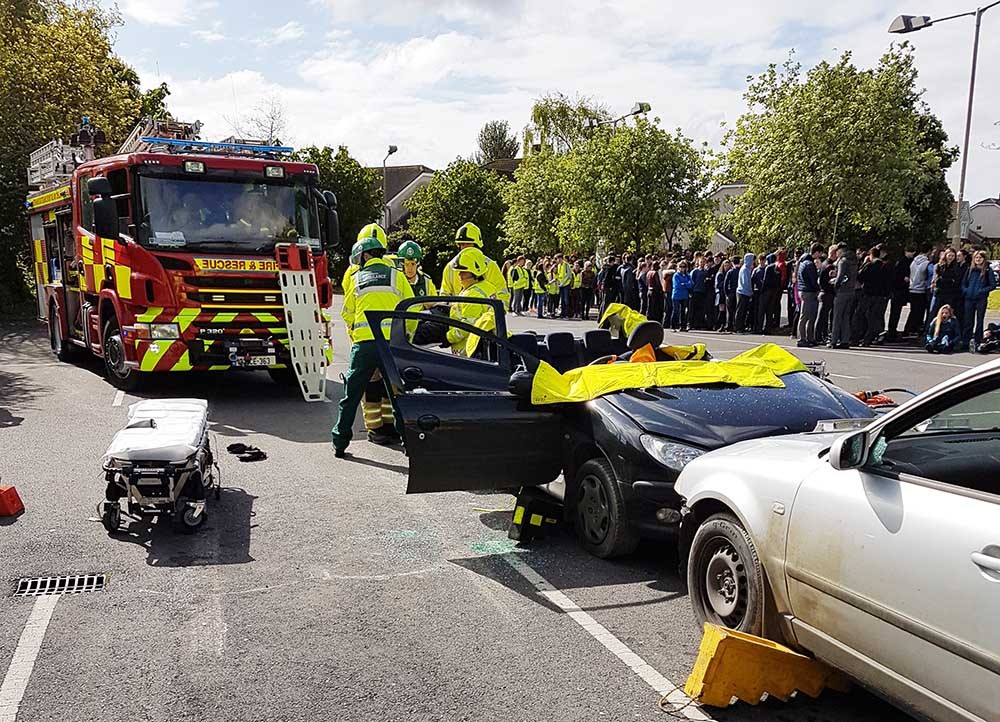 Hundreds of school children have been attending a public road safety event aimed at improving road safety awareness and reducing the number and severity of road traffic collisions on Clare's roads.
The event, which is being held at Glór in Ennis, will continue tomorrow, Thursday.
The hard-hitting roadshow includes a roll-over simulator demonstrating what it is like to be involved in a car crash, firsthand accounts from emergency first responders and an interactive shuttle featuring driving, motorbike and bicycle simulators, reaction timers, Driver Theory Test computers, and screens showing road safety advertisements.
The event is being organised by the Clare Road Safety Action Group, comprising Clare County Council, An Garda Síochána, HSE National Ambulance Service, Road Safety Authority, Clare Civil Defence and Clare County Fire & Rescue Service.
On Wednesday morning, hundreds of secondary school students will witness the full horror of a road crash at a simulation aimed at showing teenagers the human tragedy behind the statistics. The demonstration is targeted at young people who are about to embark on their driving careers or who currently travel in cars with young friends.
Among the schools that will be represented on the day are Gaelcholáiste an Chláir, St Caimins, Ennistymon CBS, St. Josephs Secondary School – Spanish Point, and St. Josephs Secondary School – Tulla.
Barry Keating, Road Safety Officer for Clare County Council said: "The main aim of this event is to change people's attitude towards road safety. It is not only about making people better drivers but also making them realise how easy it is for things to go wrong and the consequences of bad driving habits. These range from very bad cases of drink and drug driving to simply not looking at the road ahead."
The event will continue on Thursday from 9.30 a.m. to 5.00 p.m. and the public is invited to attend.