Update:
Tuesday 12.15pm – Video of John Burke's homecoming at Shannon Airport.
Monday: Everest mountaineer John Burke returned to a rousing Shannon Airport and Co. Clare welcome this afternoon and dedicated his achievement to his wife Aoibhín and the cause the couple have championed.
Just six days after he became the first Co. Clare man to reach the summit, the 38 year-old said that he would never have achieved his goal without his wife Aoibhín's encouragement and support. The couple's motivation for John taking on the challenge was the hope that it would act an example to young people to chase their dreams.
The proprietor of one of the Wild Atlantic Way's best known hotels, the Armada Hotel in Spanish Point, and his wife Aoibhín have established a charity, Elevate, to promote wellbeing among young people and provide encouragement to them to reach their potential and follow their dreams in life.
John and Aoibhín travelled to Nepal as part of a group of six from Co Clare on April 4th last. The team took 9 days to reach Everest Base Camp before John set off on the next phase of the ascent.
The group also included Ennisman Tony O'Loughlin, who previously travelled to Everest base camp in 2012, John's nephew Callum Curtin, Yvonne Connellan from Kilmaley and Niamh Keogh from Ennis.
And on his return at Shannon Airport, he said that the mental health of young people and the challenges posed by blunt end of social media are amongst the greatest issues facing Ireland today.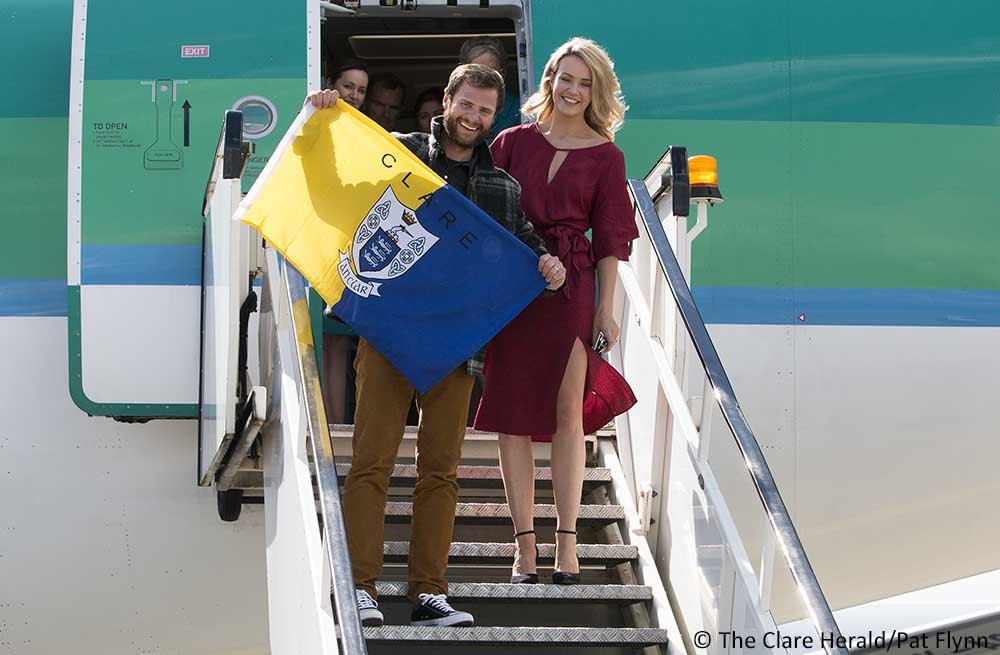 "I owe everything to my wife Aoibhín for supporting me on this as it was a huge sacrifice for her to make and suffice to say that her gift of golf clubs is a hint that's not lost on me," he quipped.
"I clearly wanted to prove something personally in making it to the top but the big reason for this, and it's not unrelated, is that I wanted to send a message to young people that they all have the potential to achieve in life.  There will be hills to climb along the way but they just have to hang in there and their day will come for sure.
"Growing up I didn't achieve in GAA like others did and GAA was the only real thing back then for us in West Clare. But I have proved in doing this that here's something for everyone.
"Young people, in particular, really need to believe in that because right now they are probably more challenged than ever.  Research has shown that one in five young Irish adults between the ages of 19 and 24 and one in six young people between 11 and 13 have mental health issues. 
"There's a variety of reasons for that but certainly social media is one of them.  Social media is a magnificent platform for getting positive news out but it can destroy young people in an instant, especially those going through a difficult stage.  We really need to tackle that and it's a big question but something has to be done.  
"As a family we had our own tragedy with a mental health issue and that has spurred Aoibhín and I to establish Elevate.  We're not going to change the world with it but it's our contribution and climbing Everest has given us a platform to raise awareness in Clare about this issue."
With the charity the couple hope to raise funds for different wellbeing promotional initiatives, including workshops in Clare secondary schools – the first one starting in September – that will target raising self-esteem of young people through different medium, including song and dance.
John was greeted on arrival at Shannon by over 200 supporters from across Clare, with busses having left the Armada Hotel and Doolin, where he is a co-owner of the popular Hotel Doolin. 
He flew back to Shannon from Kathmandu via Abu Dhabi and Heathrow, landing in Shannon at 4:05pm with Aer Lingus. His wife Aoibhín joined him on board the aircraft briefly for a special reunion, with the star of Dancing With The Stars and actress having travelled out to basecamp (5,300m) but returned home as he began his assault on the mountain.
Among those on hand to greet him were his mother Claire, sisters Pamela and June; nieces Amelya, Ava and Zoe and his nephew Callum (13), who travelled out to base camp with him.  
Minister of State at the Department of Jobs Innovation and Enterprise Pat Breen, family friend Deputy Timmy Dooley and Shannon Group CEO Matthew Thomas were among the official welcoming party.
Aoibhín said: "I'm so delighted that he's back safe and sound.  You need a lot of things to go your way to get to the top of Everest and there was clearly someone up there looking after him.  He was very determined to do this and it's a means to an end for sure as it enables us to talk about an issue very close to our hearts, mental wellbeing.
We've all seen people suffer from it and we're just determined to do our own bit for it. It's been an incredible feat for John but I don't mind saying that I am so relieved he's back safe and sound," she said.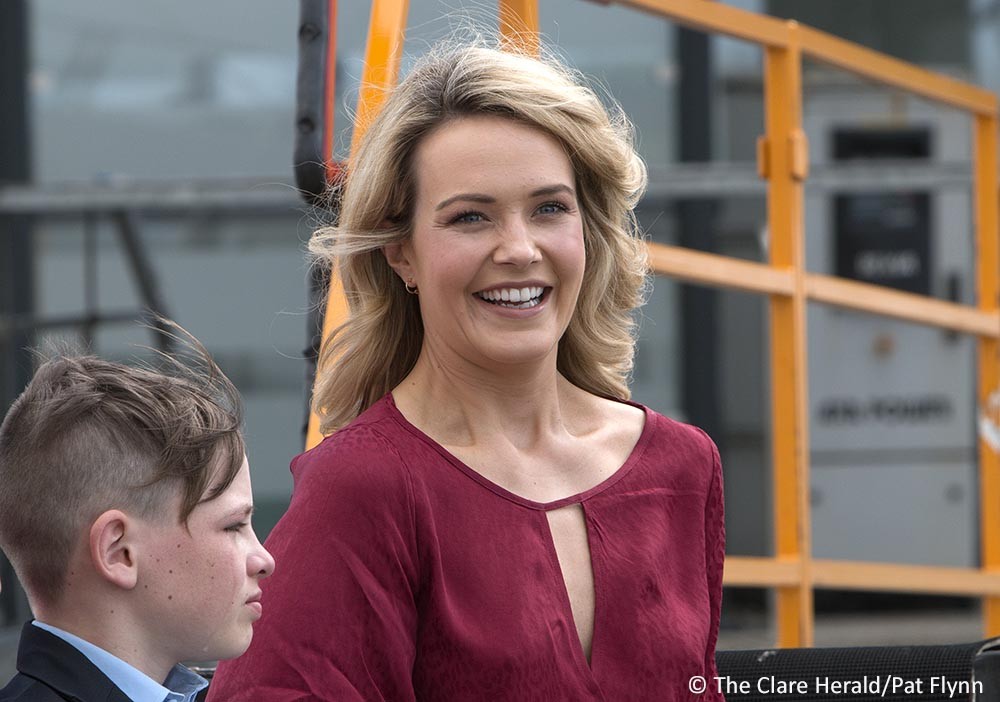 "It took everything I had to get there and it's bitter sweet also as just this weekend three people lost their lives trying to do the same thing. I know how lucky I am to be here today and my heart goes out to their families, not least now I'm back here on solid ground in Shannon and Clare with mine," John said.
Looking ahead to the week, he said: "I was asked what I was really looking forward to eating when I got back home and the bacon and cabbage is in the pot for tonight, along with a lot of rest. 
There's a party arranged for the Armada on Friday night and the local GAA club in Milltown Malbay, which we sponsor, are putting on a reception before that. But in the meantime it's spending time with Aoibhín and the family," John added.
Shannon Group CEO Matthew Thomas, who was on hand to greet and congratulate John, said:  "It's an incredible achievement and duly acknowledged by the large crowd here today. He put the Co. Clare flag on top of the world's tallest mountain, that's no mean achievement. But to do so to help raise awareness of the issues facing young people today is even more inspirational.  
It's such a pressing cause and we are very fortunate here to have someone willing to take it on in a way that John and, indeed, Aoibhín have."
John's Aer Lingus flight from London arrived in Shannon at 4.05pm.
An Aer Lingus spokesperson said:  "Aer Lingus would like to congratulate John Burke on being the first Clare man to successfully reach the summit of Mount Everest. We hope his flight at 30,000 feet from London to Shannon was a little easier than scaling the near 30,000 feet of Everest. Welcome home John."