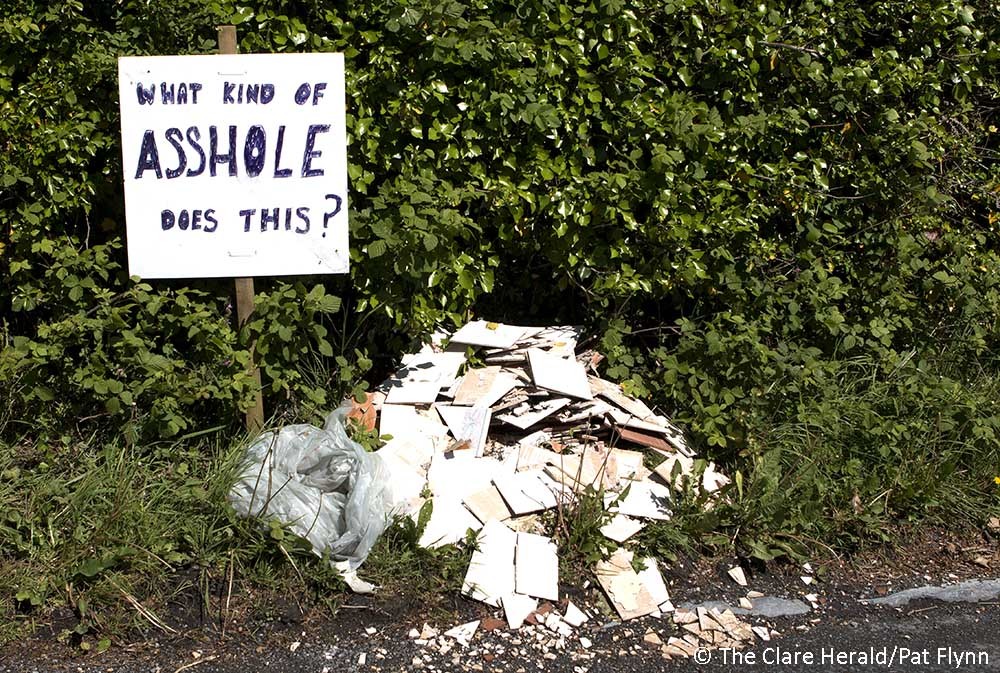 Angry locals who erected a sign following an incident of illegal dumping have unwittingly broken the law by doing so.
After residents discovered rubbish dumped at a busy junction in Co Clare, one placed a make-shift sig at the location to show local frustration.
The batch of broken tiles was dumped at Drumconora on the Ennis to Ruan road up to three weeks ago. Over the weekend however, an unidentified person posted a sign that says "What kind of asshole does this?"
One local man said: "We know this is happening everywhere but it's just wrong. Indiscriminate dumping is a disgrace and it's not the first time it has happened in our area."
"Everywhere you go in the county you'll see dumping somewhere and there seems to be no let up. The council is always warning about it and there are TV and radio ads but no one seems to care. I don't know what the answer is."
The sign that was erected at this latest dumping site was, ironically, done so illegally. It's against the law, under the Litter Pollution Act 1997, to erect a sign without permission.
"You'd have to hope that common sense would prevail and the no local authority would pursue anyone for erecting such a sign. The sign has only been there since Sunday while the rubbish has been there for at least three weeks. Does the council have any staff travelling the roads looking out for this or what?" the local resident added.
Clare County Council recently undertook two major high profile clean-up operations in Ennis town after issues were raised at a meeting of the council.
The council had vowed to pursue and prosecute those responsible but later confirmed that after examining the rubbish removed from the two sites, they were no closer to identifying the culprits.
A spokesman for Clare County Council said: "The Waste Regulation and Enforcement team within Clare County Council, is a multi-disciplinary team of staff dedicated to the enforcement of waste management and litter legislation throughout the county of Clare.
There is a dedicated community warden in each of the Municipal Districts who monitor their respective areas, respond to and investigate all complaints received and who also work closely with members of the Council and local communities, in their work to address illegal dumping. In all appropriate cases, where circumstances allow, offenders will be prosecuted to the full extent that national legislation permits," he said.
"Clare County Council uses a complaints database to help identify and address the black spots in all areas of the county. CCTV cameras are being used as a preventative measure, help clear up litter black spots and evidence collected will continue to be used in prosecuting offenders," the spokesman added.
Clare County Council has confirmed they have received no call in relation to this dumping incident.
The local authority has since arranged a "cleanup of the site in question."
"Members of the public should report cases of illegal dumping to Clare County Council on 0656846331 or the Anti Litter Hotline 180060670," the authority said.