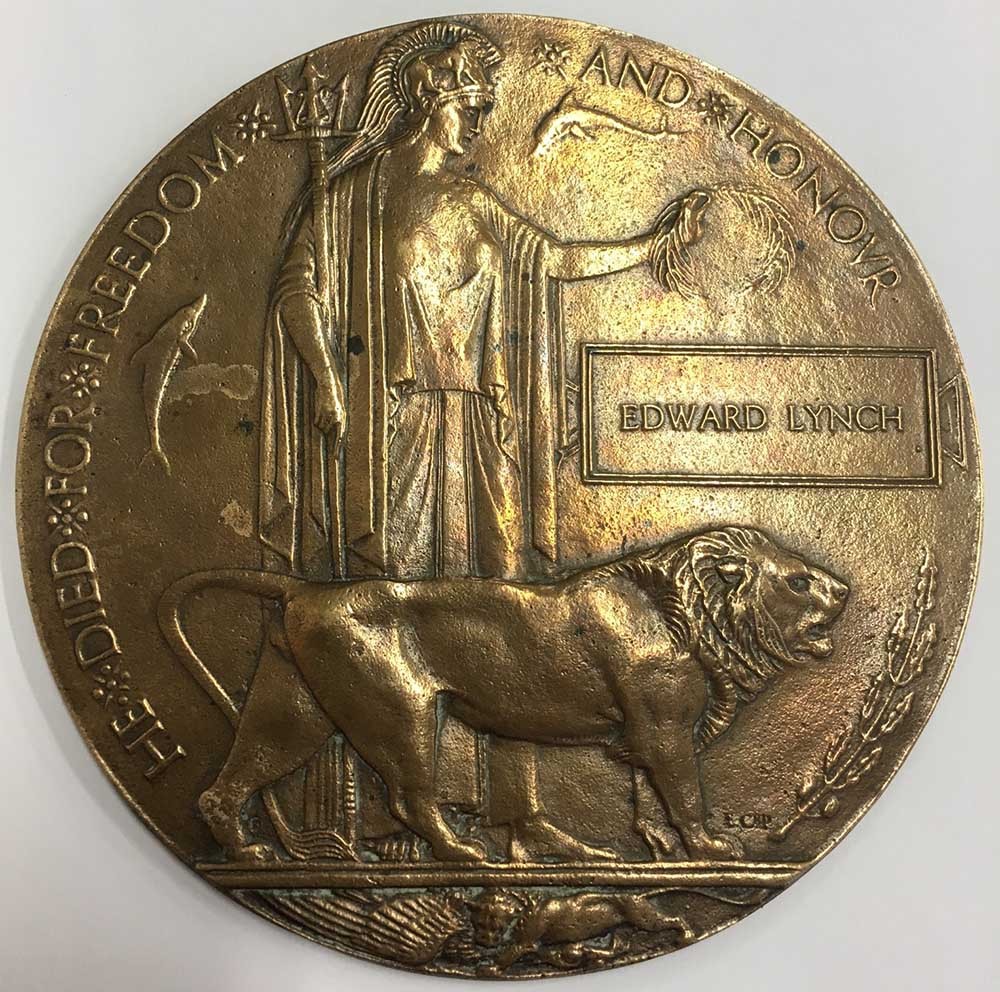 The children of Parteen National School's 6th Class have finally cracked a puzzle relating to a WW1 death plaque.
A group of 18 pupils, together with 4 teachers (Mr. Ruane, Ms. Guckian, Ms. Collins and Mr. Crowe), Have now made e a once in a lifetime trip to Belgium to retrace the steps of the fallen soldier whose name is inscribed on this plaque.
In November 2016 the pupils embarked on an intriguing project to track down the surviving relations of Sergeant Edward Lynch, a Cork soldier who died in the First World War. 
Edward was killed on December 21st 1914, just a few short days before Christmas, in a war where most people believed their loved ones in the trenches would be "home by Christmas".
His family was presented with a death plaque, more commonly known as a 'Widow's Penny' but this fell out of their possession and ended up being auctioned online. Cathal, who has a huge passion for history, spotted the bronze, 5 inch in diameter, death plaque for sale on eBay and decided to purchase it so that his class could undertake some project work on it.
The project really grew legs and both Cathal and his pupils decided to dig deep to see if they could find out who Edward Lynch was, what his life was like before the war, where he fought and how he died. Most specially, they resolved to track down surviving members of Edward's family so that they could be reunited with this century old relic.
The research was extensive and involved looking at Edward's will, his medal records, his baptism record and old maps. Phonecalls were made and letters were written by the children to the Mayor of Cork, Cork City Library, Shandon Historical Society, the Irish Army and the British National Archives among others.
The Cork City Gardaí were hugely supportive and Sergeant Stewart Philpott, stationed at Anglesea Station, even went so far as to make door-to-door enquiries along St. Dominick's Terrace (near Proby's Quay) to establish if any of the area's older residents could remember the Lynch family. Massive support was also given by historians including Jean Prendergast and Seán Collopy. The school's principal, Gerard Ruane, has also given every support possible to the class.
The project work, whilst immensely interesting, met a proverbial brick wall in January when the children had a saturation of information relating to Edward but no leads whatsoever as to where his family now resided and who his next of kin might be. They decided to turn to local and national media in their quest and the class partook in a number of radio and television interviews.
Rita Ahern, an elderly woman from Togher, Co. Cork, was shown an article about the Edward Lynch project which was written in one local newspaper. The story instantly resonated with her as she is Edward's grand-niece and  knew all about her uncle who went to war but never returned. The school are now in continuous communication with Rita and are working on plans to reunite her with Edward's long lost death plaque at at solemn ceremony to be held at the school in the coming weeks