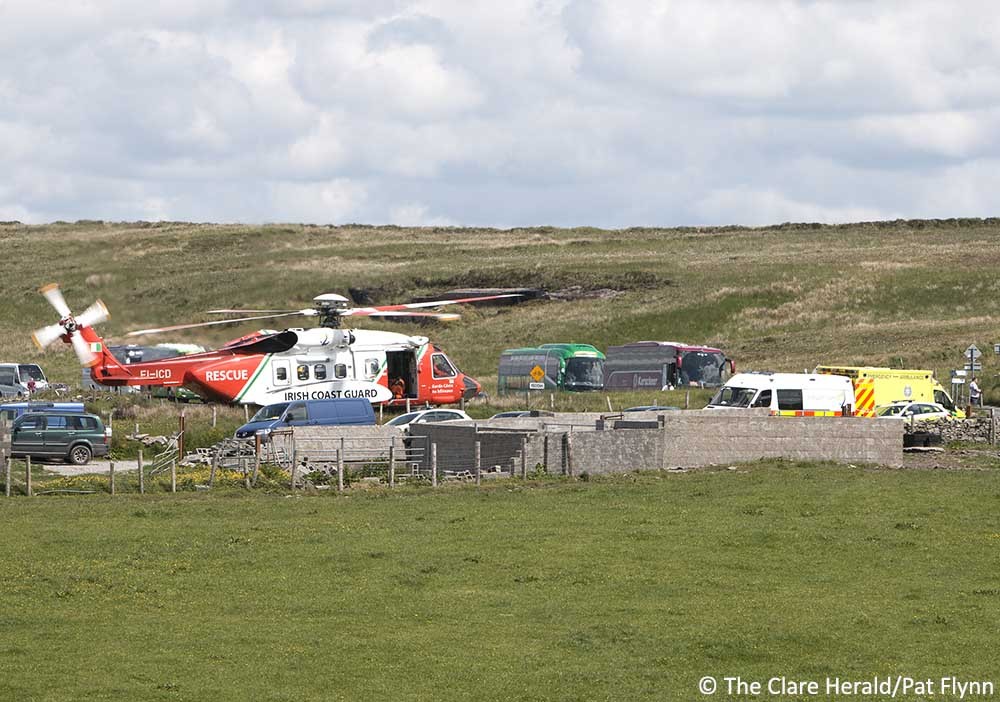 Two men have been rushed to hospital, one by helicopter, after they were seriously injured in an accident at the Cliffs of Moher in Co Clare.
One of the men is understood to have sustained serious internal injuries while the other suffered two suspected broken legs.
The alarm was raised at around 1.00pm when the Irish Coast Guard received a report that two people had fallen from the 700 high cliffs near O'Brien's Tower.
As watch officers at the Irish Coast Guard marine rescue sub centre at Valentia mounted a search and rescue operation, a sight-seeing boat known to be in the area was requested to investigate the report.
The crew of the 'Jack B' confirmed they could see people on the shoreline at the base of the treacherous Aill Na Searrach north of O'Brien's Tower.
It soon became clear that three men, believed to be US nationals, had made their way down a extremely dangerous goat track and were almost at the base of the cliff when two of them fell.
A multi-agency search and rescue operation was quickly put into action involving the Irish Coast Guard, National Ambulance Service and An Garda.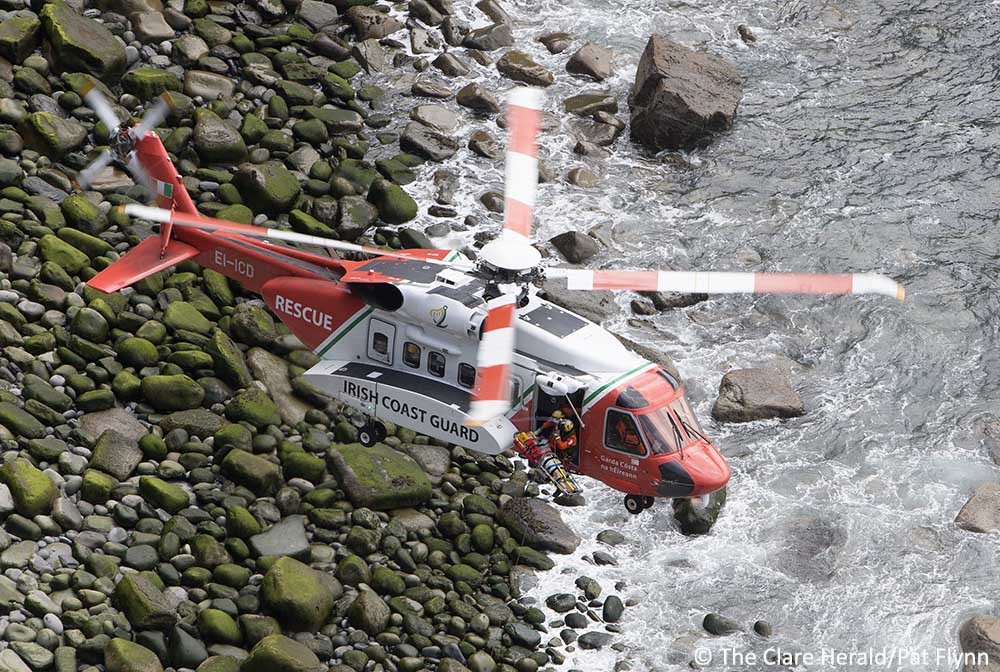 The Shannon based search and rescue helicopter was scrambled to the area while Doolin Coast Guard volunteers descended the narrow track.
On reaching the base of the cliff, search teams located two seriously injured casualties believed to have fallen up to 30 feet. The third man managed to reach the base without falling.
The first casualty was airlifted from the cliff base to a nearby field from where he was rushed by ambulance to University Hospital Limerick.
Rescue 115 returned to the scene and winched the second man on board. He was flown directly to University Hospital Galway with more serious injuries.
One of the men is believed to be in his 40's while the second is reported to be in his 20's.
The goat track where the incident happened winds down the side of the cliff but doesn't reach to the shoreline. It's here that the area is the most dangerous and while regularly used by surfers, warnings have been issued in the past about the hazards.
Doolin Coast Guard officer in charge Mattie Shannon said: "This is a very dangerous place and it is not recommended that people go down that track. It's particularly dangerous at the bottom and it's tricky enough for ourselves never mind those who haven't received any training."
It's understood that the US Embassy has been advised of the accident.