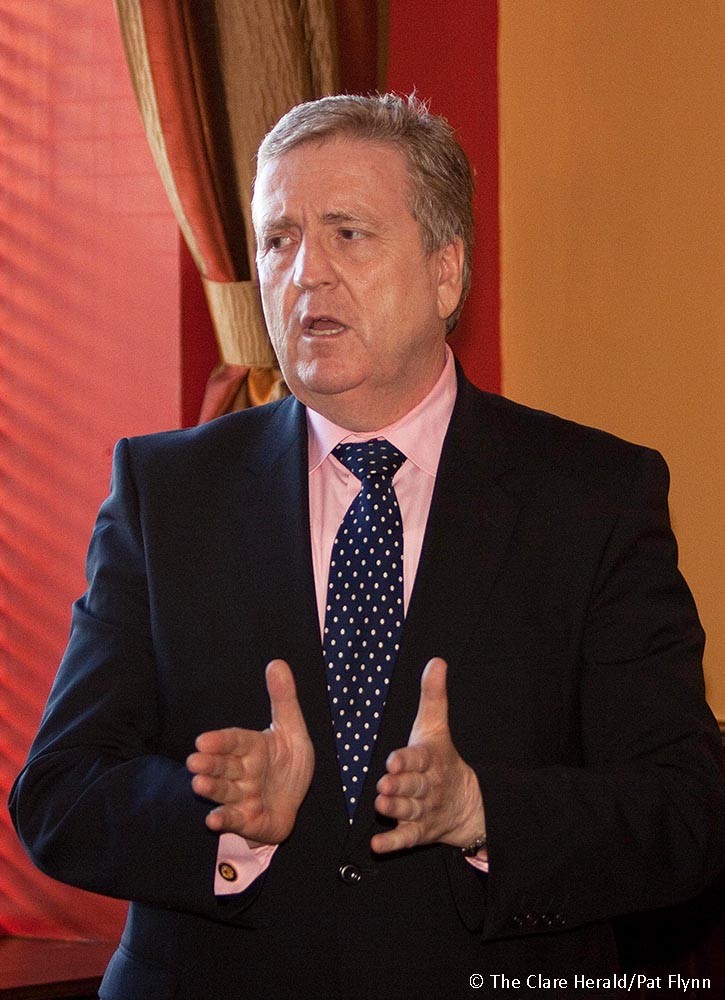 Clare Fine Gael TD Pat Breen has retained his ministerial position and given additional responsibilities which now span four departments.
Following his appointment by Taoiseach Leo Varadkar, Minister Breen will now work with the Department of Enterprise and Innovation, Department of Taoiseach, Department of Employment and Social Protection, and the Department of Justice and Equality, with responsibility for Trade, Employment, Business, EU Digital Single Market and Data Protection.
"These are key areas of responsibility in a growing and changing economy, and I look forward to the challenge and job of work required in my newly expanded role in Government," Minister Breen said.
"I am particularly pleased to have retained the business portfolio. This is an area that I have worked hard in since first being appointed Minster of State. I continue to have responsibility for Local Enterprise Offices (LEOs) which have proven very successful in growing and supporting small businesses particularly here in Clare.
"The expansion of my role into the Department of Social Protection will allow me to not only retain responsibility for the Labour Relations Commission but also I hope offer me the opportunity to work with the Minister for Social Protection Regina Doherty in extending the rights of the self employed and small business owners.
"Trade, nationally and internationally, is essential to the growth of Irish businesses, not just through traditional channels but also through the digital sector. As Minister with responsibility for the EU Digital Single Market, I will work with my European counterparts to make the EU's digital world a seamless and level marketplace to buy and sell. This will open up huge markets to small businesses throughout Ireland and Clare.
"The 2015 Digital Single Market strategy is to be completed in 2018, and I look forward to ensuring Ireland plays its role in meeting all the objectives, including designing the rules which match the pace of technology.
"Cyber security and data protection must remain central to the digital revolution and as part of the EU we need to act to address the issues raised around digitisation.
"The value of the data economy can increase to €739 billion across the EU by 2020, representing 4% of the EU's GDP, for this to happen, data needs to be continuously accessible, allowed to move freely and be secure."
"I would like to thank the people of Clare for their support. While I am delighted to take on this newly extended Minister of State portfolio, my greatest pride will continue to be in representing the people of the Banner in Government."