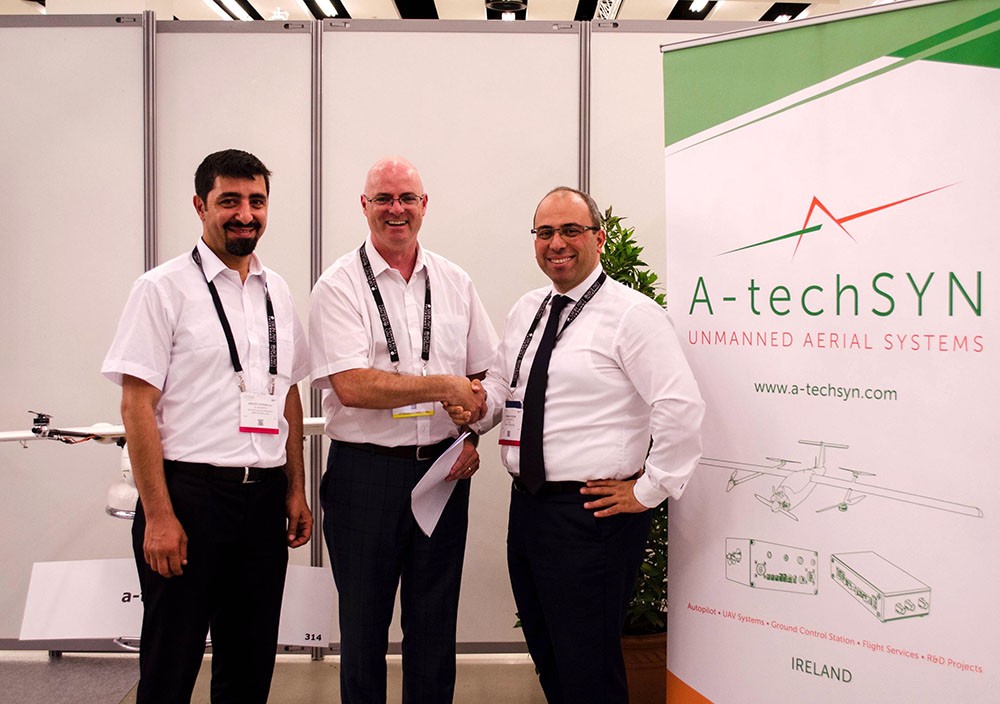 An innovative R&D company with over four years of experience in fixed-wing Unmanned Air Vehicle (UAV) development, has announced that it has signed Heads of Terms with Shannon Group plc's International Aviation Services Centre (IASC) for a premises in the Shannon Free Zone business park in County Clare.
A-techSYN Ltd, will not only transfer the development and production of its leading-edge 'PilotUS' autopilot hardware and software to the Shannon facility, but also plans to start providing drone flight services.
Welcoming A-techSYN to the Shannon Aviation Cluster, Patrick Edmond, IASC's Managing Director, said that UAV technology was a very significant growth area in the aviation Industry.
"UAVs are a real growth area and the technology is evolving rapidly. We're delighted to welcome an innovative company such as A-techSYN as part of our aviation cluster, and this further confirms Shannon as a leader in this industry sector. Our flexibility is a big part of our success: in this case, Shannon Group's property arm Shannon Commercial Properties was able to offer A-techSYN a flexible property solution that matches their future growth strategy."
Adnan Cetinkaya, Head of Sales and Operations of A-techSYN commented: "We are very pleased to join Shannon's Aviation Cluster.  It is part of the A-techSYN strategy to position our business operations at a location that welcomes innovation and growth. Our core products are the PilotUS Autopilot Hardware and Software and the Ground Control Software.
We own the IP of several critical software and hardware systems. The same PilotUS autopilot can control any drone, be it a fixed wing, multi-copter or even helicopter. This gives end-users the ability to invest only once and use a family of several UAV's designed for different purposes. This makes A-techSYN a very competitive player."
Gokhan Celik, the CEO and founder of the company commented: "It is a pleasure for us to be part of a cluster that we believe will contribute greatly to UAV development.  This is a highly specialised industry sector and we are starting with five employees this year and plan to build this to 25 employees by the end of 2019."
He continued, "A-techSYN will support the cluster by transferring all technology developed in recent years to Ireland. We hope to live up to our name and produce SYNERGY together with all the cluster stakeholders. We believe that our experience in control and flight services will be a great contribution. "
Highlighting the significance of the announcement, John Drysdale, IASC's Business Development Manager, said: "Technologies such as artificial intelligence, advanced communications and telemetry mean that advanced UAV operations will increasingly be part of day-to-day life in the very near future. A-techSYN will be a very welcome addition to Shannon's existing cluster of over 50 aviation companies which between them employ over 2,400 people."