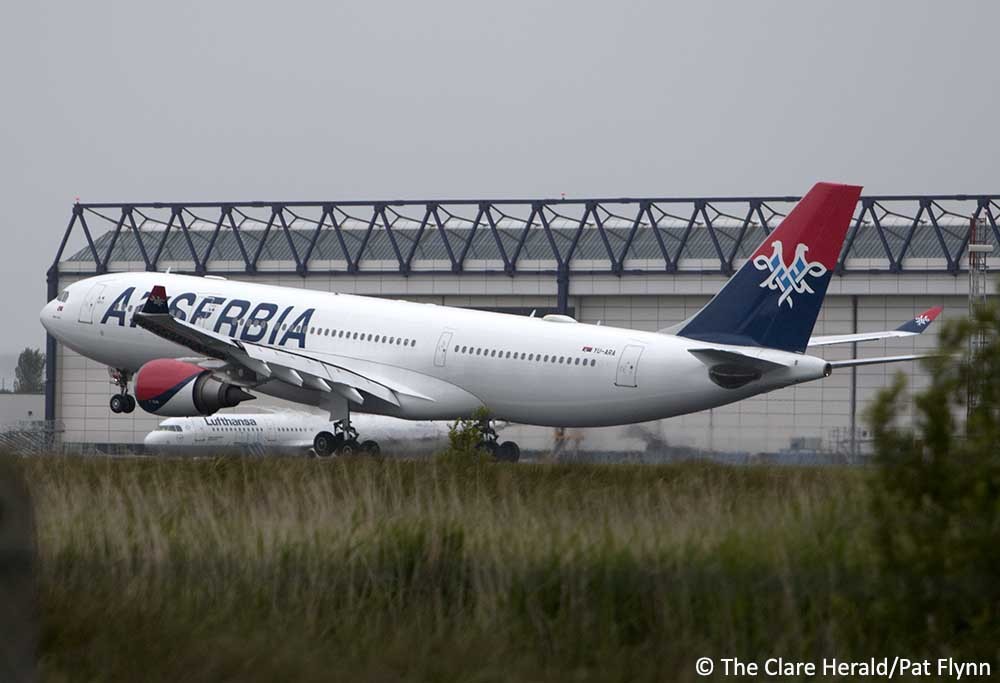 Update:
7.55pm
– An airline spokesman said: "Air Serbia flight JU500 from Belgrade to New York today, Friday 9 June, has diverted to Shannon, Ireland, after a guest with a medical condition became ill onboard. The flight landed safely at Shannon Airport where it was met by emergency paramedics who provided medical assistance. The safety and well-being of our guests is Air Serbia's highest priority. "
The flight continued its journey to New York shortly after 8.00pm.
Earlier: A transatlantic flight has diverted to Shannon Airport with a young child who required medical attention.
Air Serbia flight JU-500 from Belgrade to New York was about 400 kilometres north west of Shannon when the crew declared a medical emergency.
The crew of the Airbus A330-200 advised controllers they would need to enter a holding pattern in order to burn off aviation fuel to ensure they touch down within safe landing weight limits.
The crew flew in circles over East Clare for about 40 minutes before commencing an approach to the airport.
In the meantime, the National Ambulance Service was notified and an ambulance and rapid response advanced paramedic unit were sent to the airport ahead of the jets arrival.
The flight landed safely at 5.35pm and taxied to the terminal where airport authorities and paramedics were standing by to board the aircraft.
It's not yet known whether the child was transported to hospital or when the flight will continued its journey while