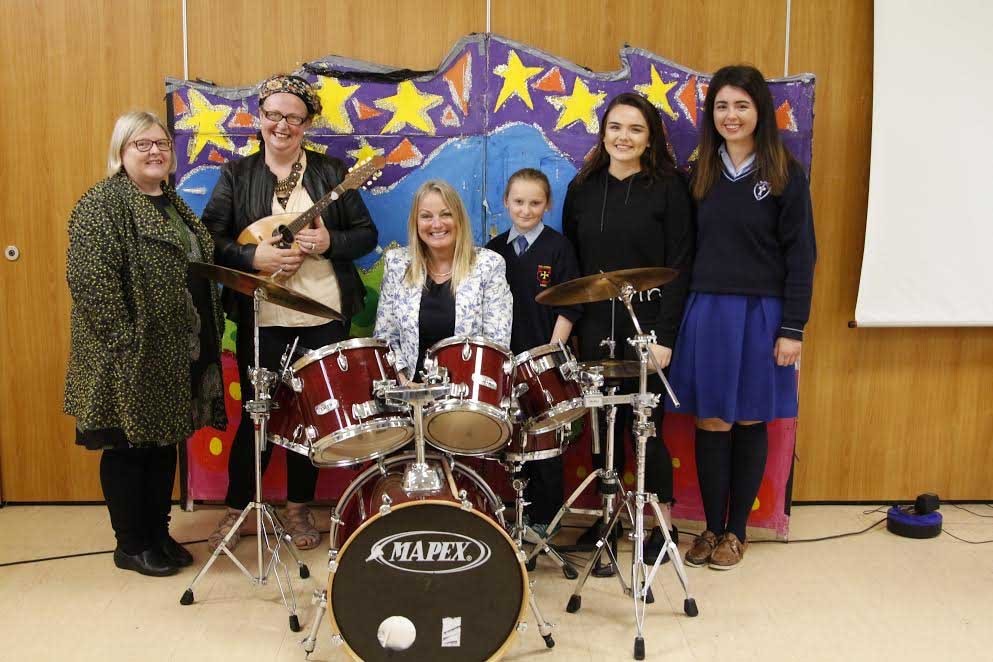 Scoil Chríost Rí in Ennis has benefitted from a hugely successful Instrument Appeal.
Co-ordinated by Cllr Mary Howard of the Ennis Phoenix Twinning Board and local girls Aine Kearns, Kate Dillon, Fiona Neylon and Kellie Whelan who were Youth Ambassadors last summer.  .
The girls attend Coláiste Muire and Rice College and they organised a collection for unused instruments within their schools.
A multitude of instruments were collected, electric, bass and acoustic guitars along with a brand new keyboard and a multitude of fiddles, accordians flutes and tin whistles, along with a mandolin. These instruments make a huge difference to the students within the school as many have a natural talent for music due to the school having a very strong ethos of music.
"Scoil Chriost Ri is an extraordinary school as every child from first class to sixth class can play music and  dance be it the caledonian set or a brush dance. Some of these children have a very strong musical talent and may not be able to afford a new "step-up" instrument and this is where the Instrument Appeal comes in, the school takes ownership of the instruments that are donated," explained Cllr Mary Howard.
The genesis of the project was, a number of years ago we had a visiting band from Phoenix Arizona and they visited with the boys and girls at Scoil Chriost Rí and the atmosphere was electric, they played and performed for each other and  it was during that visit that Karen Vaughan who heads the music department explained that at that time they had 18 children on music scholarships and she explained the difficulty with getting instruments for the children and that is where we stepped in " continued Cllr Howard.
This is year two of the project and I would love to see this simple idea continue and spread because every house in Ireland has bodhrans under the bed, and fiddles on top of wardrobes as well as consertinas behind the couch! We are allowing these instruments to be loved and played once more, concluded Cllr Howard.