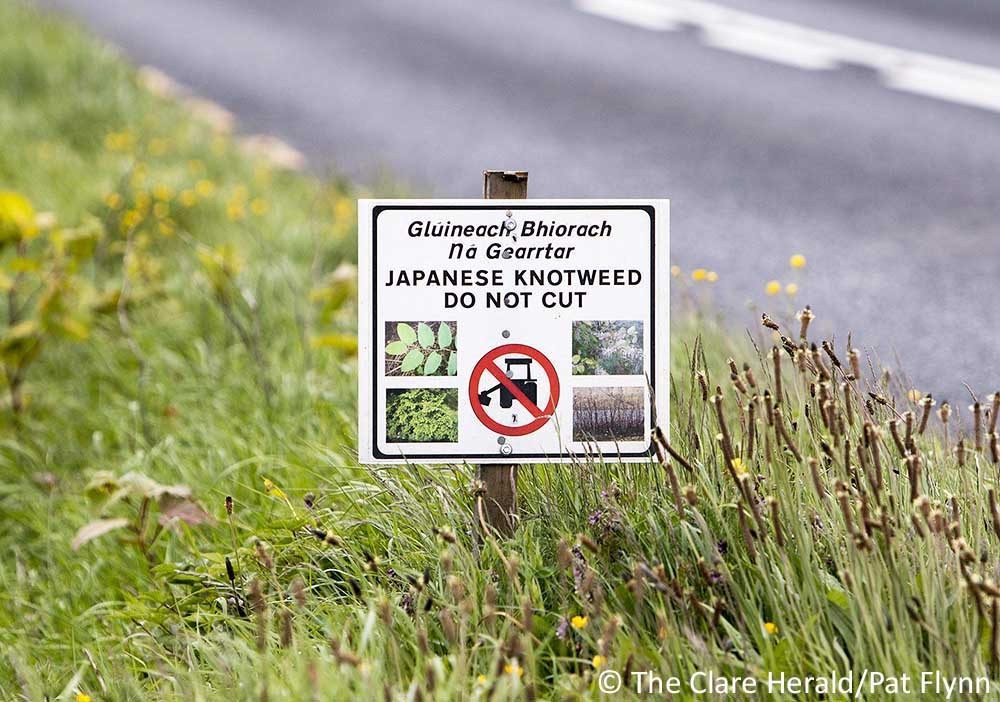 Clare County Council is seeking the public's assistance in curbing the spread of Japanese knotweed, an invasive species that can negatively impact native plants as well as seriously undermine the structural integrity of roads, buildings and car parks.
The Local Authority is asking the public to record all sightings of invasive species wherever they occur in order to assist in determining the extent of infestation across the county.
Since it was introduced as an ornamental plant from Japan in the 19th Century, Japanese knotweed has spread across the island of Ireland, particularly along watercourses, transport routes and waste grounds where its movement is unrestricted.
Clare County Council says that recording the extent of infestation of the invasive species throughout the county is critical to tackling the problem and undertaking appropriate eradication programmes.
All sightings of invasive species should be reported to the National Biodiversity Data Centre at http://records.biodiversityireland.ie/record/invasives, telephone 01 51306240, email invasives@biodiversityireland.ie and on the National Biodiversity Data Centre or EPA Catchments smartphone apps.
Meanwhile, a series of practical two-hour workshops on Japanese knotweed, facilitated by Dr. Frances Giaquinto, botanist, ecologist and specialist in invasive, non-native plant species, also are being organised by Clare County Council.  Dr. Giaquinto has worked extensively in the management of Japanese knotweed and other knotweed species for statutory, commercial and private clients.
The workshops are free of charge, open to everyone and will be held from 6.30 pm to 8.30 pm at the Civic Room, Buttermarket Building, Drumbiggle, Ennis (Wednesday 19 July), The Falls Hotel, Ennistymon (Thursday 20 July), McNamara's Bar, Scarriff (Monday 24 July), Oakwood Arms Hotel, Shannon (Tuesday 25 July), Kilrush Golf Club (Wednesday 26 July) and The Lakeside Hotel, Killaloe (Thursday 27 July).
"The aim of each workshop is to raise awareness, to help the general public to identify Japanese knotweed and related species, and to give them advice on what actions to take if they come across knotweed on their own property, or locality," advised Karen Foley, Environmental Awareness Officer with Clare County Council.
Congella McGuire, Heritage Officer with Clare County Council, advised that "the workshops will be practical and informative.
"Dr. Giaquinto has also prepared a detailed information and guidance booklet, which will be made available to participants.  The booklet will be available to download from Clare County Council's website, so even if the dates of the workshops do not suit everyone, the information will be readily available online at www.clarecoco.ie,"  said Ms. McGuire.
By the end of the workshop participants will be able to identify Japanese knotweed and related species with confidence and assess the severity of an infestation, know what actions to take and what you must not do, understand the different methods of and the pros and cons of each containment and eradication, and know when to appoint a specialist to help and how to assess if a specialist contractor is operating to good practice.
The workshops will also inform participants about the risks and impact of Japanese knotweed on your property and locality, the legislation relating to Japanese knotweed and how it affects you, the actions to take if you are buying or selling property, and the risks associated with other invasive non-native plant species in Clare.