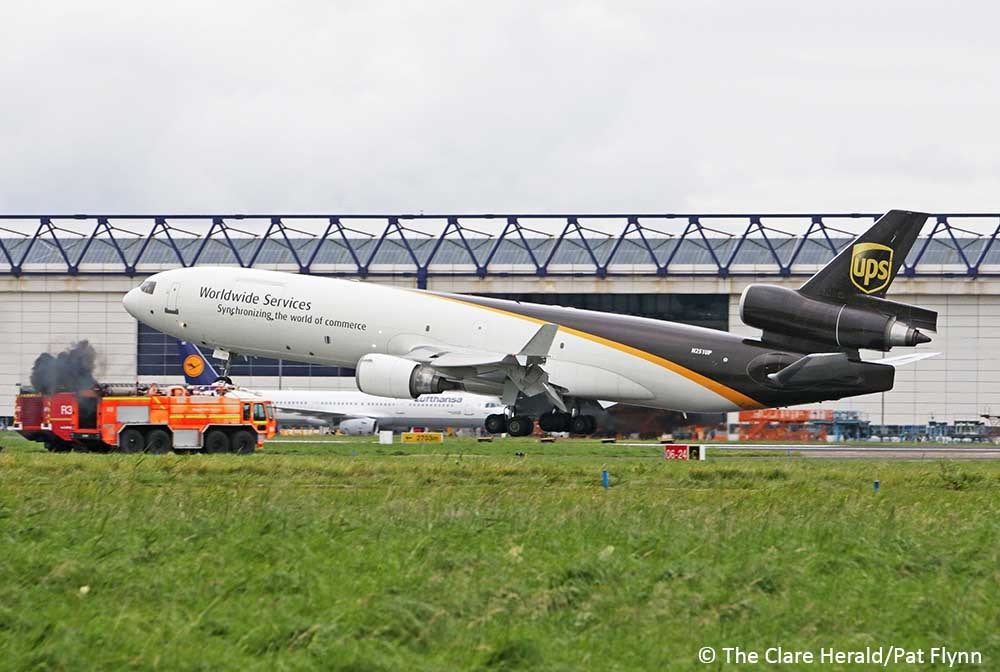 Update:
Sunday 10.08am – The jet departed Shannon shortly after 10.00am on Sunday morning.
Earlier: A transatlantic cargo jet has made an emergency landing at Shannon Airport this evening.
The United Parcel Service (UPS) flight was en route from Philadelphia in the US to Cologne in Germany at the time. There were five crew members on board.
Flight UPS-203 was about an hour south west of Shannon when the crew contacted air traffic controllers, declaring a Pan Pan and reporting they had detected smoke on board the aircraft. A Pan radio call differs from a Mayday distress message as it signifies an urgency on board but not imminent danger to the aircraft or those on board.
The crew of the McDonnell Douglas MD-11 freighter told controllers they believed the issue was connected with the aircraft's air conditioning system.
The crew also confirmed they would be making an overweight landing so the airport's fire service was placed standing by for the aircraft's arrival.
The jet landed safely at 9.03pm and was pursued along the runway by airport fire vehicles so that firefighters could check that the aircraft's brakes didn't overheat or catch fire during the emergency landing.
The aircraft was able to taxi to the terminal where fire crews carried out a further inspection of the jet while engineers were also waiting to investigate the issue.
It's not year clear whether the jet will continue its journey tonight or remain grounded in Shannon overnight.
In 2015, another United Parcel Service MD-11 made an emergency landing at Shannon after the crew had to shut down one of the jets three engines over the Atlantic. The aircraft landed safely.