Fresh from their celebration of the parish's rich history of potato growing, O'Gonnelloe's sense of community takes another rich turn at the weekend when the parish stages Songs of our Counties.
A fund-raiser for the local GAA club, the night is a celebration of the music and GAA stories and yarns of the majority of Ireland's counties, performed by parishioners and some special guests.
It will take place in the O'Gonnelloe Exchange, the old school hall in the centre of the parish that has been revived over recent years with a community café on Saturdays, many other gatherings and performances similar to Saturday nights.
This latest event is led by adopted son of the parish and noted performer, journalist and song-writer Jim O'Brien.  The night will see over 20 songs performed, including that great ballad Clare My Heart My Home written for Fleadh 2017.
Two other songs from the Banner County have been selected for the night – Spancill Hill and The Scarriff Martyrs – with celebrated ballads from neighbouring counties Limerick, Tipperary, Kerry, Galway, Mayo, Cork, Waterford and many others also being performed.  The numbers will be interlaced with some light-hearted stories, mostly related to exploits on and off GAA fields across the country.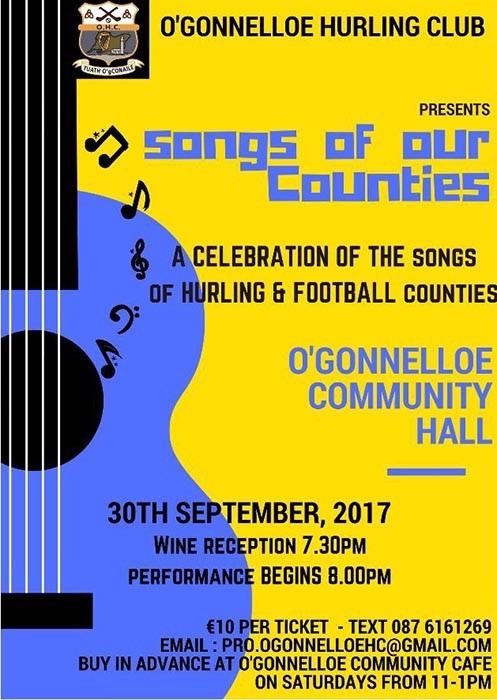 Explained O'Brien: "We did three big nights last year to mark the 1916 celebrations and it reignited a flame in the parish for these type of community gatherings.  We had another hugely successful performance earlier this year when we simply pulled together a programme of songs nominated by people from the parish.
"Saturday night is a fund raiser for the GAA club and when we discussed it first, we immediately thought wouldn't it be great to sing songs of counties that people now living in the parish are originally from.  Naturally, we give a bow to Clare with three songs, the others getting one each.
"In the most part we've avoided the traditional anthems but have some gorgeous songs like that great ballad 'Aghadoe' for Kerry, the 'Mountains of Pomeroy' for Tyrone, Carrickfergus for Antrim, the Bould Fenian Men for Kilkenny and 'The Broad Majestic Shannon' for our neighbours across the lake and many more.
"We have great musical talent in the parish and these nights have become great community nights for the parish because we have people from across O'Gonnelloe performing, in some instances people with no experience of stage.  This is our fifth such event in just over a year and we have people coming to them now from as far afield as Ennis and Nenagh so they can't be all bad. It's a night for any community, for people who just want to hear some of those magnificent old ballads of counties that we heard growing up."
There are a small number of tickets still available but people intending getting along are advised to book their seats quickly as the event, like the four before, is likely to sell-out.
*For tickets, which cost €10, simply text 087 6161269.