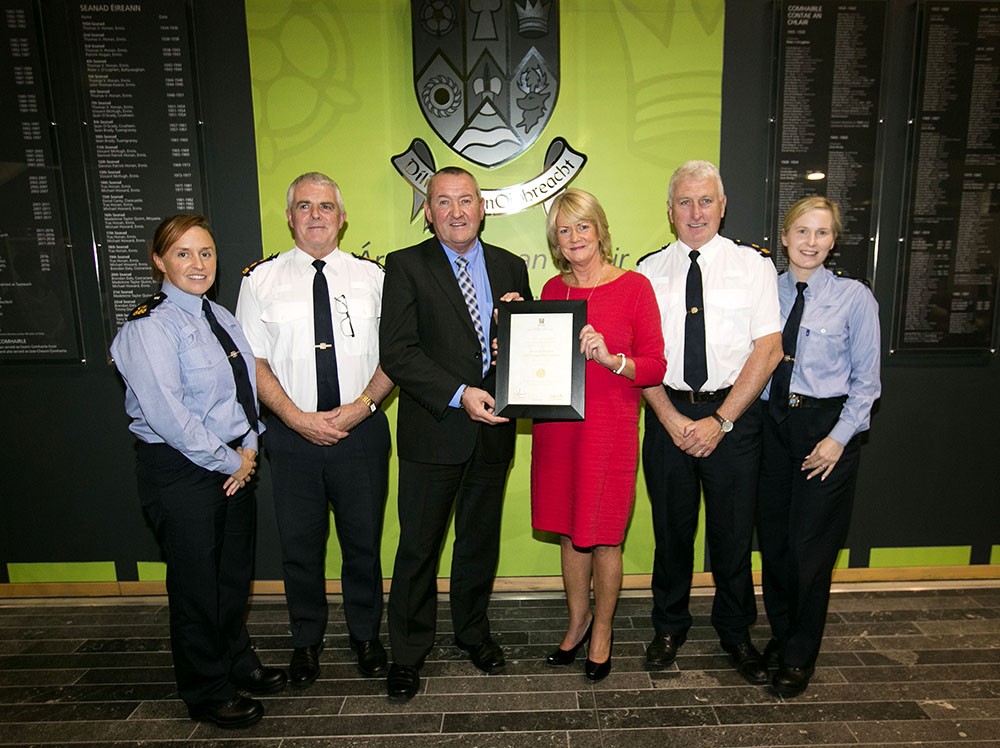 Dozens of community and residents groups from across Clare gathered at Áras Contae on Chláir in Ennis last evening for the annual Clare County Council Community Awards Night.
The winners of the 'Best Kept Local Authority Estates' and 'Clare in Bloom' competitions for 2017 were announced while Clare's participants in this year's IPB Pride of Place competition were also recognised.
In his opening address, Mayor of Clare Tom McNamara said: "The Clare Community Awards give official recognition to those who are individually and collectively making a real positive difference in their communities on a daily basis."
The Mayor continued, "There is something very uplifting about seeing members of any community coming together. It is important that we acknowledge those who give so much to back to their community and to their county."
Mayor McNamara also thanked the two sponsors of the Clare in Bloom Competition; ESB Moneypoint and Roche Ireland for their continued support.
Pat Dowling, Chief Executive of Clare County Council, stated: "It is clear that Clare is a vibrant location, thanks to the thousands of individuals coming together with bright ideas and positive attitudes to making things happen. Clare County Council is delighted to play its part in recognising your achievements and honouring your shared commitment to your respective communities and to the County."
Clare in Bloom, an awards scheme for community groups actively involved in the improvement and enhancement of their localities, this year featured 27 participants from around the County. The Cathaoirleach's Award 2017 was presented to Doonbeg Tidy Towns while Tuamgraney Development Association was named Overall Winner of Clare in Bloom 2017. The inaugural Betty Devanny Memorial Award was presented to O'Briensbridge Community Group.
Councillor Pat Hayes, Cathaoirleach of the Rural Development SPC presented the awards for the Clare in Bloom competition.
Kilrush Tidy Towns took 1st place in Category 1 (population of more than 700) of the competition while Quin Tidy Towns and Lisdoonvarna Community Council Ltd secured 2nd and 3rd place respectively. Special Endeavour awards were presented to Newmarket-on-Fergus Tidy Towns, Feakle Community Council, Scarriff Community Council and Shannon Tidy Towns.
Kildysart Tidy Towns came 1st in Category 2 (population of 300-700), Barefield Tidy Village came 2nd and Tulla Tidy Towns came 3rd. Corofin Tidy Towns received a Special Endeavour award.
In Category 3 (population less than 300), Ballynacally Tidy Towns was awarded 1st prize, 2nd prize went to Connolly Tidy Village and Bridgetown Tidy Towns were awarded 3rd prize.  'Special Endeavour' awards were also presented to Labasheeda Community Pride Tidy Towns, Cooraclare Tidy Towns, Knock Tidy Villages, Kilmurry Tidy Towns, Cuan an Chláir, Whitegate Community Council, Laghtagoona Residents Association, Iniscarragh Residents Association, Mullagh Tidy Village and Primrose Gardens Residents Association.
Councillor Gerry Flynn, Cathaoirleach of the Social Development SPC, presented the awards for the Best Kept Local Authority Estates Competition.
The overall winner of the competition was resident group of Rooska, Lisdoonvarna, which was awarded an engraved plaque, a cheque for €600 and the Mary Hennessy Memorial Award.   Individual awards were also presented to Lus na Si, Miltown Malbay (Most Improved), Pairc na Coille, Ennis (Best New Entrant), Finnuremore Pak, Mullagh, and Ballard Road, Miltown Malbay (Special Youth Involvement), and Station Road, Lahinch, and Connaught Road, Scariff (Judges Special Awards).
Category 1 of the competition for estates comprising up to 30 houses was won by Lower Main Street, Tulla which finished ahead of Finnuremore Park, Mullagh (2nd) and St. Josephs Rd., Ballyvaughan (3rd).  Creag Bhriain, Corofin; Bishop Murphy Park, Parteen; Smithsgardens, Kilkee; Cluain na Mara, Kilkee; Cluain Chormaic, Kildysart; Old Military Barracks, Ennis; and Church Road, Miltown Malbay were 'Highly Commended'.  Clarisford Killaloe, Crossroads, Killaloe, was 'Commended'.
Category 2 for estates comprising 31-50 houses was won by Connaught Road, Scariff which finished ahead of Station Road, Lahinch, and Riverview, Tuamgraney (Joint 2nd), and Lus na Si, Miltown Malbay (3rd).  Plunkett Drive, Kilkishen, was 'Highly Commended' and Millstream, Killaloe, and Island View, Kilrush, were 'Commended'.
Category 3 of the competition for estates comprising 50 or more houses was won by Rooska, Lisdoonvarna, which finished ahead of Marian Estate, Kilkee, (2nd) and Ballard Road, Miltown Malbay (3rd).
Councillor Flynn commended the residents in each of the estates for their achievements, which involved enhancement of the appearance and presentation of dwellings and open spaces within their estates.
"In this the 15th year of the competition, I want to commend the residents in each of the participating estates for their achievements.  Collectively, Clare's residents associations and estate committees have made a massive contribution to the physical appearance of this county," he added.
Meanwhile, two local groups were last night honoured for their commitment, effort and dedication to the enhancement of their communities as part of their participation in the IPB Pride of Place Competition 2017. The projects have been nominated by the Rural Development Directorate of Clare County Council to participate in annual all-island competition, which is run by Co-operation Ireland and aims to recognise and celebrate the vital contributions that communities make to society.
An Garda Síochána's "Clare Teenage Disco" initiative was nominated for this year's Pride of Place by Clare Chief Superintendent, John Kerin.  The project has resulted in a reduction in assaults, incidents of drunkenness and complaints from members of the public.  The project, which has been entered into Category 6 (Community-based Youth Initiative) of the competition, has involved multi-agency co-operation as well as the involvement of the young people, parents and the business community.
Cooraclare and Cree were nominated in Category 8 (Communities Reaching Out Initiative) of this year's Pride of Place by Malin Kelly, Coordinator, Health & Wellbeing Officer for CLG Cuar an Chláir. In an era of increasing rural isolation, a group of willing volunteers from CLG Cuar an Chláir's Health & Wellbeing Team has reached out to engage with locals to ensure inclusion.
Both projects will be hoping to emulate the success of other local community groups in previous years at the Pride of Place ceremony next month.