The play 'Jiving Lessons for the Broken-Hearted' which premiered last spring in the Royal Spa Hotel in Lisdoonvarna, has been invited into the All Ireland One Act Festival 2017.
To raise funds to cover the costs (Travel, Insurance, Accommodation etc) Dermot Petty will stage his on Saturday October 21st at the Liscannor Community Hall at 8pm.
"Jiving Lessons for the Broken Hearted" follows the adventures and misadventures of six different characters as they search for love over the course of a weekend during Lisdoonvarna's famous month-long Matchmaking Festival held in September every year.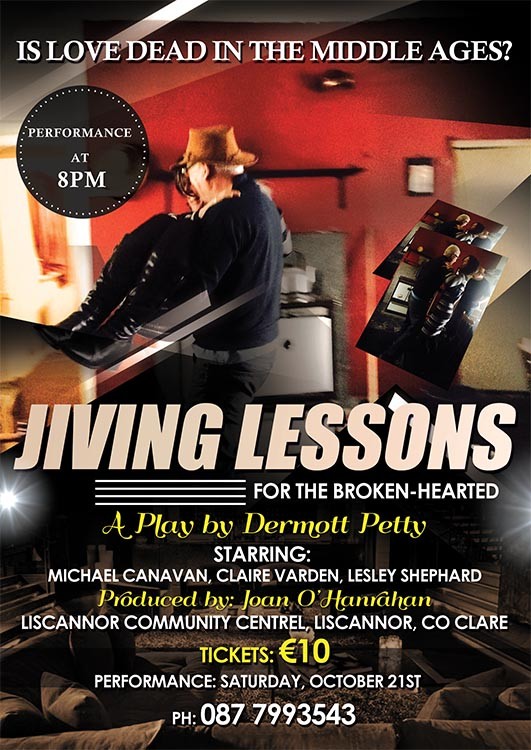 Produced by Joan O'Harrahan, (Kilfenora), the cast of Clair Varden, (Kilfenora), Michael Canavan, (Fanore), Lesley Shepard, (Lisdoonvarna), and Dermott Petty navigate the often dark and dangerous place that is the Matchmaking Festival, especially if you are a single, middle-aged person, where having an open heart is a dance away from heartbreak.
Jiving lessons for the Broken-Hearted' will play at the following festivals
*Saturday October 28th – Goresbridge, Kilkenny
*Sunday, November 12th – Doonbeg, Co Clare
*Saturday, November 18th – Ballymahon, Co Longford