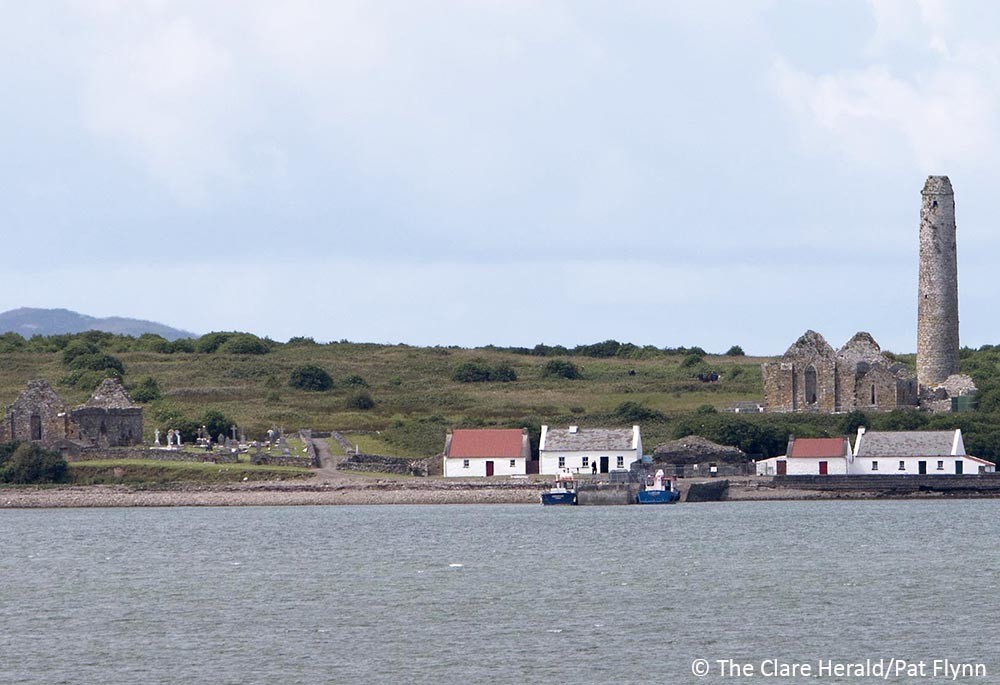 Minister of State at the Department of Transport, Tourism and Sport Brendan Griffin, has confirmed that Scattery Island has been named winner of the 2017 European Destination of Excellence (EDEN) award.
Clare County Council has congratulated the Scattery Island Heritage and Development Group on the achievement which will result in the island benefiting from free marketing supports from Fáilte Ireland, including a professional photo shoot to be used for promotional purposes. Also, the EU will profile the winning destination from each Member State on www.edenineurope.eu and will offer each winning destination, participation in the EU EDEN network.
EDEN is an EU project promoting sustainable tourism development and is held every two years in 29 member states. Scattery Island is the third Clare destination to win the prestigious award after the Burren Food Trail (2015) and Loop Head Peninsula (2010).
Mayor of Clare Cllr Tom McNamara said, "I want to congratulate Scattery Island Heritage and Development Group which over the past five years has worked with the State Bodies such as the OPW and Clare County Council to improve the present state of Scattery Island and to preserve its buildings and heritage. The group also has worked hard to promote the island's rich cultural and historical significance in order to increase visitor numbers in a sustainable manner."
Councillor Ian Lynch, submission coordinator and member of the Scattery Island Heritage and Development Group, commented, "We have always recognised Scattery Island as the jewel in the crown for local tourism. It is a fantastic product with a wealth of culture and history. This award is recognition of the amazing experience a trip to Scattery Island presents but also an acknowledgement of what can be achieved through collaboration of community groups and state bodies such as the OPW and Clare County Council who have supported, protected and developed the Island over the years."
Rita McCarthy, Founding member of the Scattery Island Heritage and Development Group, stated, "The Group is delighted that the island is the recipient of this year's prestigious EDEN award.  The award is just recognition of Scattery Island's unique heritage, history and natural beauty and will highlight its attraction as a sustainable tourism destination for West Clare."
Pat Dowling, Chief Executive of Clare County Council, said, "This prestigious international award for Scattery Island creates a new opportunity to build the partnership approach to further developing and marketing this visitor attraction. The partnership involves local business, community, tourism, statutory and local authority stakeholders."
"Clare County Council's Rural Development Directorate will work closely with this local partnership of stakeholders and explore National Government funding opportunities for the next phase of balanced and sustainable development of this unique heritage island site," concluded Mr. Dowling.
Uninhabited since 1979, Scattery Island – also known as Inish Cathaigh – is located approximately one mile from Kilrush in the Shannon Estuary and is home to a monastery founded in the early 6th century by St. Senan. The island features the ruins of six churches and one of the highest Round Towers in Ireland at 120 ft. high.