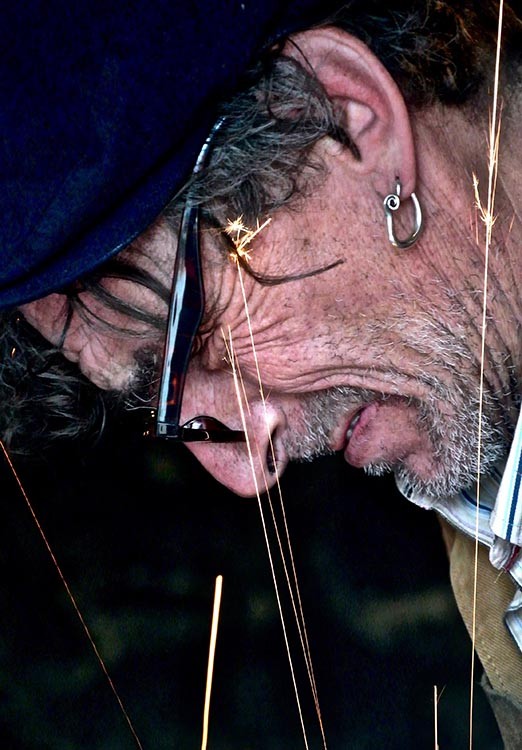 'Hammer and Tongs from the Real to the Surreal', an exhibition of works by Mark Wilson with photography and film by Yonit Kosovske, runs at Scariff Library Gallery from 31 October to 11 November.
The free multimedia exhibition sees Mark Wilson and Yonit Kosovske present new work created and presented collaboratively. The show includes sculptural works, photography and two art films that feature two contemporary piano recordings.
Mark Wilson started blacksmithing at the age of 12 and trained at Manchester Polytechnic in wood, metal and ceramics in the early 1980s. He spent ten years working as a community artist and moved to Ireland in 1992 where he retrained in green wood working. Mark eventually became allergic to certain woods and retrained in coppersmithing and went back to black smithing. He is presently based in the old forge in Mountshannon, Co Clare and works with communities, schools and shows teaching traditional craft skills.
Marks current work concentrates on his reaction to our throwaway society, His work takes many forms from his Rustic Steam Punk work at the Killaloe Hotel to community based commissions such as the Scariff town clock and community garden arch way. Taking scrap and turning it into treasure has been his lifelong passion.
Yonit Kosovske moved to Ireland in 2011. A classical musician performing repertoire from the Renaissance through Contemporary periods on harpsichord and piano, in recent years Yonit has been nurturing her artistic voice through photography, finding parallels between the visual and aural worlds, sharing endless metaphors in their treatment of dissonance and harmony, perspective, contrast, light and shadow.