Students from across the country, including 16 from Clare, were presented with scholarships totalling nearly €280,000 at the 2017 University of Limerick Scholarship Awards ceremony.
This year, more than 110 scholarships were presented, including over 30 UL Sports Scholarships.
Forty students were awarded UL40 Scholarships, introduced in 2012 to mark UL's 40th anniversary and valued at €2,000 each. A further 10 students received the UL40 Mature Scholarships.
Thirty-three outstanding sportspeople received UL Sports scholarships in 2017. Recipients of the three Gold UL Sports Scholarships included Irish Women's Rugby Captain, Niamh Briggs, Clare hurler and All Ireland 2013 medal winner Tony Kelly, and Shane O'Donoghue, who represented Ireland at the 2016 Olympics in hockey.
Bachelor of Engineering student Cian Hogan, from Sixmilebridge, Co. Clare, was awarded the Microsemi Scholarship, established in the academic year 2012/13 by Ennis-based semiconductor developer, Microsemi Ireland. This scholarship is open to all secondary schools in County Clare and is awarded to the student who attains the highest Leaving Certificate points before enrolling in Bachelor of Engineering programmes in UL.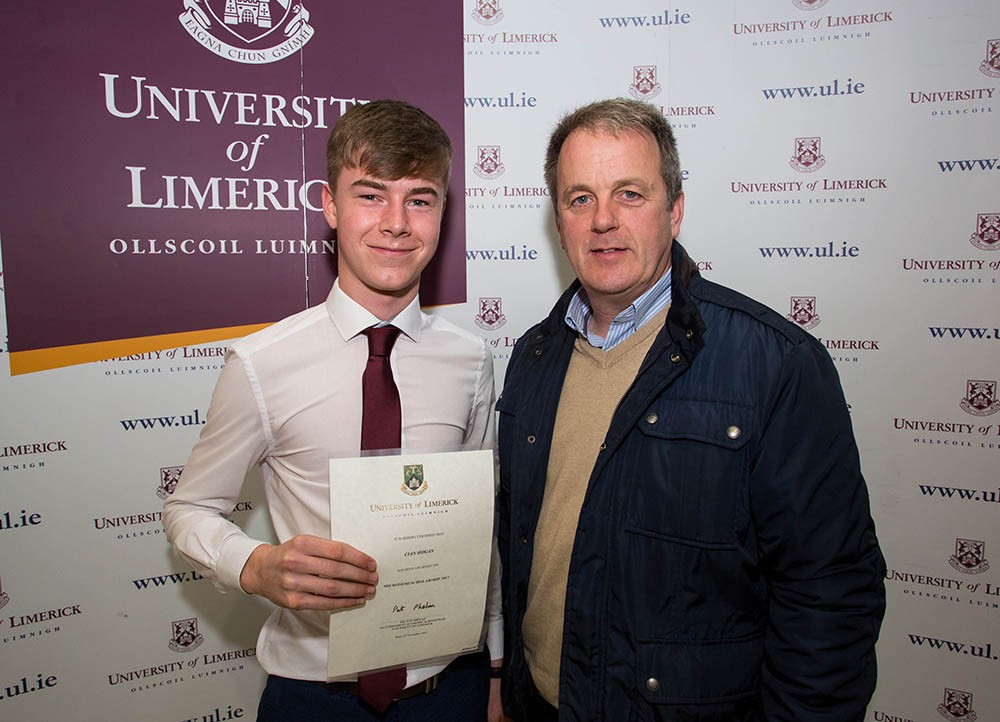 Award winners in the annual BT Young Scientist & Technology Exhibition were also presented with scholarships at Monday's ceremony. This year's recipients were Bachelor of Engineering student Eoin McCarthy from Waterfall, Cork, and Bachelor of Engineering in Aeronautical Engineering student Colin McNelis of Ennis, Co. Clare.
Congratulating the 2017 UL Scholars, Vice President Academic and Registrar, Dr Pat Phelan, who presented the scholarships, said: "Through this scholarship programme, UL is delighted to recognise these 110 outstanding students. UL is proud to acknowledge and support each of them as they continue to excel in sport and academia".