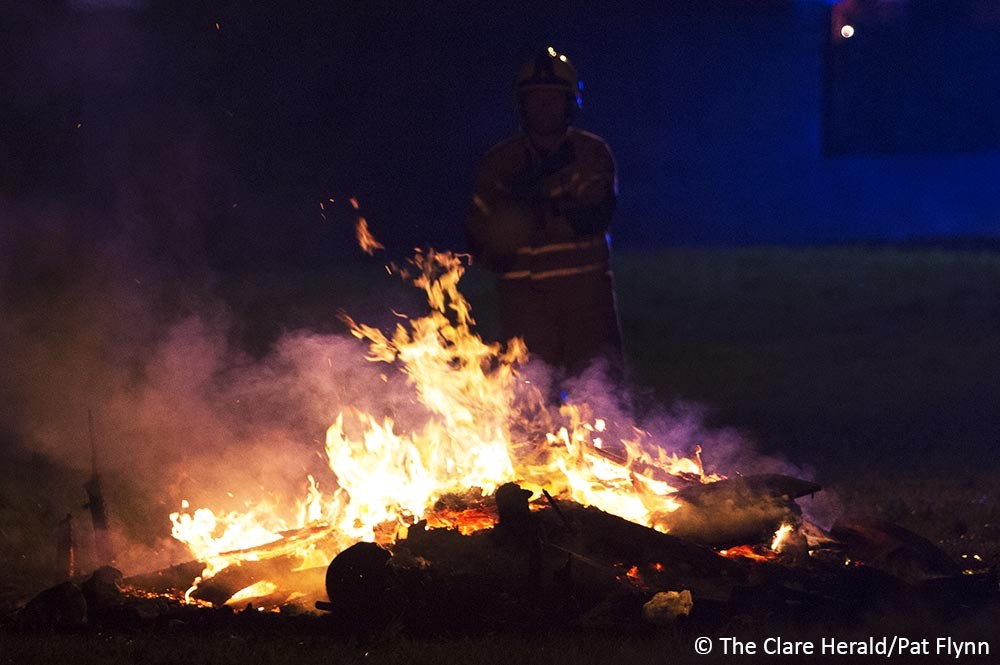 Firefighters were pelted with stones for a fourth consecutive night last night while a fire appliance was damaged after crews were called to deal with bonfires in Ennis.
Personnel from Ennis Fire Service responded to bonfires in the Cloughleigh area of the town on Sunday, Monday and Tuesday nights and again last night and on each occasion had to withdraw for their own safely and request garda assistance.
Fire crews only returned to the scene to deal with the fires once after gardaí had arrived to ensure their safety.
The bonfires were reported in the vicinity of an astro-turf pitch close to Pearse Avenue and the fire service was called to extinguish the fires. Each time fire crews arrived at the scene they were showered with stones and other items. At least one firefighter was struck with a large stone but wasn't seriously injured.
Last night, crews were called to a fire at the same location and were again attacked by stone-throwing youths. Gardaí were requested to respond to the incident however the youths dispersed soon afterwards.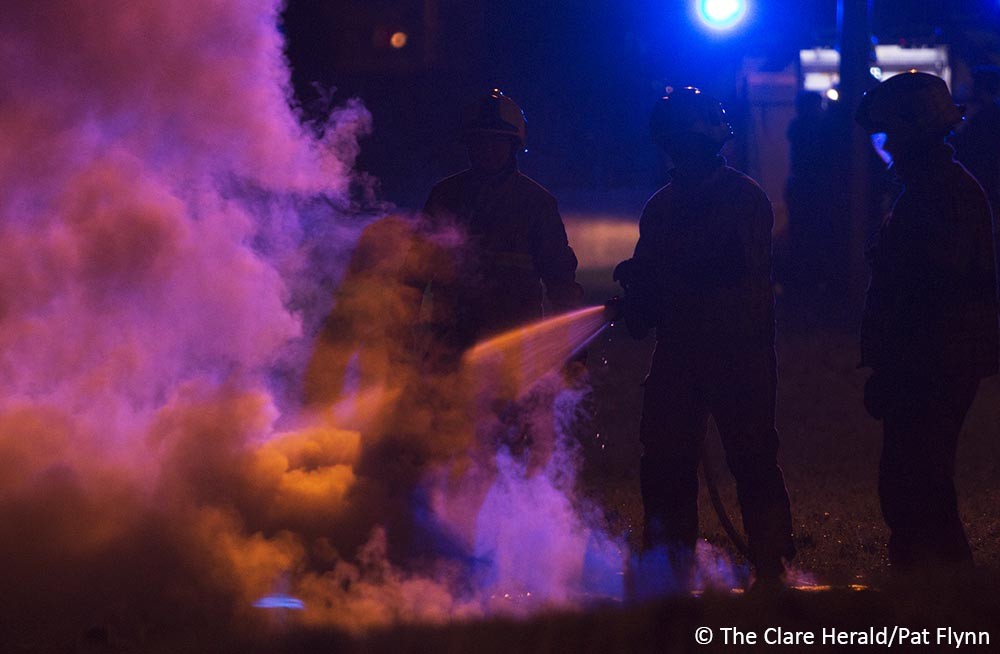 A fire service spokesman said: "During attendance at a bonfire in the vicinity of the astro turf facility in Cloughleigh on Monday night, a number of items were thrown at fire crew members and the attending fire appliance. The assistance of An Garda Síochána was requested by the officer in charge."
"The bonfire was subsequently brought under control. No significant damage was caused to the fire tender during the incident," the spokesman added.
Overall, Clare County Fire and Rescue Service reported a significant and record drop in bonfire incidents during the Halloween period.
During the same period in 2016, fire crews across Clare attended 19 incidents at a cost of €25,000 to the fire service.
This year, firefighters attended just 8 incidents (including last night) with the majority (6) being in Ennis. Shannon fire service dealt with two incidents within their own response area, one in Shannon and one in Newmarket on Fergus. There were no incidents reported in the areas covered by the county's other five stations.
Limerick City fire service attended one call at Westbury in East Clare which lies within the Limerick City fire response area.
The overall cost associated with the call out of the Fire Service to these incidents in Clare was €5,000. The cost of the clean-up of the bonfire sites has not yet been determined.
Senior Assistant Chief Fire Officer in Clare Angela Naughton said, "There was a significant reduction in the number of callouts this Halloween compared to previous years including in 2016 when the Fire Service attended 19 bonfire incidents."
"As well as being illegal, uncontrolled backyard burning and bonfires pose a significant risk to property and public safety and therefore, we would like to acknowledge the public for their cooperation and for heeding the safety advice issued during recent weeks," Ms Naughton added.