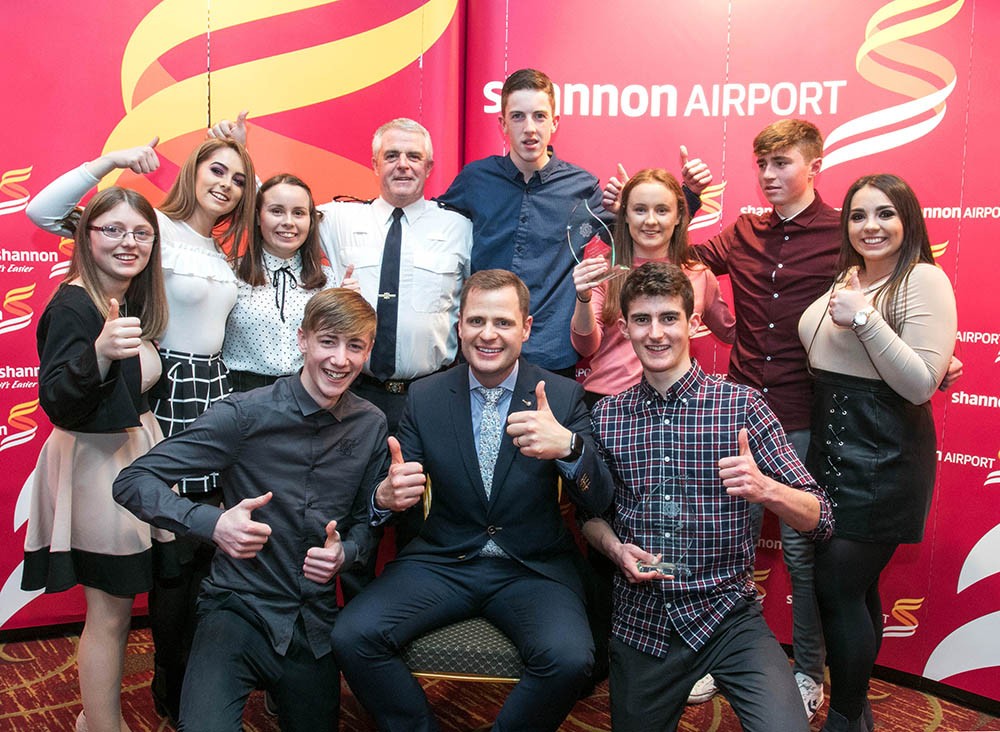 The Clare Garda Divisional Awards can be hugely formative for the lives of recipients, Shannon Group Chairman Rose Hynes said at last weekend's third annual event.
Speaking as six teenage individuals and two groups received their Shannon Airport sponsored awards in front of 300 guests Treacy's West County Conference & Leisure Hotel in Ennis, the Shannon Group Chairman said that the awards had shed a light on the caring and civic nature of these young people.
"The award winners may not today realise it but awards like these differentiate them from other young people.  But, down the line, when you apply for a job or for further education, an award like this could be the stand-out piece that makes a statement about this young person.  It says that this person goes the extra mile. It says that this person is authentic, that he or she has leadership potential, character; that this person has taken on the biggest challenge possible and is self-motivated. Above all else, it says that this person is an achiever."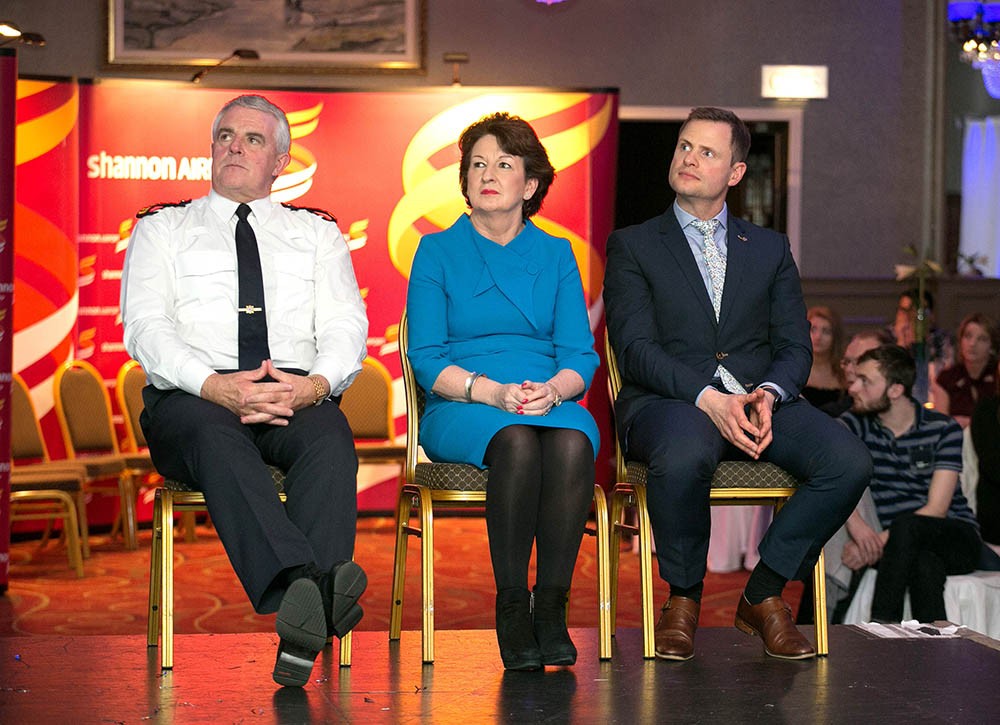 She continued:  "Too often in life – we underestimate the power of a smile, a kind word, a listening ear, an honest compliment, or the smallest act of caring, all of which have the potential to turn a life around. The award winners tonight get this.  We all need help sometimes, help with accepting and managing change in our lives. Things happen and we need a helping hand or just someone to care.  The contestants and award winners tonight have figured that out."
The awards recognise outstanding young people for leadership in their community and for overcoming challenges.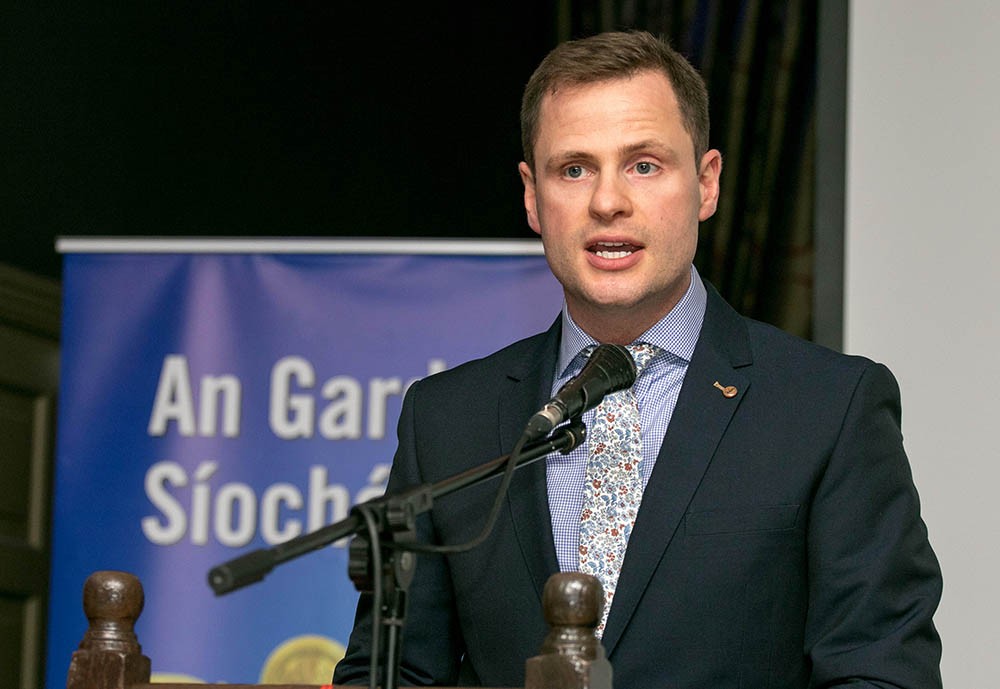 Guest speaker at the event, Spanish Point mountaineer John Burke said that the winners had given great example to others.  "We all need wins in our lives, events or achievements that tell us we have an inner strength that can enable us go beyond where perhaps we might not have thought we can go.  All of tonight's winners have shown that.  You will not forget this night and whatever it is that you have achieved, it will stand the test of time."
Said Chief Superintendent John Kerin of the Clare Garda Division:  "We are three years now into these awards and this year we have been reminded of the outstanding caliber of young people there is in our county today.  We congratulate all on their achievements and I have no doubt but this is not the last we have seen of all of you as community leaders."
Award winners
Saoirse Lightbourne – Inagh, Co. Clare.
In 2013, Saoirse along with a few of her friends saw a need in Ennistymon for an outlet for young people to contribute positively to their community, hence CYA, 'Clare Youth Action' was born.
Lilly Keane – Crowne, Lissycasey, Co. Clare.
Llilly held a fundraising event in order to raise money to buy a difribrilator for her parish.  She grew her hair long and then cut it up short and donated it to the Rapunzil Foundation
Joseph Miniter – Doonbeg Road, Kilrush, Co. Clare.  Joseph got involved with visiting the elderly while doing Gaisce and the Pope John Paul II Award, visiting them for two hours on Fridays during his half day from school.  During his visits he would sit, talk, play his concertina, play cards, or just read.
Leah McInerney -Derrymore, Scarriff, Co. Clare. Leah went from being an active young girl two years ago to being diagnosed with very severe scoliosis which left her unable to do a lot of every-day things. Leah decided to raise awareness amongst her peers about the growing number of teenagers in Ireland presenting with scoliosis because of lack of screening at national school age.
She spoke in front of over 400 students about her condition and how it affected her. She also carried out a comprehensive citizenship project and presented it to her peers, youth leaders and Minister for Children and Youth Affairs Katherine Zappone. She set up an online support group for fellow teens suffering from scoliosis and met with newly diagnosed teens and children and assured them and offered them support.  Leah had a spinal infusion at the end of 2016 and is now much taller, not in as much pain or discomfort but continues to support others.
Jessie Harty – Co/Clare Youth Service, Rineanna Hall, Rineanna View, Shannon.  Jessie has been with Clare Youth Service since 2013.  Starting with art projects, Jessie moved on to join her local youth club and youth care committee.  When she was old enough, Jessie went on to become a leader in her local summer camp where she excelled as part of the summer camp team and dedicated 2 summers to the running of the camps.  Jessie continued in her leadership role during the school term in helping out local youth.
Aoife Duggan.
Colaiste Muire, Ennis, Co. Clare.  Aoife is trainer and organiser of the Volleyball Centre of Excellence, a promoter of physical activity amongst young girls and reader at mass for school and parish.
Young S.V.P. – St. Joseph's Secondary School, Spanish Point.
Last year, seven Transition Year students established the school's first branch of the Young Society of St. Vincent de Paul.  In that time they have been very active and have done some great work.  Last Christmas alone they organised a food and toy appeal and helped put together over 40 hampers and they also assisted will the branch's local Church Gate Collection.
Diarmuid King and Caoilfhionn O'Dea – Secondary School, Spanish Point, (St. Josephs).
Diarmuid and Caoilfhionn created a phone app to make people aware of cyclists on the road.  They got great recognition at the Young Scientist Exhibition (2017) for this and the Garda Commissioner met with them to congratulate them.  The app notifies persons if there are cyclists on the road that they are travelling.  It uses GPS to warn car drivers when they are approaching a cyclist or a motorbike.  Once the app is turned on it will give a signal that states 'Watch Out, You're Approaching a Cyclist'.