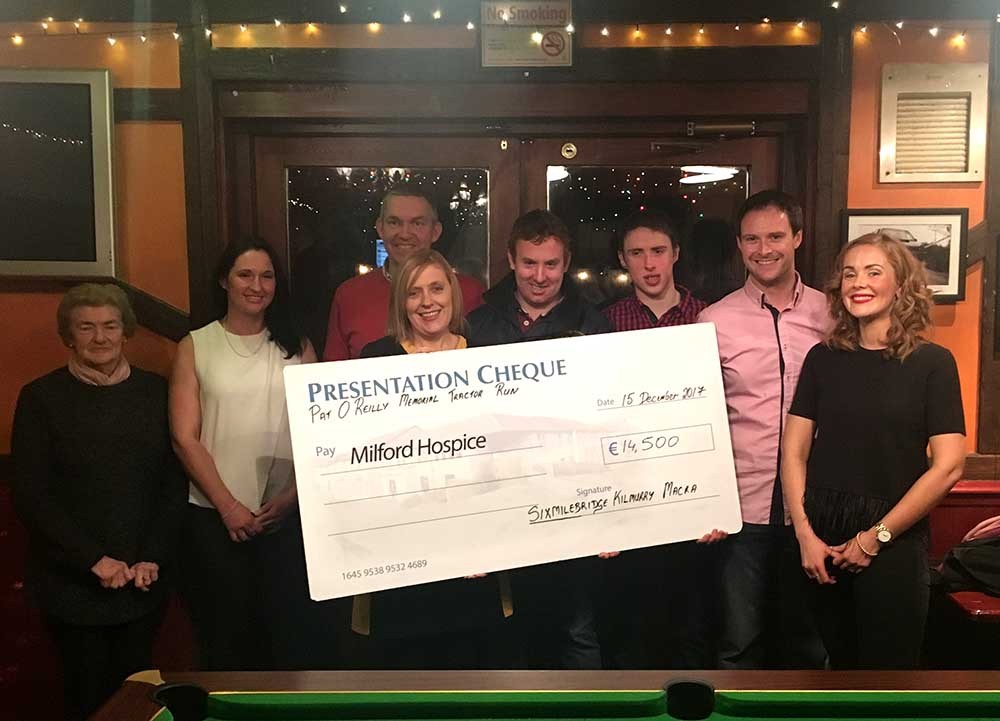 Sixmilebridge-Kilmurry Macra committee presented a cheque of €14,500 to Milford Hospice following a recent charity tractor run.
The figure was the proceeds of the Pat O' Reilly Memorial Tractor Run which took place on October 22nd. A large crowd attended the presentation which was followed by a party to thank everyone that volunteered, attended and supported the event. A highly impressive video of the event taken on a drone by Kilmurry.com's David Farrell was shown on a large screen.
Over 215 tractors travelled from near and far to Sixmilebridge Mart back in October to honour the late Pat O' Reilly in a tractor run and support Milford Hospice who took great care of Pat in his final days.
Sixmilebridge Mart was a fitting location as it would no longer be in existence without Pat's drive and commitment in becoming Chairman upon ensuring it's re opening.
Mary O' Reilly (Pat's wife) led the entourage around the route driving Pat's tractor followed by family members, close friends, a vintage display, numerous contractors and the many people who had known Pat from his involvement with Macra, Teagasc, The Farmers Journal, Sixmilebridge Mart and numerous local committees. Tractors of all ages and sizes were present with many driving long distances to support Milford and honour Pat on his 6 month anniversary.
Many tractors were decorated in Sixmilebridge Kilmurry and Clooney Quin Maghera colours which was a testament to Pat that so many drove the full route before making their way to the county final replay.
The convey travelled past Pat's house and onto Quin with a break for speeches by Pat's brother Sean, Melissa Purcell from Milford Care Centre, Sixmilebridge-Kilmurry Macra Chairman Patrick McNamara and club PRO Jim Corbett before returning to Kilmurry for a BBQ and evening entertainment. A large crowd followed on their way back from the replay.
Sixmilebridge-Kilmurry Macra would like to sincerely thank everyone that contributed to the success of the event.