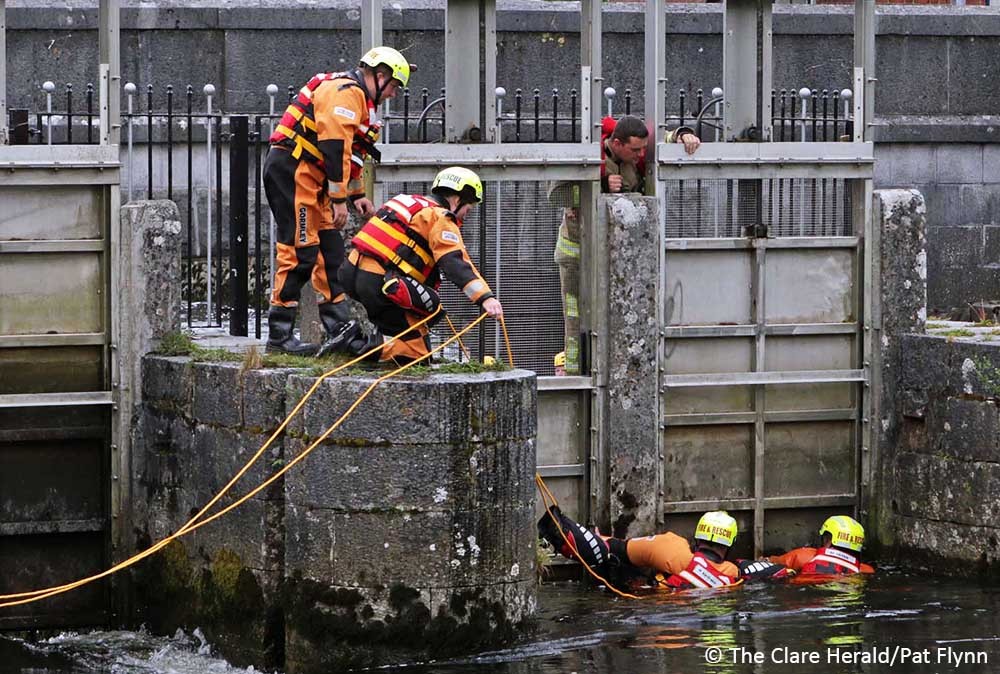 A teenage girl is recovering in hospital after she was rescued by two passers-by from a river in Ennis this afternoon.
The schoolgirl is understood to have entered the River Fergus in Ennis at around 3.00pm. The river was high and fast-flowing at the time.
Two men, who were walking by the Maid of Erin, raised the alarm and quickly located a life-ring which they tossed to the drowning girl.
After she grabbed the lifebuoy, the men made made their way along the riverbank and pulled the girl ashore at a nearby slipway.
Two units of Ennis Fire Service, including members of their specialist Swift Water Rescue unit, raced to the scene along with Gardaí, an ambulance and rapid response advanced paramedic unit.
When emergency crews arrived at the scene they found the girl and her rescuers about 300 metres downriver from where she entered the water.
The teenager was taken into care by HSE ambulance paramedics who assessed her at the scene before taking her to University Hospital Limerick for treatment. It's understood she's being treated for mild hypothermia.
Gardaí have also praised the teenager's rescuers for their quick-thinking.
Inspector John Ryan of Ennis said: "We commend the quick reactions of the passers-by who saved this girl from drowning. They found a lifebuoy and threw it to the girl and help her ashore at a nearby slipway. They stayed with her until emergency services arrived.
There was also a very quick response from the fire brigade, ambulance service and our own members and thankfully there was a successful outcome to this incident," Inspector Ryan added.
The girl was reported to have been suffering from mild hypothermia but was said to be otherwise uninjured.