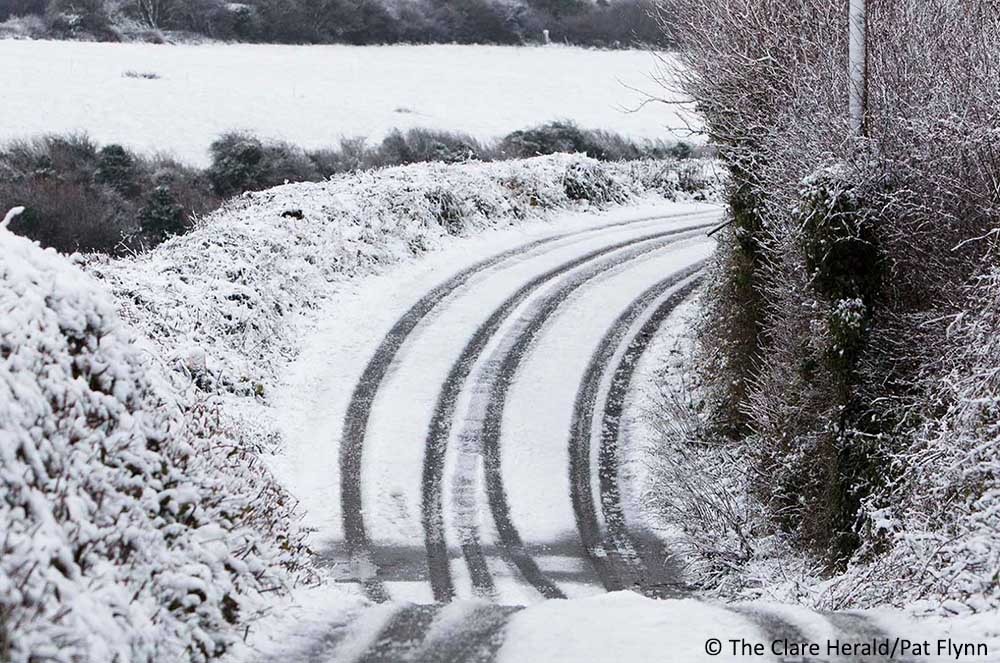 Clare County Council has confirmed that it has ample supplies of rock salt to treat the County's road network during this week's cold spell.
1,300 tonnes of rock salt are currently in storage at the local authority's Depot/Maintenance facility at Beechpark which will facilitate 24 separate treatments of the entire road network.  An additional 500 tonnes of rock salt may be drawn down by the Local Authority if required.
Clare County Council's fleet of salt spreader trucks will facilitate treatment of strategic National (excluding the Motorway Network) and Non-National Routes around Clare. Clare's motorway and dual carriageways will be treated directly by contractors on behalf of Transport Infrastructure Ireland, which assumed responsibility for the National Motorway Network in 2013. The 'Winter Maintenance Salting routes 2017-18' are available to view on the Council website at www.clarecoco.ie.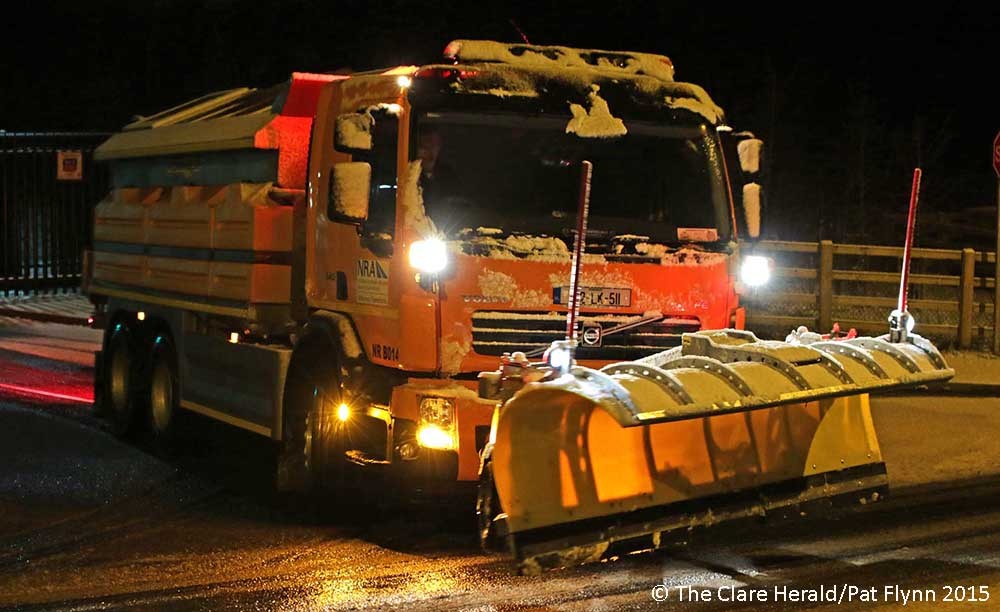 A Status Yellow Weather Alert is in place for Clare with Met Éireann forecasting that air and ground temperatures will be 5 to 10 degrees below normal, with significant wind chill and penetrating severe frosts. Snow showers, mainly affecting eastern areas on Tuesday, will progressively become more widespread and heavier through midweek. A spell of persistent and heavy snow is expected to extend from the south late Thursday and Thursday night, with significant and disruptive accumulations.
An updated weather advisory and 3 separate warnings relating to snow/ice and low temperatures have been issued.
Please see https://t.co/9BeK3UcAwO for details.

— Met Éireann (@MetEireann) February 26, 2018
Clare County Council is urging members of the public to view 'Be Winter-Ready' advice and information guide, which is aimed at raising awareness of the importance of preparing for severe weather. The guide features tips on how to reduce the risk of water leakages and shortages during freezing weather, advice on clearing snow, safety tips for driving in snow and ice, and information for the farming community, as well as a range of other public health and safety advice. For more see www.winterready.ie.
Frost, ice and in some places, snow forecast for this week. On average, 6 people are hurt every working day on account of slips, trips and falls. The risk of such accidents greatly increases during a #coldsnap https://t.co/eyU0C2jw08 #beastfromtheeast pic.twitter.com/qauNqiipvZ

— HSA (@TheHSA) February 26, 2018
Meanwhile, the HSE has said its health services in the Mid West Region will be on standby with other agencies, to monitor the progress of the severe weather forecast for Ireland this week.
Bernard Gloster Chief Officer HSE Mid West Community Healthcare and Chair of the Health Service Mid West Crisis Management Team for Major Emergencies said "The type of weather forecast is always of concern.  Motorists, Pedestrians and Cyclists can experience particular additional risks while travelling.
We are asking people to be safe. As a particular additional request we are asking people to check on the most vulnerable. The elderly, those living alone, and those compromised by medical or social circumstances can experience severe weather in a much more harmful way than the rest of the community," Mr Gloster said.
For further advice and information please visit www.winterready.ie , listen to media for weather reports and updates and be aware that the adverse conditions are expected into the coming weekend.