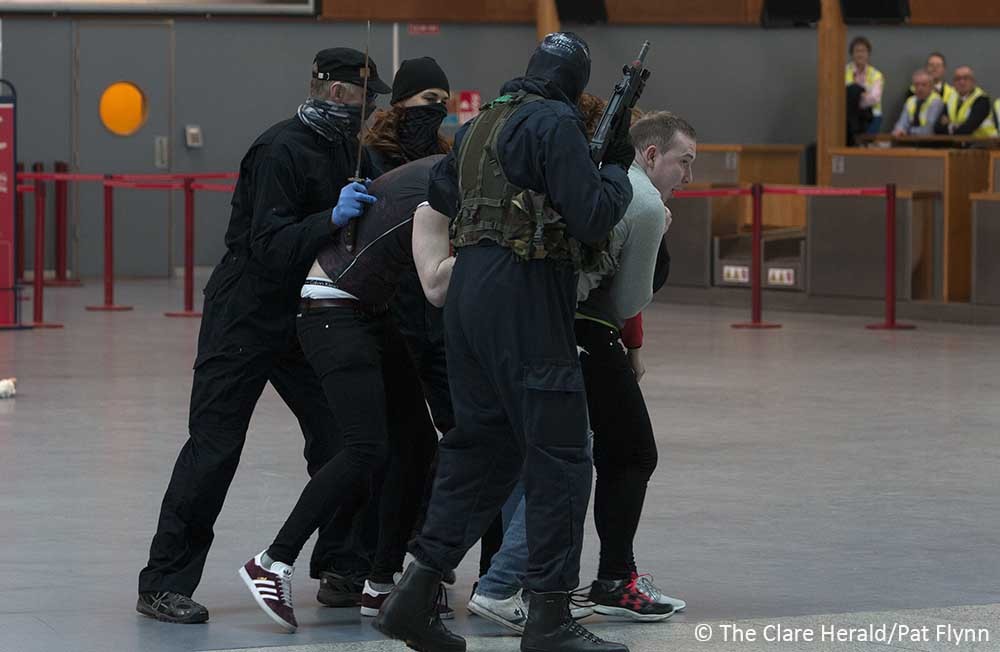 Shannon Airport was the staging ground today for a major simulated multi-agency armed incident.
The bilateral training exercise, named Operation Skipjack, involved various units of An Garda Síochána and the Defence Forces and was facilitated by the Shannon Airport Authority (SAA) and Shannon Airport Police.
An Garda Síochána is the primary responsible agency in the event of an armed incident within the State and lead yesterdays exercise.
The focus of the event was to examine the response to a simulated major armed incident by local Gardaí, Garda operational and strategic command personnel, the ERU (Emergency Response Unit), ASU (Regional Armed Support Unit) and the Garda Air Support Unit.
The exercise also included the Defence Forces tri-service assets comprising Army perimeter security and EOD (Explosive Ordnance Disposal), Naval Service and Air Corps assets as well Shannon Airport Police personnel.
Yesterday's exercise involved a simulated attack by a group of armed men and women, calling themselves the Doomsday Cult,who attacked people as they left the airport. The passengers were forced back inside terminal where the armed gang then attacked other people at the check-in desks.
A number of hostages were taken to an upstairs room where they were held for some time.
In the meantime, armed Gardaí began arriving at the airport along with a Garda negotiator who quickly engaged the hostage takes in conversation.
As the dramatic exercise developed, additional resources were deployed including the Garda Regional Support Unit who arrived by road while a Garda Emergency Response Unit (ERU) insertion team was flown in on board an Irish Air Corps helicopter.
A Garda sniper and spotter were also flown in by the Garda Air Support Unit.
The Army Explosive Ordnance Disposal (EOD) deployed a robot to check the car in which the armed gang arrived.
Following tense negotiations, during which the hostage-takers said they wanted a friend released from prison, the situation escalated when one of the gunmen emerged with a woman at gunpoint. The man was shot by a member of the ERU while colleagues stormed the room and neutralised the situation.
Over 60 actors, made up of trainees from the Garda Training College in Templemore played the part of passengers and hostages.
The event, which featured fake blood and blank bullet rounds, was attended by a large audience including Garda and Defence Forces management; members of the major emergency planning management mid-west steering group and other agencies from around the country.
A Garda spokesman said: "The objective of the exercise was to test the responses and interoperability of agencies in support of An Garda Síochána, who hold primary responsibility in such cases."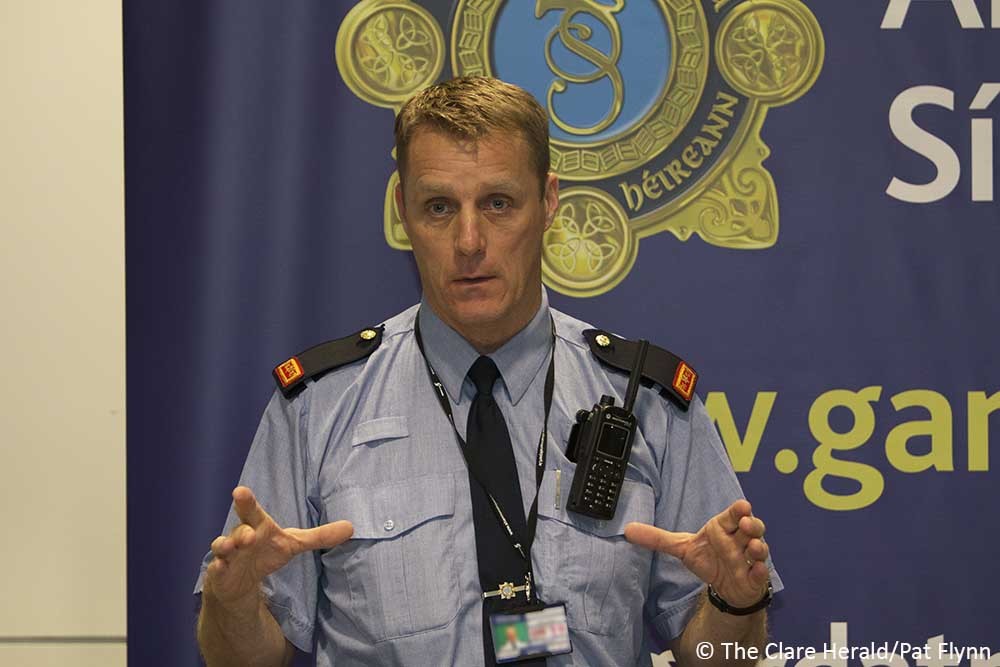 Exercise Director Inspector Kieran Ruane of Ennis said afterwards: "This exercise is extremely important for An Garda Síochána and the Defence Forces. We need to continually practice and fine tune our skills. It's a perishable skill and it's important that we maintain it."
Niall Maloney, Director of Operations at Shannon Airport said: "Shannon Airport is delighted to facilitate this bilateral training exercise between An Garda Síochána and Defence Forces. The Shannon exercise is an important national training exercise and will assist Gardaí and Defence Forces personnel if such an event was ever to occur within the state."