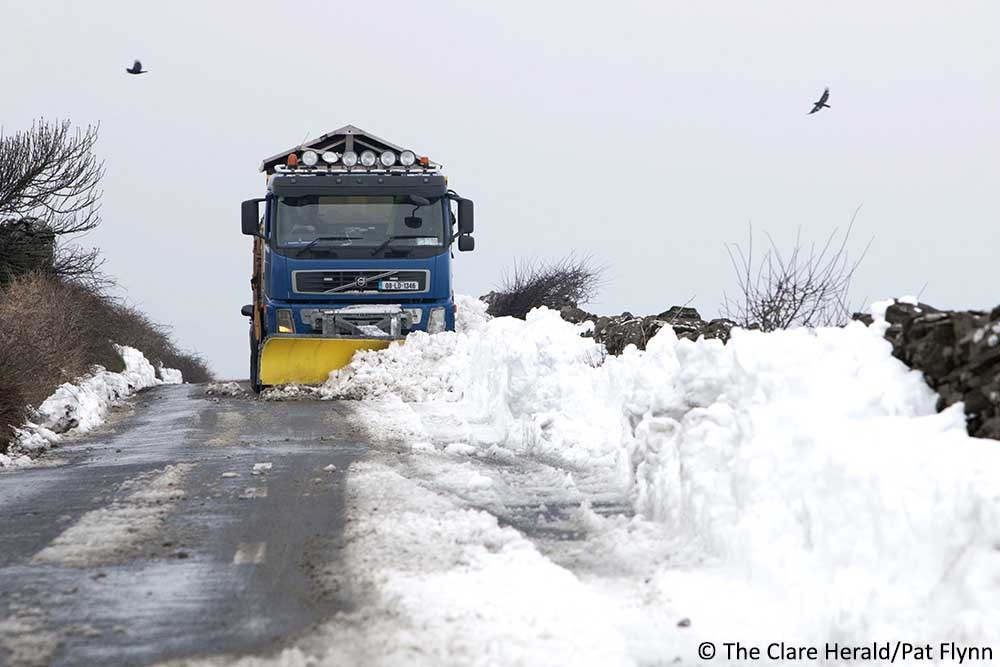 The county is returning to normal today as the clean-up operation continues and businesses count the cost of the recent 'Beast from the East' and Storm Emma weather events.
Council crews worked through the weekend to clear Clare's main roads. This operation is expected to continue in the coming days as schools and businesses reopen.
Members of Clare County Fire and Rescue Service, who had been on standby at their respect stations for the duration of the weather alert, have also been involved in the clean-up operation. Fire crews joined colleagues from Clare Civil Defence to help clear snow from pathways as well as the grounds of Ennis Cathedral and Ennis Friary ahead of weekend masses.
Council workers battled to clear snow and ice from town centre paths as businesses began to reopen and members of the public ventured out for the first time in several days.
As Gardaí, fire and ambulance crews responded to calls they were backed up by volunteer organisations including the Irish Coast Guard and Civil Defence.
Fire service, Coast Guard and Civil Defence personnel played an important role in getting stranded hospital workers and others to work.
It's expected that most schools will reopened today.
Toonagh N.S. will be open tomorrow morning. Thank you to Philip, Ger and @ClareCoCo for their help this morning. pic.twitter.com/ZCftKOPVQF

— Toonagh NS (@toonaghns) March 4, 2018
Meanwhile, as businesses reopen for the first time today, many are counting the cost of the severe weather.
Ennis Chamber President, William Cahir, commented, "Our members were well prepared for the storm, and they put employee health and safety first. However, now that the snow is melting, local retail, hospitality and manufacturing sectors are worried about the loss of revenue caused by the chaotic weather conditions."
"The Status Orange weather warning from Wednesday saw people drift home from work from mid-day onwards, and by Thursday, when it was up-graded to status red few made it to work in Ennis and those that did were facilitated to leave early, to be home safely before 4pm, in line with government advice.
"Most retailers closed at lunchtime Thursday and didn't re-open until lunchtime Saturday. However, as usual in a time of crisis, many of the independent grocers and 'corner shops' opened for a few hours each day to service the needs of the local community, as did the pharmacies," he said.
He added, "I hope people remember that fact after the thaw, and will continue to support independent shops."